| | | |
| --- | --- | --- |
| | Serving Bills Fans Since 1998 | Home |
---
A Tale Of Two Halves
by Steve Saslow
Oct. 14, 2002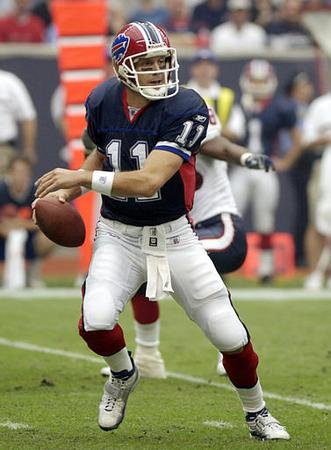 The Bills defense struggled in the first half against the Texans just like they did against every other team they have played. The offense also struggled in the first half, but the second half was a different story as the team put together a complete half to avoid the upset. Here are our position by position grades: Quarterback:

Drew Bledsoe recovered from a slow start and took control of the game leading the team to four long touchdown drives in the final 33 minutes of the game. He finished the game with a 102.3 QB rating, gaining 254 yards on 19 of 33. He had two touchdown passes and two more didn't count because of a penalty and a bad call by the officials. Grade B+: Awful for 27 minutes, vintage Bledsoe the rest of the way, especially when the game was on the line.

Running Backs:

Travis Henry had a career day gaining 159 yards on 28 carries and two touchdowns. In the negative column was another fumble that resulted in a Houston touchdown and a leg whip penalty that negated a Buffalo touchdown. He would atone for both mistakes running hard the whole day. Larry Centers had two carries for 16 yards, one of them converted a third down play. He had only one catch for 14 yards. Phillip Crosby saw more playing time and had two passes thrown his way but both were incomplete. One should have been intercepted. Grade A: If Henry could stop fumbling he could be truly great.

Receivers:

Peerless Price was the go to guy today. He had three long catches converting third downs into first downs. His game winning touchdown showed a terrific move to go untouched into the end zone. He finished with 121 yards on 8 catches. Eric Moulds was held without a catch in the first half but caught four balls in the second half including a touchdown. Josh Reed had only one catch officially, it went for 28 yards, it was a nice reaching grab into triple coverage. He should have had a touchdown but a great catch in the end zone was ruled incomplete and there wasn't enough evidence to overturn it, but he caught it. Jay Riemersma caught three balls and he made nice grabs on all three of them. He did drop one ball when the offense was struggling in the first half. Grade A-: Price is truly having a pro bowl year.

Offensive Line:

The line opened up huge holes for the running game especially on the right side where Henry ran behind Mike Williams and Marques Sullivan. Williams left the game with a hamstring injury in the first half but they continued running behind Marcus Price who played very well in his first extensive action as a Bill. Sullivan was called for two penalties, and Jonas Jennings was called for one. Pass protection struggled with the zone blitz at times giving up three sacks but during crunch time they gave Bledsoe enough time to throw. Grade B: Finally a consistent running game behind the physical line.

Defensive Line:

Pat Williams clogged the middle very well as there was no running up the middle when he was in the game. Grant Irons, Justin Bannan, and Chidi Ahanotu each had a sack. Bannan's was his first and it came on a third down play forcing a punt. Ahanotu was called for two bad roughing the passer calls that could have cost the Bills the game. One of them negated an interception. Grade B-: No pressure early, but a solid showing in the second half.

Linebackers:

London Fletcher had a sack and was in on five tackles as he made some big plays. Keith Newman saw more playing time and was disruptive in the backfield many times and did get a sack. Eddie Robinson was a non factor once again with one tackle. Grade C-: Struggled at times, was disruptive at other times.

Secondary:

Chris Watson continues to get picked on. He gave up the 81 yard play on the first play from scrimmage. He also gave up two long plays and a touchdown on Houston's second score. He was replaced for a time by rookie Kevin Thomas for much of the second quarter but Thomas was out of his league, not faring any better. Watson returned and played much better in the second half, he had an interception negated by a penalty. Antoine Winfield and Nate Clements were lockdown corners today as they gave up nothing. Winfield almost had an interception and defended the final fourth down pass in the end zone. Clements was called for one of many personal fouls, a hit to the head of Carr. Coy Wire was no help to Watson as he didn't get there in time to stop big pass plays. Pierson Prioleau showed good hustle in saving a touchdown on the 81 yard pass. He made some good hits as he was in on seven tackles. Grade C: An F grade in the first half, A grade in the second half.

Special Teams:

Brian Moorman punted well averaging 45 yards and got one inside the 20. Mike Hollis hit his only field goal attempt a 33 yarder. The coverage teams continue to improve as they held Jermaine Lewis to a 21.6 yard average on kickoff returns and 6 yards on punt returns. Charlie Rogers averaging 23.3 yards on kickoff returns but still can't return punts well averaging 4.5 yards. Grade A: Best game of the year for this unit. It is time to try Clements on punt returns again.

Coaching:

With Henry running well and the defense struggling in the first half, the Bills should have run it more when the Texans had control of the game. Taking Watson out was the right move but Billy Jenkins should have replaced Wire also. The halftime adjustments worked as the team dominated the second half, mostly by executing better. Grade C: The team coming out flat falls on the coaches some.





Game Analysis and Review

NFL.com Gamebook - Complete stats including play by play


Texans Game Preview

Gameday Homepage
---
2001 Gameday Homepage
2000 Gameday Homepage
Back to Bills Daily Homepage
Articles Index