| | | |
| --- | --- | --- |
| | Serving Bills Fans Since 1998 | Home |
---
Defense Plays Well Enough To Win
by Steve Saslow
Nov. 17, 2002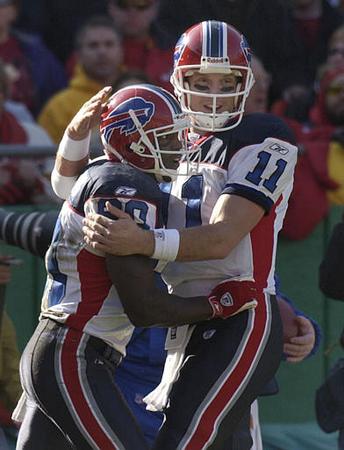 The Bills played well in all three aspects of the game and the grades will reflect that. They lost because of penalties, red zone failures, and the one interception. The defense did its job for 55 minutes but they failed miserably in the final minutes of the loss. Here are our position by position grades: Quarterback:

Drew Bledsoe was 24 of 36 for just 225 yards with one touchdown and one interception. He mixed up his passes well and read the many blitzes that Kansas City threw at him. The interception in the final minutes was a huge mistake. He had Price open just a bit but underthrew it. With the short game working so well, there was no need to force it. Grade D: Couldn't put the ball in the end zone when he had to.

Running Backs:

Travis Henry had another outstanding day, gaining 126 yards on the ground and another 38 in the air. He was the main cog in the ball control offense and he played a great game. Larry Centers caught three passes and they were all big catches. Phil Crosby did some nice blocking and caught one pass. He could have had his first NFL touchdown but Bledsoe overthrew him on a screen pass, the Bills had to settle for a field goal. Grade A: Henry is developing into one of the league's better backs.

Receivers:

A down day for this unit as the ball was spread around a lot. Peerless Price caught just four balls for 40 yards and was called for a holding penalty and an unsportsmanlike conduct penalty. Eric Moulds only had four catches for 36 yards and one touchdown. He had one touchdown reversed by replay when he made a great one handed grab in the end zone but his toes were out of bounds. Josh Reed also caught four balls for 44 yards, three of them converted third downs. Jay Riemersma caught one pass and had another one nullified by a penalty. Dave Moore got back in the action with three catches for 24 yards. Grade C-: Stopped going to the tight ends when it was working early.

Offensive Line:

The line played a fantastic game, they picked up many blitzes and opened up nice holes for Henry to run through. Bledsoe took some hits and was sacked twice but generally had enough time to get things done. This unit had its share of penalties as well, a couple of false starts and a hold. Grade A: The unit may be finally gelling.

Defensive Line:

Pat Williams was active with six tackles and he helped keep Priest Holmes at bay. He was penalized 15 yards for a face mask penalty. Ron Edwards was called for a roughing the passer penalty that prevented the Chiefs from punting from their own end zone. Chidi Ahanotu had a sack and was a bit more active then he has been in recent weeks. Grade A: Solid game until tiring late in the fourth quarter.

Linebackers:

London Fletcher led the way with eight tackles and did a good job in containing Holmes. Keith Newman was quiet gaining just two tackles despite being on the field in passing situations in this game. Eddie Robinson did a good job in pass protection except for one pass interference call on the Chiefs winning touchdown drive. Grade A: Very active unit kept the Chiefs at bay most of the game.

Secondary:

Nate Clements was toasted twice for long pass plays. One to Eddie Kennison on the opening scoring drive and one to Johnnie Morton. Antoine Winfield made his return and was matched up with Tony Gonzalez most of the day and played well. He was beaten for one long pass play. Chris Watson played well in coverage and was called for a critical pass interference play when he had perfect coverage. We won't bring his grade down for a pathetic officials call. Coy Wire and Pierson Prioleau was in on six tackles a piece as they did their share of stuffing the run. Wire was taken off the field in certain passing situations for another linebacker. Prioleau stopped Johnnie Morton on a reverse short of a first down. Grade B: Played well in man to man coverage but gave up a few long plays.

Special Teams:

Mike Hollis had a great turnaround going three for three on field goal attempts. He also kicked a perfect onside kick that stunned the Chiefs. He also managed to kick one in the end zone for a touchback! On the down side he kicked one out of bounds. A critical holding penalty on Dominique Stevenson negated a downed punt at the one yard line. The penalty cost the Bills 27 yards of field position. Charlie Rogers bobbled one kickoff but still managed to average 19.3 yards a return including a 37 yard return to set the Bills up in good shape after the Chiefs final touchdown. Grade B: Some downs, but mostly ups.

Coaching:

The Bills had a good, solid gameplan as the extra week off gave the coaches a chance to do some innovative things. The onside kick was a gutsy call that worked to perfection. Using Winfield on Gonzalez and keeping an extra linebacker in to stop Holmes worked well too. On offense, the ball control to keep the ball out of the Chiefs offense hands also worked to perfection. So why did they lose? Penalties. Coach Williams needs to take a hit for the lack of discipline on his team this late in the season. 13 penalties for 139 yards is bad at any time but inexcusable this late in the season. Grade B: The penalties cost them an A.





Game Analysis and Review

NFL.com Gamebook - Complete stats including play by play


Chiefs Game Preview

Gameday Homepage
---
2001 Gameday Homepage
2000 Gameday Homepage
Back to Bills Daily Homepage
Articles Index