| | | |
| --- | --- | --- |
| | Serving Bills Fans Since 1998 | Home |
---
Opportunistic Defense Lifts Bills To Victory
by Steve Saslow
Oct. 20, 2002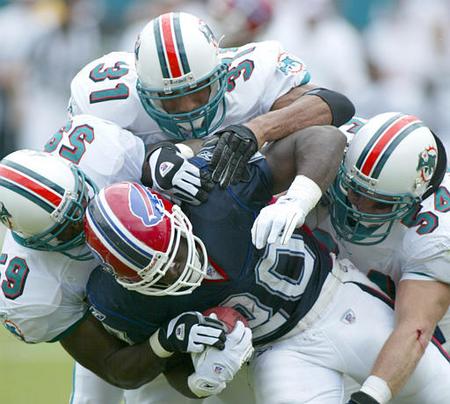 This week the Bills defense picked up the slack for much of the offense for a change. We knew there would come a time this year that the Defense would have to win a game for the Bills, we just weren't sure if they could do it. They rose to the occasion and our position by position grades reflect that: Quarterback:

Drew Bledsoe didn't have one of his better games as he completed only 15 of 31 passes for 182 yards. He did find Eric Moulds wide open and hit him in stride for a 70 yard score. Many other deep passes were overthrown and he was off the mark on shorter routes also. He protected the ball well with the lead throwing no interceptions. Grade C: For once they one a game that wasn't all on Bledsoe's shoulders.

Running Backs:

Travis Henry was a force once again averaging six yards a carry. He finished with 132 yards on 22 carries and made the tough yards to run the clock down without fumbling. Larry Centers was a big safety valve player for Bledsoe. He caught a team high five passes for a team high 51 yards including a couple of big third down conversions. Grade A: Henry is blossoming into a premier running back.

Receivers:

A down day for this group as Peerless Price was never a factor catching four passes for a meekly 25 yards. Eric Moulds had the big touchdown grab but almost began hot dogging before hitting the end zone. He would catch only two other balls the whole game and he dropped two others. Josh Reed caught one pass but it was good for a first down. Jay Riemersma also caught only one ball and Dave Moore was inactive once again. Grade D: The unit played like it was a day off.

Offensive Line:

The line gave up five sacks as Bledsoe was pressured a lot which helped keep the passing numbers down. They did block for the running game very well as Henry ran behind left tackle Jonas Jennings on many occasions. Marques Sullivan was called for a harmful personal foul. Grade C+: A D in pass protection and an A in run blocking.

Defensive Line:

Pat Williams continues to be a force in the middle as he had eight tackles and a fumble recovery. Aaron Schobel pressured Ray Lucas into the interception that was returned for a score. The rest of the line had a quiet day as Ricky Williams burst through the line into the defensive backfield easily on many occasions. Grade C: No pressure on a better QB would have hurt the team.

Linebackers:

London Fletcher was in on seven tackles. Keith Newman dropped a sure interception. Eddie Robinson was very active as he had six tackles and an interception. Grade B: Helped keep some plays away from the secondary.

Secondary:

Nate Clements was surprisingly the target of the Miami passing attack. He made them pay with three interceptions, one being returned for a score. With Antoine Winfield out it was shocking that Chris Watson wasn't challenged more, he was very effective against Miami's depleted receiving corp. Coy Wire had a quiet day and Pierson Prioleau recorded the only sack by the Bills on a safety blitz. Grade A: Was the best unit on the field without its best player.

Special Teams:

The fake punt attempt was terrible but Brian Moorman averaged 50.8 yards on six punts, including two downed inside the 20. Mike Hollis was 3 for 3 on field goal attempts. The return team gave up a whopping 27.8 yard averaged to Travis Minor. They did stop Miami's fake field goal attempt short of a first down. The Bills return team continues to be meek especially returning punts. Grade B: The most improved unit.

Coaching:

The fake punt attempt is a nice idea but it was in the wrong situation with the wrong play, an option play to the punter! The decision to run more in the second half was outstanding. The conservative gameplan worked with the defense forcing turnovers. Grade B: Congratulations to Gregg Williams who is over .500 for the first time as a head coach.





Game Analysis and Review

NFL.com Gamebook - Complete stats including play by play


Dolphins Game Preview

Gameday Homepage
---
2001 Gameday Homepage
2000 Gameday Homepage
Back to Bills Daily Homepage
Articles Index