| | | |
| --- | --- | --- |
| | Serving Bills Fans Since 1998 | Home |
---
Big Plays Return In Win
by Steve Saslow
Dec. 1, 2002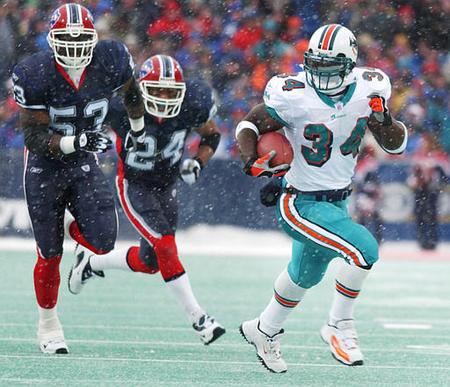 The Bills made big plays on both offense and defense as they recorded three takeaways and Drew Bledsoe averaged over 20 yards a completion. They also gave up big plays as Ricky Williams had the biggest rushing day against the Bills ever. They are all reflected in our position by position grades: Quarterback:

Drew Bledsoe struggled early but made big plays in bunches. He was 15 of 27 for 306 yards and no interceptions. There were at least four passes that should have been picked off however as he did make some poor decisions. He did end up with three touchdown passes and one touchdown run. Grade B: Pretty good stats for such a terrible weather day.

Running Backs:

Travis Henry continues to be a force as he ran for 151 yards on a workmanlike 35 carries for a 4.3 yard average. He also ran for a touchdown and caught two passes for 27 yards. He easily went over 1,000 yards rushing for the year. Larry Centers caught three balls for 35 yards. He also got wide open downfield for a sure touchdown but the pass was overthrown. Grade A: Henry is one of the best backs in the game right now.

Receivers:

A revival for the two main guys as they both went over 1,000 yards for the year. Peerless Price only caught two passes but they were both for touchdowns including a career best 73 yarder where he outran half the Miami defense into the end zone. His 20 yard touchdown reception was a thing of beauty as he totally faked out the coverage. Eric Moulds had a big day catching five passes for 130 yards including a 57 yard touchdown. That play he showed great concentration in catching it with one hand after it was tipped by Sam Madison. Moulds also had a 47 yard reception that setup the final touchdown. He also had another nice one handed grab to convert a third down. Josh Reed caught one pass but it was good to tie a club record for consecutive games with a catch by a Bills rookie. Jay Riemersma and Dave Moore each had one catch for eight yards. Grade A: They talked all week and backed it up on the field.

Offensive Line:

The line struggled in pass protection but did a great job in run blocking. This has been their makeup all year. Bledsoe was sacked four times and hurried on a number of other plays. They did open up holes for 161 rushing yards and pass protected better when the Bills offense heated up late in the second quarter and into the second half. Jonas Jennings played through some pain and made some nice blocks on counter tray calls. There were a number of penalties on this group for holding and illegal motion. Grade C+: Need to sure up the pass protection.

Defensive Line:

Pat Williams had an awful day as the holes for Ricky Williams were right in between him and Ron Edwards. Kendrick Office got the start instead of Chidi Ahanotu and forced a fumble. Ahanotu recovered a fumble that was forced by Justin Bannan and rumbled 17 yards to setup a Bills score. Grade C: Got some pressure, made some big plays, but gave up way too many rushing yards.

Linebackers:

London Fletcher was all over the field as he had a game high 14 tackles. He made some fantastic solo tackles on Williams but over pursued on many other occasions when Williams rumbled for big yardage. Keith Newman had one pressure and a forced fumble that knocked Ray Lucas out of the game. It was his best game of the year by far as he finished with five tackles. Eddie Robinson was very quiet in this game. Grade C-: Didn't stay at home to shutdown Williams.

Secondary:

The unit did a solid job in shutting down the passing game even though they had help from the playing conditions. Wide receivers only had three catches for 28 yards. Nate Clements had five tackles, defended two passes, and had an interception. Antoine Winfield recovered a fumble. Chris Watson wasn't heard from all day, at that is good news. They kept Newman on the field instead of Watson for run support on many plays. Coy Wire and Pierson Prioleau were quiet. Wire missed on a tackle on one of Williams long touchdown runs. Grade B+: Shutdown the passing game, didn't help against Williams.

Special Teams:

Brian Moorman averaged 30 yards on three punts but downed one of them at the three yard line. Mike Hollis was 1 for 2 on field goal attempts. Hitting from 39 yards into the wind but missing from 46 with the wind at his back. The Bills had their first punt return in three weeks and it was returned for 11 yards by Charlie Rogers. He averaged a paltry 17.7 yards on kickoff returns while Miami averaged 18 on their returns as kickoffs were short, squib kicks most of the time. Grade B: Not awful considering the field conditions.

Coaching:

The team didn't give up and never wavered despite falling behind by 11. They made the right move sticking with the running game and having it open up the big play pass. Never had an answer for Ricky Williams. Going for it on 4th down in the third quarter and missing could have come back to haunt them but didn't. Grade B: Big win for the future of this coaching staff.





Game Analysis and Review

NFL.com Gamebook - Complete stats including play by play


Dolphins Game Preview

Gameday Homepage
---
2001 Gameday Homepage
2000 Gameday Homepage
Back to Bills Daily Homepage
Articles Index