| | | |
| --- | --- | --- |
| | Serving Bills Fans Since 1998 | Home |
---
Total Team Collapse In Loss
by Steve Saslow
Nov. 4, 2002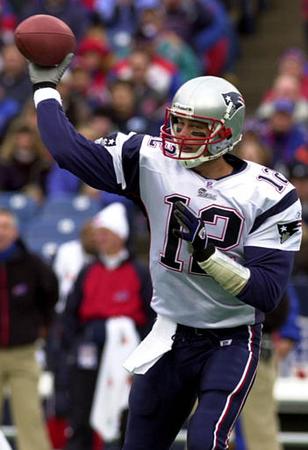 Very rarely while doing these grades do we have a total team collapse but this 38-7 loss to the Patriots was a total team effort in futility. Our position by position grades reflect the total meltdown: Quarterback:

Drew Bledsoe finished with decent stats but that is misleading in this case. He was 28 of 45 for 302 yards one touchdown and one interception. Most of his passing yards was in garbage time. Grade D: He had no answer to Belichik's defensive scheme.

Running Backs:

Travis Henry seemed poised to run for a lot of yards as he averaged almost five yards a carry. The problem is the team fell way behind and abandoned the running game. He finished with just 53 yards on 11 carries. Larry Centers was a huge part of the passing game early before the Bills were forced out of their gameplan. He finished with six catches for 56 yards and added one carry for 10 yards. Grade C: Didn't have much of a chance to be productive.

Receivers:

Peerless Price was the one bright spot on this day as he had 9 catches for 98 yards. Eric Moulds had five catches for 68 yards but dropped at least one ball. Josh Reed had two catches for 24 yards including a nice 21 yard catch that he fought for extra yards and the first down. Jay Riemersma was a non factor as he left the game with a back strain. Grade B-: A decent day in an otherwise dismal affair.

Offensive Line:

The line gave up four sacks and countless pressures as Bledsoe was forced out of the pocket constantly. They had no answers for the Patriots unique defensive scheme. Mike Williams and Trey Teague were each beaten for sacks. Williams probably should have taken another week off to rest his hamstring. Teague didn't make the correct line calls and was beaten badly by Richard Seymour for a sack. Grade F: The pathetic performance started with this group.

Defensive Line:

Pat Williams had his worst game of the year as the Pats ran well and Brady had all day to throw and was sacked only once. A combined sack from Aaron Schobel and Grant Irons. Chidi Ahanotu was a non factor. Grade F-: Maybe the Bills need to sign Marcus Jones to help out this group.

Linebackers:

London Fletcher was in on ten tackles but was constantly found out of position on the big screen passes. Keith Newman was in on four tackles. Eddie Robinson had six tackles. Grade F: Unit got burned on many screen passes.

Secondary:

Nate Clements was beaten a couple of times and was in on three tackles. Antoine Winfield remained out and Chris Watson was burned on the screen passes as much as the linebackers. Coy Wire was in on twelve tackles and Pierson Prioleau was in on seven but both missed some tackles. Grade F: Held Troy Brown in check but gave up big plays underneath.

Special Teams:

Brian Moorman struggled for the second straight week, averaging 31 yards on 3 punts. His coffin corner kick from the Pats 32 was high and short being caught at the 17. He also bobbled a snap on a field goal attempt. Mike Hollis missed on all three of his field goal attempts. One was missed because of a bad exchange. Charlie Rogers had a couple of decent returns, one was brought back because of a penalty. The Pats had one punt return and it went for 18 yards. Grade F: Hollis and Moorman need to rebound quickly.

Coaching:

Punting from the Pats 32 on fourth and two down by 10 showed that this team wasn't going to win. Leaving Bledsoe in until the final gun was just plain stupid. The Bills could not come up with any answers to the Patriots schemes both offensively and defensively. Kevin Gilbride and Jerry Gray were totally out coached by the counterparts. Grade F-: Williams has a long way to go before he is in the same hemisphere at Bellichik.





Game Analysis and Review

NFL.com Gamebook - Complete stats including play by play


Patriots Game Preview

Gameday Homepage
---
2001 Gameday Homepage
2000 Gameday Homepage
Back to Bills Daily Homepage
Articles Index