| | | |
| --- | --- | --- |
| | Serving Bills Fans Since 1998 | Home |
---
Bills Blown Out Early By Pats
by Steve Saslow
Dec. 8, 2002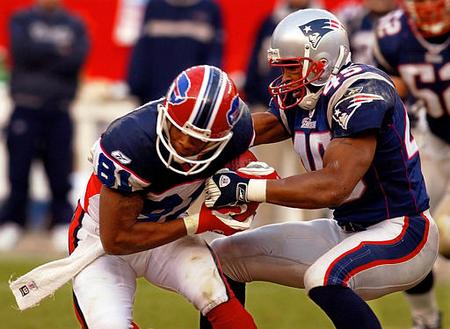 The Bills fell behind early 20-0 thanks to bad play by the defense and a struggling Drew Bledsoe. They tried to battle out of the hold in the second half but they just aren't good enough to spot a team that big of lead and comeback to win the game. Here are our position by position grades: Quarterback:

Drew Bledsoe seemed to let the emotions get to him. He finished with 328 yards on 32 of 51 passing. Most of his yards were in garbage time. His four interceptions were almost shocking. His interception in the end zone with the Bills down by 17 was a terrible throw that doomed the Bills. Grade F: The worst 300 yard effort I've ever seen. Belichik wins the battle again.

Running Backs:

Travis Henry was once again taken out of the gameplan when the Bills fell behind. He had 4 yards a carry but only had 15 carries. He did not catch a pass for the first time in 10 games. Larry Centers caught five passes for 42 yards. Grade C: Not heavily involved in the offense since the Pats took this unit out of the game.

Receivers:

Peerless Price caught nine balls for 105 yards but his fumble in the fourth quarter killed the Bills final hope of a miracle comeback. Eric Moulds seemed to win his battle with Ty Law as he caught 8 passes for 63 yards and two touchdowns. Josh Reed was active with three catches for 68 yards including a nice catch and run for 42 yards. Jay Riemersma seemed to be a big part of the game plan but he only managed four catches for 39 yards. He had one nice catch and run called back by a penalty. Dave Moore dropped his lone chance at a catch. Grade B+: They had a good day in the loss. Moulds finally beat the Law but Law's team won.

Offensive Line:

They only allowed two sacks and the Bills averaged 4.3 yards per carry but it wasn't enough for the Bills to pull out the victory. Mike Williams recovered a fumble. Grade B: Not the reason for the loss.

Defensive Line:

The line was solid against the run allowing only 3.5 yards per carry. Pat Williams rebounded from a couple of sub par performances with six tackles. Aaron Schobel was active with one nice downfield tackle but he didn't get enough pressure on the QB. Grade C: Stopped the run but couldn't get any sustained pressure on Brady.

Linebackers:

What a surprise London Fletcher led the team with 13 tackles. Keith Newman was a non factor. Eddie Robinson had one of his better games with seven tackles. Grade B: Not a bad job by this unit.

Secondary:

Nate Clements had an awful game as he was beaten and caught out of position on many plays. Antoine Winfield was in on three tackles. Chris Watson was burned for a touchdown. Coy Wire and Pierson Prioleau had quiet days. Grade D: Struggled when the game was still alive.

Special Teams:

Brian Moorman averaged 43.3 yards on three punts. Mike Hollis hit his only field goal attempt. Charlie Rogers continued to struggle with an 18.2 yard average on kick returns and a pathetic 4.5 yard average on two punt returns. The coverage unit allowed a 27 yard punt return by Troy Brown but did much better in kick coverage. Grade B: Not the reason for the loss.

Coaching:

Coach Williams had fans scratching their heads by kicking a field goal down 20-0 on a fourth and one inside the 10. He has no killer instinct. Jerry Gray's defensive scheme was worthless in the first half. The Bills offense had more woes in the red zone. Grade F: The team wasn't ready for the biggest game of the year.





Game Analysis and Review

NFL.com Gamebook - Complete stats including play by play


Patriots Game Preview

Gameday Homepage
---
2001 Gameday Homepage
2000 Gameday Homepage
Back to Bills Daily Homepage
Articles Index