| | | |
| --- | --- | --- |
| | Serving Bills Fans Since 1998 | Home |
---
Special Teams Curse Continues In OT Loss
by Steve Saslow
Sept. 9, 2002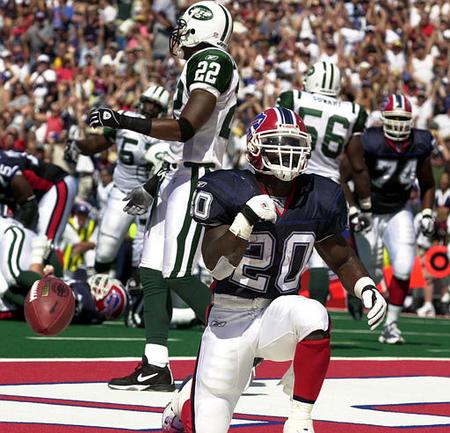 The offense played a solid game despite three turnovers as the running game was like a freight train. The defense stopped the run to the surprise of many and got pressure on Testerverde. The special teams was the big story as the effort they put on the field was as pathetic as anything we've seen from a Bills team. Here are our postition by position grades: Quarterback:

Drew Bledsoe completed 26 of 39 passes for a 67% completion percentage. He threw for 271 yards in his Bills debut including a beautiful touchdown pass to Eric Moulds to tie it with :26 remaining. His downfall was two interceptions, one turned into a Jets touchdown. Bledsoe took the blame for one pick, Moulds took it for the other. He also showed some moxie with a great block on Jason Ferguson on a reverse. Grade B-: The two picks spoiled a good debut for Bledsoe.

Running Backs:

Travis Henry was the only running back to carry the ball and he ran it a career high 31 times as the Jets played a cover two zone to take the receivers out of the game. His 149 yards was also a career high. He showed he could catch the ball with 6 catches, he was our player of the week. Larry Centers wasn't a factor only catching one pass. Grade A: Hopefully there are more days like this one for Henry.

Receivers:

Eric Moulds caught 8 balls for 112 yards including the big late touchdown. 4 of those catches for 95 yards came in the fourth quarter. He did get called for a holding penalty that hurt the Bills and he was to blame for one of the interceptions when he ran the wrong route. Peerless Price will prove to be a big target for Bledsoe this year. When Moulds was taken out of the game early by the Jets gameplan, Price was the go to guy with 7 catches for 80 yards. The rookie Josh Reed made his presence known over the middle catching the first three balls of his career for 33 yards. Jay Riemersma was not involved in the offense catching one pass for 11 yards. Grade A-: Not enough balls for everyone and the tight end seems to be the odd man out.

Offensive Line:

It was thought this line would need time to gell but they played like they have already. The aggressive, young, tough line opened up nice holes for Henry as they blew the Jets off the ball and that's not easy to do against one of the best front sevens in the league. Pass protection was pretty good allowing four sacks but at least two of them was because Bledose hung onto the ball too long. Grade A-: Also kept penalties to a minimum. They should continue to get better as the season progresses.

Defensive Line:

Chidi Ahanotu was all over the field recording one of three sacks by this unit. Grant Irons and Ron Edwards had the others. Pat Williams forced a fumble and was stout against the run. This unit put pressure on Testerverde and shutdown the Jets running game holding the running backs to 37 yards. Grade A-: Much better than anticipated.

Linebackers:

Keith Newman recovered a fumble setting up a score. Eddie Robinson was called for a pass interference penalty that nullified an interception in the fourth quarter. London Fletcher wasn't as active as you would have though with only four tackles and an assist. Grade C: Not very active but that may be because the line was making the plays.

Secondary:

Nate Clements was burned badly by Wayne Chrebet on his fourth quarter score. Coy Wire didn't make any major mistakes in his debut. Antoine Winfield had four tackles. Grade B-: Coverage was good for the most part.

Special Teams:

Here's where the grades fall off. Two kickoff returns for scores, one blocked punt and nearly another two blocked. Jason Bostic missed a tackle on the overtime score. Mike Hollis did well with a 52 yard field goal, he came up short on a 50 yarder. Brian Moorman only had one official punt because of the block and two roughing penalties. That one went for 64 yards. Grade F-: The only reason the Bills lost.

Coaching:

Kevin Gilbride did very well in his Bills debut running the football when the Jets were playing a cover two zone. Danny Smith takes a hit for the special teams debacle but the two scores were more because of missed tackles instead of a scheme problem. Still, Smith needed to adjust as he was grossly out coached in that department. Grade C: Some good, some bad, same result as last year.





Game Analysis and Review

NFL.com Gamebook - Complete stats including play by play


Jets Game Preview

Gameday Homepage
---
2001 Gameday Homepage
2000 Gameday Homepage
Back to Bills Daily Homepage
Articles Index