| | | |
| --- | --- | --- |
| | Serving Bills Fans Since 1998 | Home |
---
Bills Pathetic In Every Way In Rout
by Steve Saslow
Nov. 24, 2002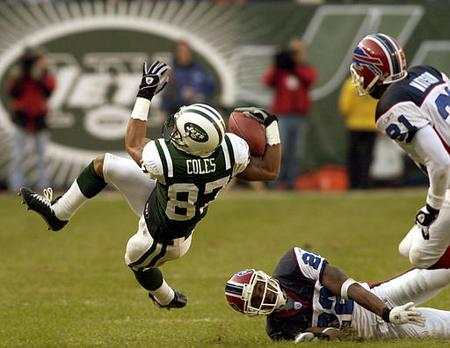 The Bills were awful in all three facets of the game. The offense has a season low 258 total yards and scored only one touchdown for the third straight game. The defense gave up huge chunks of yardage on the ground and didn't force a turnover for the seventh time this year. The special teams had a costly penalty and gave up big returns. No wonder the Bills were blown out. Here are our position by position grades, they aren't pretty: Quarterback:

Drew Bledsoe turned the ball over three times, two by interceptions and one on a fumble. There could have been more turnovers but the Jets dropped a few interceptions. He was 21 of 33 for only 181 yards. Alex Van Pelt saw his first action of the year in the final series and went 2 for 2. Grade F: The worst game of Bledsoe's Buffalo tenure.

Running Backs:

Travis Henry had 83 yards rushing on only 17 carries since the Bills were in a passing mode in the second half. He was also Bledsoe's go to receiver catching 7 passes for 43 yards. He showed toughness in shaking off a shot to the head to return to the game. Larry Centers caught three passes for 13 years. Sammy Morris had his first carry of the year when Henry went out and gained five yards. Philip Crosby had one catch for 11 yards. Grade A: Henry is the team's MVP not Bledsoe or the receivers.

Receivers:

Eric Moulds and Peerless Price were shutdown again as Price caught 6 balls for 49 yards and Moulds caught only 2 passes for only 24 yards as defenses continue to take the tandem out of games. Josh Reed had one catch and it converted a third down. Jay Riemersma caught two balls but dropped two others, one of them was picked off. Dave Moore caught one pass. Grade F: Kevin Gilbride needs to find new ways to get the receivers open.

Offensive Line:

The young unit played well despite the rout. They gave up two sacks and opened up some holes for the running game. Grade A-: One of the better units on the field.

Defensive Line:

What a pathetic effort from this unit. Chidi Ahanotu wasn't heard from except for an offside penalty. Aaron Schobel was quiet except for the one sack he had that took the Jets out of field goal range in the second quarter. Grant Irons was faked out on one nice run. Ron Edwards and Pat Williams did a terrible job in clogging up the middle as there were huge holes for Curtis Martin. Ryan Denney was active for only the third time all year and was suppose to have a big role. He didn't. Grade F: Pathetic effort against the run and no pressure on Pennington.

Linebackers:

London Fletcher was very active leading the way with 11 combined tackles. He made some nice tackles. Eddie Robinson was faked out by the quarterback of all people on a 4th down touchdown run. He also had a facemask penalty and was beaten on a few other plays. Keith Newman was quiet again except for one nice open field tackle. Grade D: Fletcher keeps the grade from being an F.

Secondary:

Nate Clements had a superb game as he was in on 10 tackles and had great coverage. Coy Wire and Pierson Prioleau were less active than normal. Antoine Winfield struggled with a leg muscle strain and was faked out on a couple of nice runs. Chris Watson was burned for two long pass plays. Grade D: Had a lighter day since the Jets kept it on the ground, but it was still poor.

Special Teams:

Mike Hollis was 2 for 2 on field goals including a 43 yarder off the crossbar and a 40 yarder. Brian Moorman only punted once and it went for 44 yards unfortunately it was a low line drive and it was returned 32 yards by Santana Moss. The coverage teams did not give up a touchdown to Chad Morton but he did average a whopping 35.3 yards on three returns. Watson's roughing the kicker penalty turned a Jets field goal into a touchdown. Grade F: Some much for all the tough talk by the coverage units.

Coaching:

Kevin Gilbride needs to find a way to adjust to the defensive coordinators that caught up with the Bills offense. Gregg Williams needs to be more aggressive. Why kick the field goal in the third quarter down by two touchdowns? Jerry Gray needs to go, his defense is pathetic. It's time for Williams to take over the play calling. At least Williams learned one lesson, Bledsoe wasn't in the game at the end of the rout. Grade F: The team just doesn't make adjustments.





Game Analysis and Review

NFL.com Gamebook - Complete stats including play by play


Jets Game Preview

Gameday Homepage
---
2001 Gameday Homepage
2000 Gameday Homepage
Back to Bills Daily Homepage
Articles Index