| | | |
| --- | --- | --- |
| | Serving Bills Fans Since 1998 | Home |
---
Defense Pitiful In Loss To Raiders
by Steve Saslow
Oct. 7, 2002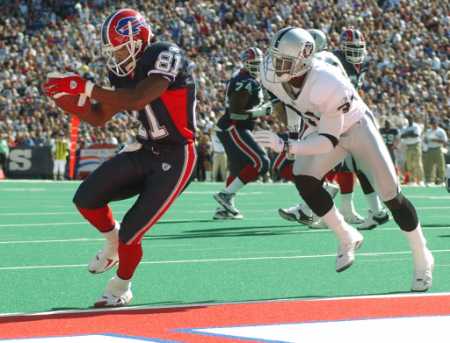 The Bills put up big numbers offensively once again this week but the Defense couldn't stop or even slow down the vaunted Raiders attack. A high scoring affair was scripted and that is what happened. The 495 yards given up by the Bills is a direct result of an overmatched defense. The 49 points given up was the most in Ralph Wilson Stadium history. Here are our position by position grades: Quarterback:

Drew Bledsoe threw for 417 yards completing 32 of 53 passes and two touchdown passes. He kept the Bills in the game but he threw three second half interceptions that allowed the Raiders to pull away. Grade C+: Low grade for a 400 yard day, but those interceptions were killers.

Running Backs:

Travis Henry did not fumble and seemed to run with authority the few chances he got. He finished with 58 yards on 15 carries and was a big factor in the passing game as he caught seven balls for 47 more yards. Larry Centers had a rare carry and got into the end zone with it as he broke a tackle and scored. He also caught two passes. Grade B+: Should have used the running game more as it was effective but under used.

Receivers:

Peerless Price rebounded from a quiet game last week with 7 grabs for 126 yards and a score. Eric Moulds had another eight catch game for 112 yards as he is putting up amazing numbers this year. Josh Reed had a beautiful 38 yard catch as he finished with 3 catches for 59 yards. Jay Riemersma caught only one ball but Dave Moore continues to see his role increasing as he caught four passes, one for a score. Grade A: All-pro unit.

Offensive Line:

The line gave up five sacks and many other pressures as Bledsoe was forced to roam around the pocket much of the day. They did open up some holes for the seldom used running game. Grade D: Worst game of the year for this unit.

Defensive Line:

Aaron Schobel had a sack but this unit left huge holes for some long running plays including Charlie Garner's 36 yard touchdown run. Grade D: Made some stops early, but beaten late, no pressure.

Linebackers:

London Fletcher led the way with 10 tackles but the rest of the linebacking corp was quiet. Keith Newman continues to see his playing time decrease. Grade D: Gave up some big plays in the middle.

Secondary:

Chris Watson was picked on early but held his own on many plays as he defended two passes but he was beat on the Raiders first touchdown. Antoine Winfield and Nate Clements weren't very busy as the Raiders shied away from them, they both were in on four tackles. Coy Wire was burned with Watson for the first Raiders score. Pierson Prioleau was in on five tackles. Grade D: Poor communication cost them some points.

Special Teams:

Uneventful game for this unit as Brian Moorman continues to punt well and Mike Hollis hit his only field goal attempt. Grade B: Wasn't the reason for the loss this week.

Coaching:

Why did the team abandon the running game so quickly? They averaged 4.4 yards a carry but only ran it 18 times. Jerry Gray had no answers for the Raiders no huddle attack. Grade F: Totally outcoached in this game.





Game Analysis and Review

NFL.com Gamebook - Complete stats including play by play


Raiders Game Preview

Gameday Homepage
---
2001 Gameday Homepage
2000 Gameday Homepage
Back to Bills Daily Homepage
Articles Index