| | | |
| --- | --- | --- |
| | Serving Bills Fans Since 1998 | Home |
---
Defense And Henry Leads Bills To Victory
by Steve Saslow
Dec. 15, 2002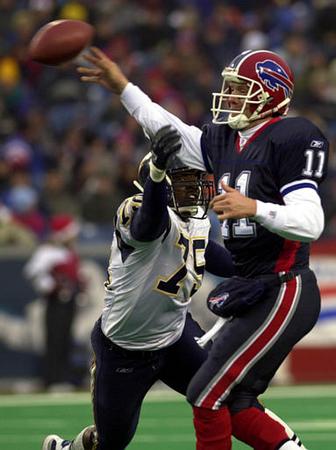 In a game where Drew Bledsoe perhaps had the worst game of his career the Bills were able to win ugly thanks to the efforts of their star running back, Travis Henry and a much maligned defense that carried the team to victory. Even the magic of Doug Flutie didn't unnerve a unit that played a great game. Of course it is reflected in our position by position grades: Quarterback:

Drew Bledsoe completed just 11 passes on this day for 107 yards. He threw 33 in all for a pathetic 33% completion percentage. He overthrew an open Josh Reed in the end zone and missed Larry Centers on a third down play that could have went for six. Grade F: Quite possibly the worst game of his career.

Running Backs:

Travis Henry has his best games when an elite back is on the other sidelines. He did it again rumbling for 144 yards on just 22 carries for a 6.5 yard average. He scored two touchdowns and his only negative was his sixth fumble lost of the season. Fortunately the defense held on downs and it didn't cost the Bills points. Larry Centers caught one pass and dropped one of Bledsoe's only good throws on the day. Philip Crosby did a great job blocking for Henry. Grade A: Henry is proving he is one of the elite backs in this game.

Receivers:

With only 11 pass completions you can imagine it was a quiet day for this unit. Eric Moulds led the way with five catches for 61 yards. Peerless Price caught only three, all in the second half for 31 yards. Josh Reed did not catch a pass for the first time in his career. He did drop one for the first time in his career. He was also open for a touchdown on another play but was overthrown by Bledsoe. Jay Riemersma and Dave Moore each caught one pass. Grade C: Dropped a couple but Bledsoe was awful.

Offensive Line:

The line only allowed two sacks but Bledsoe was on his back and hurrying throws all day long. Marques Sullivan seemed really hampered by his hyper extended elbow as Junior Seau ran right through him a few times. Marcus Price played for Jonas Jennings and played well despite one false start penalty. Ruben Brown came out to pull for Henry's winning touchdown. Grade C: The story of this line, good run blocking, shoddy in pass protection.

Defensive Line:

The Bills used linemen in waves to contain Tomlinson and it worked pretty well. Pat Williams made a good stuff of Tomlinson on a third and 1 short of a first down. Aaron Schobel was very active getting a sack and helping London Fletcher get one. He also ran Flutie down from behind and was all over the field. Grade B+: Many players contributed to a fine effort from the line.

Linebackers:

What a surprise London Fletcher led the team again with 13 tackles and he had a sack. Did a good job in helping contain Tomlinson. Keith Newman and Eddie Robinson were both in on three tackles apiece. Grade B+: Nice job in containing the run and defending the pass for the most part.

Secondary:

Nate Clements struggled in spurts but also made some really big hits. He was called for a 35 yard pass interference penalty and was burned for long passing plays by Tim Dwight and Stephen Alexander. Antoine Winfield made the big play against Curtis Conway knocking away a fourth down pass. Coy Wire had a sack and was very active as he was in on 10 tackles. Pierson Prioleau had four tackles. Jason Bostic played in the nickel before getting injured. He dropped an interception. Grade B+: Solid effort in coverage and some good hits in the running game.

Special Teams:

Brian Moorman averaged 36.6 yards in windy conditions. Mike Hollis hit both of his field goal attempts. Joe Burns had a nice 35 yard punt return that setup a field goal. The coverage team did well except for a 22 yard kickoff return to midfield in the final minute of the game. A double reverse on the opening kickoff went nowhere. Grade B+: Solid effort from this unit.

Coaching:

Kudos to the coaches for having the Bills ready to play. Why didn't the Bills go to the run more when the passing game was struggling? Can they ever run on 3rd and 3, or at least lineup with a chance to run? Grade B-: Need to rely on Henry more, Bledsoe less.





Game Analysis and Review

NFL.com Gamebook - Complete stats including play by play


Chargers Game Preview

Gameday Homepage
---
2001 Gameday Homepage
2000 Gameday Homepage
Back to Bills Daily Homepage
Articles Index