Bills Pick Up Big Win In KC 21-17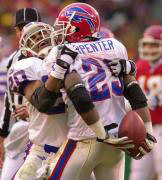 Bills Get Huge Victory: Rob Johnson threw two touchdown passes and ran in the winning score from 12 yards out with a spectacular drive on third and goal to lead the Bills to an important 21-17 victory in Kansas City. Johnson, like Flutie has done in the past, struggled at times but made the plays when he had to pick up the victory. Johnsons leap capped fourth quarter that saw touchdowns on three straight possessions as there were four lead changes in the game, with three coming in the fourth quarter. Complete Review.

Bills Do Enough To Win: This was a game where you can see mistakes made by every unit. But the Bills made the big plays when they had to in order to pull out the win in Kansas City. The secondary leads the list as they gave up many big plays on the ground and through the air but Keion Carpenter had the big interception when they needed it the most. Rob Johnson also had his ups and downs and we analyze them all here at Bills Daily. Gameday Grades.

Gameday Weather: It will be cold and windy in Kansas City today. Those conditions may favor the Bills as the potent passing game of the Chiefs may be hampered by strong winds of 15 to 25 mph out of the West. Throughout the game it will become mostly cloudy and blustery with high temperatures in the low 40's. Wind chills will be in the 20's.


Saturday November 18, 2000


Morris Out: The Bills have announced that Sammy Morris will not play against the Chiefs and have made him one of the four early inactives. Morris could not practice for the third straight day on Friday as he continues to nurse a sprained ankle. In his absence Shawn Bryson is expected to start and Antowain Smith and Jonathan Linton will also see a good amount of action. The other inactives includes Phil Hansen, Jon Carman, and DaShon Polk.


Friday November 17, 2000


Morris And Greer Gametime Decisions: As we reported yesterday, most of the walking wounded returned to practice yesterday. The two main question marks remain Sammy Morris and Donovan Greer. Both players are expected to be gametime decision. Greer feels he has made great strides and will be available on Sunday. If Morris can't go Shawn Bryson will likely get the start and Antowain Smith and Jonathan Linton will get more work also. In other injury news, Corey Moore will definitely be available. Ted Washington should be available despite barely practicing yesterday. For a complete detailed look at all the injured players check out our updated injury page.

Winfield Needs Surgery: It was disclosed yesterday that Antoine Winfield will need surgery on his torn shoulder in the off season. He was back practicing yesterday and will play on Sunday. He doesn't expect the injury to hamper him the rest of the year.


Thursday November 16, 2000


Thursday Practice Notes: Most of the Bills walking wounded returned to the practice field today. Not practicing was Sammy Morris. Ted Washington only practiced on a limited basis.

Johnson Practices: Rob Johnson was back practicing with the first unit yesterday and he says he isn't looking over his shoulder at Doug Flutie. He feels he will play his game and the controversy won't be an issue. Johnson has the right attitude going into a tough game in Kansas City. The coach has made his decision, it is time for the media and fans to drop the controversy...For now at least.

Wiley Practices: As we reported yesterday, 8 players missed practice on Wednesday. That number goes up to 10 if you count Phil Hansen who of course is out and Marcellus Wiley who did practice on a very limited basis. Wiley should see more action today and some of the other 8 players should also be back on the field today.


Wednesday November 15, 2000


Eight Players Miss Practice: The Bills had eight players held out of practice today and Marcellus Wiley may make it nine. The eight who missed practice are: Keion Carpenter, Doug Flutie, Donovan Greer, Sammy Morris, Ted Washington, Ruben Brown, Shawn Price, and Antowain Winfield. Many of the players should be back on the practice field tomorrow or Friday. Most of the banged up Bills are expected to be ready on Sunday. Injury Report.

Bills Prepare For Chiefs: The deck may be stacked against the Bills this week as they begin preparing for a huge game with playoff implications in Kansas City against the Chiefs. Arrowhead stadium has been a house of horrors for the Bills, they haven't won there since 1986. The Chiefs will come into this game mad after they struggled in a bad loss to the 49ers last week. The Chiefs are a throwing team behind QB Elvis Grbac. This may also cause trouble for the Bills since they are very banged up in the Secondary. The winner of this game will have a leg up on the other in the race for a wildcard spot. Complete Preview.


Tuesday November 14, 2000


Bills Given Rare Monday Off: Because of all the injuries the Bills suffered in achieving their third straight win, Coach Phillips gave the team yesterday off as well as their usual Tuesday off. Those healthy enough to practice will be back on the field tomorrow. Expect Antoine Winfield, Sammy Morris, Henry Jones, and Donovan Greer to miss most of the week's practices. The other banged up players should see some practice time.

Thomas May Retire: After injuring his knee on Sunday Thurman Thomas said he would retire if it would require extensive rehabilitation. He found out yesterday that he has a torn ACL. It looks like the great career of Thomas may be over.


Monday November 13, 2000


Phillips Comments: Phillips spoke to the media today in his usual Monday press conference. He reiterated that Rob Johnson is his starting quarterback. He was impressed how he moved the ball in his lone series. On the offensive improvement, Phillips said they are alot more physical now then they were when Johnson got hurt. Specifically he said that the offensive line has improved tremendously and he singled out Marcus Spriggs as the player that has improved the most. On Kansas City, he says this will be a very tough game in a place that is tough to play, he expects the Chiefs to try to get the running game going. The coach also feels that the running game is continuing to improve although the stats this week beg to differ.

Injury Update: The Bills came out of the game with many players banged up but none of the injuries seem to be too serious. The biggest injury appears to be a sprained ankle suffered by Sammy Morris that may keep him out of this week's game. They should know more in a few days. Donovan Greer may also miss this week's game with a sprained ankle but the club will no more later in the week. Other players banged up but should play this weekend are: Ruben Brown, Keion Carpenter, Doug Flutie, Henry Jones, Ted Washington, Marcellus Wiley, and Antoine Winfield. On the positive side the Bills are now finally expecting to get Corey Moore back this week. For more details on all the banged up players check our daily updated injury page.

Rutgers Talking To Cottrell: It appears the man Rutgers university wants for their head coaching job is Bills defensive coordinator Ted Cottrell. He is expected to talk to the school today and there may be a lucrative offer waiting to entice him. Cottrell covets an NFL head coaching job and may decide to decline the Rutgers offer and wait and see what happens this off season. He does love the school where he served as a coach early in his career.

QB Answer At The Right Time? It was interesting that Coach Phillips chose the middle of a game to give his answer on who the starting QB is for the Bills. Granted, both QBs knew who it would be before the media and fans did. It is also now known that it was planned to bring Rob Johnson into the game in the second quarter. Phillips said in his post game comments that the thought about deviating from the plan and sticking with Johnson if he didn't bang a hip in his lone possession. That would have left Doug Flutie seething if he didn't get a chance to at least finish this game like he was told he would. Is it a right time to make a change with two big road games ahead? Only time will tell. The one stat that is telling however, is that the offense has scored only three touchdowns in the last three games under Doug Flutie.

Injury Filled Win: The Bills were able to take care of the over matched Bears but the hard hitting that went on during the game caused the Bills to suffer more injuries than in any other game this season. Six players went down in this game including Marcellus Wiley, Ted Washington, Sammy Morris, Donovan Greer, Antoine Winfield and Ruben Brown. No word on the seriousness of any of the injuries. Wiley hurt his leg, Washington had a stinger. They were replaced by Erik Flowers and Pat Williams. The loss of Winfield and Greer left the Bills thin in the secondary so they turned to Daryl Porter, who made two big plays in the game, and kick returner Chris Watson saw some action in the defensive backfield. Brown was bothered by turf toe all week and left the game and was replaced by Joe Panos. Morris suffered an ankle injury that doesn't appear to be too serious and was replaced by Antowain Smith. All the injuries will be re-evaluated today and we will have more later this afternoon after Coach Phillips' press conference. Injury Page.




Last Week's News Archives
---
2000 News Archives Index
Latest News Main Page
Back to Bills Daily Homepage