Bills Blown Out By Miami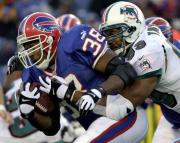 Miami Destroys Buffalo: Miami drove 74 yards on their opening possession for a touchdown and never looked back. Miami dominated every aspect of this game and took advantage of a depleted defense to open up a 24-0 halftime lead enroute to a 33-6 victory. Miami had success running the ball early and also had success through the air. Rob Johnson had his worst day as a pro, throwing for a paltry 44 yards and he was sacked 5 times before giving way to Doug Flutie who didn't fare any better. The lone bright spot for the Bills was that the running game was working, unfortanately they had to abandon it early in this rout. Complete Review.

Only Running Game Shined: How is this for a reversal of fortunes. The running game is the only unit that performed well for the Bills. They backs gained 127 yards on on 22 carries. Shawn Bryson led the way with a team season high 88 yards on the ground. While the running game was found, the rest of the team was lost. We break it down position by position. Gameday Grades.

One More Injury: The Bills lost another player to injury. John Fina had to be helped off the field with an apparent knee injury. Injury Page.

Sunday December 3, 2000 - Pre Game


Black To Make Debut: Today's game should see the debut of fourth round pick Avion Black. He should be active because of all the injuries and there is speculation that he may be used on kickoff returns. This is a no brainer in our book, he can't do any worse than Chris Watson. It will be one of many interesting subplots this afternoon.

Gameday Weather: It won't be perfect Buffalo December weather. It will be partly sunny with temperatures in the lower 30s. The wind will not be factor as it will only be 10mph.


Saturday December 2, 2000


Hansen And Geer May Play: The Bills are hoping to get Donovan Greer back for the game tomorrow. He practiced on Friday and is probably going to try and give it a go. He will test the ankle tomorrow morning and if it stands up he will start at cornerback. The coach is also hopeful that Phil Hansen will be able to see spot duty on the defensive line. He's definitely not 100% but the desperate straits the defense is in, he may try to play.

Smith And Fielder A Go: After making it through practice on Friday, Miami coach Dave Wannstedt said that Jay Fielder will start at QB and Lamar Smith will start at RB.

Early Inactives: Not surprisingly three of the four early inactives are the defensive starters hurt last week, Sam Rogers, Sam Cowart and Keion Carpenter. The fourth early inactive is Victor Allotey. Antoine Winfield is on injured reserve and doesn't need to be made an inactive.

Weather Not Helping: The one thing that was suppose to go the Bills way this week was the Western New York December weather. That doesn't seem to be cooperating either. It is suppose to be Sunny with the gametime temperature approaching 40°, that isn't exactly frigid. We will give you the gameday weather tomorrow morning as usual.


Friday December 1, 2000


Bills Injury Update: On the positive side, Phil Hansen practiced again yesterday and appears closer to being ready to go but is probably a gametime decision. Jay Foreman returned to practice on Thursday and will probably play. On the negative side, Sammy Morris is still struggling with his ankle sprain and was very limited in practice yesterday, he will probably not play again. Sheldon Jackson tweaked his ankle during Thursday's practice and Donovan Greer did not practice yesterday. Injury Page.

Miami Getting Healthy: As the Bills defense is ravaged by injuries the Miami offense is getting healthy. It looks like Jay Fielder, Lamar Smith, and starting WR O.J. McDuffie will return to the starting lineup for Miami against the Bills Sunday. The all practiced on Thursday and unless they suffer setbacks, they'll be ready to go.

Thomas To Fire Up Troops: According to ESPN's Chris Mortensen, Thurman Thomas is expected to talk to his team about playing in the cold weather in Buffalo before the team leaves for Western New York. Injured players don't usually travel with the team but Thomas will make the trip back "home" for this game.

Cottrell Staying Put: Defensive Coordinator Ted Cottrell is not leaving the Bills for the Rutgers head coaching job. Miami defensive coordinator Greg Schiano got the job.


Thursday November 30, 2000


Johnson On ESPN: Rob Johnson did a live interview tonight on the ESPN pregame show for the Thursday night game with Bills fan Chris Berman. In a psychological move Johnson did the interview outside with a big snow bank behind him. Not much new information here. The one interesting comment he made was that he and Doug Flutie have become better friends during the whole QB controversy over the past two months.

Cowart Named Player Of The Month: Even though his season is over the awards keep coming for Sam Cowart. He was named the AFC Player Of The Month for November today. This award can only help his case for a pro bowl bid despite the fact he will miss the final month of the season.

Fielder and Smith May Play: Miami's starting quarterback and running back practiced on Wednesday and are now a good bet to start on Sunday. Jay Fielder looked surprisingly good in practice as his sore shoulder and pinched nerve are better. Lamar Smith is recovering from a hamstring injury.

Hansen Practices: One positive injury note was that Phil Hansen practiced on Wednesday and felt pretty good. He will see how the knee responds to practices this week before a determination will be made on his playing status.

Phillips Vague On Schemes: In his Wednesday press conference Coach Phillips was vague on what he plans to do to cover the injured defensive players. He did not want to give anything away to the Dolphins. One of the big questions is who will be the dime linebacker replacing Sam Cowart? Phillips said it would probably be Jay Foreman but when pressed what he would do if Foreman can't play he wouldn't elaborate. Look for the Bills to move people around to get the best people in the best possible position to make plays. That may mean moving Henry Jones around between in regular strong safety position and free safety, corner, and nickel back. It will be interesting to see what formations the defense will use on Sunday. One thing is for sure, Phillips and Ted Cottrell have great defensive minds and will have the players ready to go.


Wednesday November 29, 2000


Injury Update: Besides the four players definitely out for the game there are six players listed as questionable for the game on Sunday. Jay Foreman and Sheldon Jackson did not practice today with sprained ankles. Jackson's is more serious than Foreman's. Donovan Greer, Phil Hansen, Sammy Morris, and Joe Panos are practicing on a limited basis. Full Injury Update.

Bills Prepare For Dolphins: It is time to put the injuries and the beating in Tampa Bay behind us. Wednesday is the day the Bills begin intense preparations for their next opponent. This week the Bills host arch rival and division leading Miami. The coaches surely have put in a simplified defensive gameplan to give all the young players that will play on defense the best possible chance to succeed. That means expect less aggressiveness which in turn will give the Bills less takeaways. They will try to stop from giving up the big play on defense. The Miami offense is banged up with Damon Huard possibly getting the start for the injured Jay Fielder. The Bills beat Huard badly last year at home. The Dolphins are hoping to get Fielder and starting RB Lamar Smith back this week. Complete Preview.


Tuesday November 28, 2000


Offense Will Have To Score: For most of the past two seasons the defense has been carrying the load, it is now time for the offense to give them a break. If the Bills are going to make the playoffs they will need the offense to take it up a notch or two. The club is averaging less than 20 points a game offensively and they will need to average at least 24 points a game down the stretch if they are going to make the playoffs. Rob Johnson knows this to be the case, and now that the QB controversy is behind them it is time for the offense to take the spotlight for the final month of the season. Of course, this will be tough without a running game in December, that will put extra pressure on Johnson if they can't get anything out of the backs.

Injured Player Stats: The combined season stats of the latest three injured players, Sam Cowart, Sam Rogers, and Keion Carpenter are as follows: 305 tackles, 10 1/2 sacks, 8 interceptions, 4 forced fumbles, and 3 fumble recoveries. This is impossible to make up for as these are perhaps the best three defensive players the Bills had at the moment.

Phillips Rips Cowart Hit: Coach Phillips called the hit that essentially ended the season of Sam Cowart unethical. Cowart was blindsided away from the play and chopped at below the knee. Phillips admitted the hit wasn't illegal but it does injure players and shouldn't hve happened. The Bills will file a grievance with the players association. Tampa Coach Tony Dungy says it was a clean hit.


Monday November 27, 2000


Phillips Press Conference Excerpts: In his weekly press conference, coach Phillips said he thought it was a hard fought game but that they just ran out of personnel because of injuries. The club suffered six legitimate ankle injuries in the game and according to the coach many players were playing on one leg, most of them on the punt coverage units. He said the special teams did not play well at all before or after the rash of injuries. He said the off sides penalty on the kickoff is unforgiveable. He expects the team to play better defensively this week since they will have time to prepare with the healthy personnel. The coach feels if the Bills can beat Miami it will put them right back in the race. With all the injured players, many of the perennial inactives will get a chance to play this week like DaShon Polk and possibly Avion Black. Phillips said the guys coming in owe it to the guys that are out to play the best they can play. On a possible move to a 4-3, Phillips feels that isn't possible because the young guys haven't practiced and don't know that formation. He felt that Daryl Porter and Travares Tillman came in and played well. Tillman was able to make all the defensive calls himself.

Injury Update: Sam Cowart and Keion Carpenter will be out 5-6 weeks making their seasons over for all intense and purposes unless the club goes deep into the playoffs. Sam Rogers groin pull isn't as serious as originally thought, but he will be out 3-4 weeks. Corey Moore felt better today but his status is unknown. Fred Jones is suffering from a hip pointer. On the bright side, Phil Hansen is getting closer, he may or may not be ready for Sunday. Sammy Morris can now run full speed but can't cut, so his status is also up in the air. Rob Johnson is a little bit sore today but is fine otherwise. Donovan Greer played one play and the coach thought he could have gone more. Sheldon Jackson and Jay Foreman were also banged up. Injury Page.

Returner Change Needed: We all know they is a lot wrong with the special teams, even if the head coach won't admit it. The problems start with the returns team. The Bills are dead last in punt return average, kick return average, and drive starts after kickoffs. To fix this the Bills need to make a change in the return game. Chris Watson is busy playing corner full time and can't possibly concentrate fully on returning kicks. He wasn't do well before being thrusted into a starting role. This is the time to see what rookie Avion Black can do. The Bills are worried about him fumbling, but Watson hasn't exactly had sure hands this year so it is worth a shot. The other options include using Shawn Bryson or Peerless Price to return punts.

Possible Injury solutions: What will the Bills brass do to compensate from the injury woes? One solution we talked about in our article from earlier today is going to a 4-3 defense. They can use the package and play with three linebackers. As it looks now, Jay Foreman will replace Sam Cowart, Corey Moore will replace Sam Rogers, if he's healthy, and Travares Tillman will probably start for Keion Carpenter. Daryl Porter will also see his workload increase as will the young rookie linebackers, Kenyatta Wright and Fred Jones.

Injuries May End Season: The Bills survived the first nine weeks of the season without too many nagging or serious injuries. The last three weeks have seen the injuries mount, none worse than what happened on the wet grass of Raymond James Stadium yesterday. The Bills lost three starters on defense for what essentially will be the rest of the regular season. Complete Story.

Last Week's News Archives
---
2000 News Archives Index
Latest News Main Page
Back to Bills Daily Homepage