Pats Win Battle In The Snow 13-10 In OT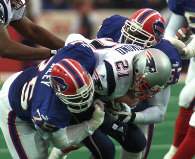 Bills Lose Fourth Straight: Adam Vinatieri hit a 23 yard field goal with :23 left in overtime to lift the Patriots to the 13-10 win. It was a very windy and snowy day that saw punt snaps bobbled and three field goals missed or blocked. Vinatieri had a chance to win it as time expired in regulation but had his kick blocked and Steve Christie had a short field goal blocked in overtime. The Bills got inside the Patriots 2 yard line on back to back possessions in the second half and came away with no points. Complete Review

Weather Hurts Units: The weather hampered the play of all the units, the only player that seemed at home in the wintry conditions was Doug Flutie who called it the fourth worst weather game he has ever played in. The conditions hampered all other units for both teams. Gameday Grades

Gameday Weather: Like it is in many places today the weather is pretty bad in Buffalo. Rain showers may change to snow showers later in the game as temperatures drop into the 30s. It will be very windy with the winds at 20 - 35mph and gusting up to 40mph and higher.


Saturday December 16, 2000


Early Inactives: The four early inactives are all injured players. Phil Hansen who was listed as questionable, joins Keion Carpenter, Sam Cowart and Sam Rogers on the inactive list.


Friday December 15, 2000


Johnson To Play: Rob Johnson threw without any major problems in practice yesterday and should be able to start Sunday against New England. Wednesday he was worried that he wouldn't be able to start.

Game Blacked Out: As expected, Sunday's game isn't close to a sell out and will be blacked out in Western New York all the way to Syracuse. It is the first non-sell out since last year's season finale against Indianapolis.


Thursday December 14, 2000


Bills Send Four To Pro Bowl: Four Bills were selected to the AFC Pro Bowl Squad including two starters. Eric Moulds was selected to his second pro bowl and will start. In a surprise move based on reputation and not performance, Ruben Brown also returns to Hawaii for the fifth straight year and will start at Guard. The two reserves going to Hawaii includes first time pro bowler Sam Cowart. If he wasn't injured he probably would have been picked as a starter. He will backup Ray Lewis at middle linebacker. The other reserve is Ted Washington, he has had a solid season and will return to Hawaii after a one year absence.

Johnson May Not Play: Two days after the loss on Monday night and Rob Johnson still can't bend his arm. The ongoing tendinitis problem in his elbow problem is getting worse and there is a chance he won't be able to play on Sunday even though he isn't listed on the injury report as of this time. Johnson said he won't know until today at the earliest if he will be able to play.

Flutie Wants To Stay: If Johnson can't go Doug Flutie will get the call. He told the Rochester D&C that he would like to stay in Buffalo even if that means backing up Johnson. He knows the salary cap situation will take precedence over talent, which could make Sunday's game his last home game in Buffalo. It would be fitting if he does start this game.


Wednesday December 13, 2000


No Staff Changes Planned: In responding to questions about his coaching staff in his Wed. press conference, Phillips said they will all be back and there will be no coaching changes. He believes he has a real strong staff and that they work hard. What the Coach is doing is showing loyalty to his staff but the final decision on who stays and who goes may not lie with him.

Bills Play To Win: In addressing the media today, Coach Phillips said he will be looking at young players, but it is the same young players that have already been playing. He said you play every game to win and the Bills are trying to get to 9-7. The players need to build up some pride and come out to be an inferior opponent to at least gain confidence especially on offense. Complete Preview.

Carman May Start: One young player that may get a good look this week is rookie tackle Jon Carman. He has been inactive most games this year but played some for Robert Hicks last week and may start at right tackle for him this week. The club is very unhappy with Hicks who will most likely not be back next year. Marcus Spriggs will try to rebound from his dismal performance last week, he will probably start at right tackle again as John Fina is probably going to miss this game also with his sprained knee. Injury Report.

Washington Wins Award: Ted Washington was awared the November NFL "Extra Effort" Award. The honor is given to players for their work in the community. Washington has done numerous work in Western New York including his efforts with the National Multiple Sclerosis Foundation. He also hosted his annual billards tournament for his Ted Washington Foundation that supports youth organizations and charities.

Bills Building For Future: The Bills need to put the latest rout behind them and play the final two weeks like it is an extended training camp for next year. This will give them time to take a look at the roster and see who will be on the team next year and who will be gone because of poor play or salary cap restraints. Now that the season is effectively over Owner Ralph Wilson should lock up GM John Butler now to a longterm contract. The Patriots game will be played on Sunday in a half empty stadium remininscent of the mid 1980s. It will be a good time to help get Rob Johnson's confidence back and to get some more valuable playing time for young players like little used first round pick Erik Flowers. We will have a complete preview of the Patriots game on our gameday homepage later this afternoon.


Tuesday December 12, 2000


Greer and Black Out: It looked like the Bills would get Donovan Greer back for yesterday's game. He did start but couldn't really play hard on his injured ankle and saw very limited action. Avion Black was a surprise inactive a week after "winning" the kick return job. The Bills needed his active spot for Sammy Morris.

Coaching Staff Changes Needed: As We speculated in our game review coaching changes are very possible in the off season with some coaches trying to save their jobs in the final two weeks of the season. The owner has pretty much guaranteed that Coach Phillips will be back but that doesn't mean his coaching staff returns intact. We think it should be too late for four maybe five coaches. The first coach on everybody's out list is special teams coach Ronnie Jones. He never has coached this unit in the past and it showed, it will be a shock and a travesty if he's back. There is now a groundswell to get rid of offensive coordinator Joe Pendry. Off of yesterday's showing he should be gone. Rob Johnson and Eric Moulds publicly criticized the gameplan after the game and many other players it appears have criticized it in private. Other offensive coaches that we feel should go are running backs coach James Sexon, QB coach Turk Schonert, and OL coach Carl Mauck. These offensive coaches have not developed the talent correctly and need to be replaced.

Last Week's News Archives
---
2000 News Archives Index
Latest News Main Page
Back to Bills Daily Homepage