| | | |
| --- | --- | --- |
| | Serving Bills Fans Since 1998 | Home |
---
Bills Use Bye Week To Forget Woes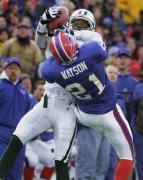 Collins Released: The Packers have released former Bill TE Bobby Collins. The Bills had traded him to the Packers in training camp for DE David Bowens who was cut by the Bills before the season started.
Saturday October 13, 2001


Johnson Practices: Rob Johnson and Phil Hansen both returned to practice yesterday with varying results. Johnson appears to have shown no ill effects from his pinched nerve and will be ready to go against his former team on Thursday. Hansen pulled out of practice halfway through after hyperextending his injured elbow. He is struggling getting used to playing with a brace. Leif Larsen did not try to practice with his elbow injury. Injury Page.

Turnover And Sack Numbers: Coach Williams expected his defense to get a high number of turnovers and sacks, so far the opposite has happened. The defense has forced only three turnovers. They could have many more but they have failed to recover the football when it was on the ground 8 of 9 times. They have also dropped numerous interception opportunities. To win in the NFL you have to get the ball on defense whenever possible. Sack numbers are almost as bad as the team has 5 sacks through 4 games. It might be time to take Keith Newman out of pass coverage and have him rush the quarterback on almost every snap. He is the best pass rusher on the team at this point and needs to be used as one.


Friday October 12, 2001


Jags Injuries Mount: The Jaguars are definitely a more talented team than the Bills and they will have a huge home field advantage when the two teams meet next Thursday. The only thing that his helping level the playing field is the big injuries for the Jaguars that will leave all-pro tackle Tony Boselli on the sidelines. All-pro RB Fred Taylor will most likely miss this game as well as DE Tony Brackenes. Even with all their injuries and the Bills getting a bit healthier, their first victory will be a tall order. Complete Preview.

Bills Return To Work: The players return to work today after three days off. Today's workout will have emphasis on fundamentals as it is technically an extra practice day for Thrusday's game with Jacksonville. Tomorrow will be the normal work week day off before game planning begins for the Jaguars on Sunday.


Thursday October 11, 2001


Lewis Fined: The NFL today fined Jets LB Mo Lewis $12,500 for his hit that knocked Rob Johnson out of the game on Sunday. As Johnson was sliding down, Lewis hit him in the head with his elbow causing Johnson to leave the game with a pinched nerve in his neck. Shockingly there was no penalty called on the play. Jets head coach Herman Edwards said the club will fight the fine.

Players Finish Up Break: The players finish off their early season three day break today. They will return to their "normal" work week schedule tomorrow. Since the next game is a week from today in Jacksonville, tomorrow will be like a regular Monday. Saturday will be a normal work week day off (like a normal Tuesday). They will begin heavy preparation for Jacksonville on Sunday.


Tuesday October 9, 2001


Players Take A Break: The players are taking Coach Williams' advice and are taking these three days off to get back with their families and forgetting about football. The players will need to find an identity when they return to work as leaders will need to develop and each player will also need to look at themselves individually. The coach hopes the time off will clear the players' minds and get them a fresh start after the bye.


Monday October 8, 2001


Johnson Better Today: Both Rob Johnson and Fred Jones felt better today after getting hurt yesterday. The rest of the bye week should do both those guys good and have them ready to go for Jacksonville. Some players will get extra rest in the bye so they can treat injuries aggressively and get them ready to play after the bye. The coach feels all the injured players may be ready after the bye with the possible exception of Leif Larsen and Jeremy McDaniel. Injury Page.

Coach Adjusts Schedule: Since this isn't a regular bye week with a Thursday night game on the horizon the coach had to adjust his schedule. The players won't get a weekend off but they will get time off during the week. They will also gain an extra day of fundamental work and preparation for Jacksonville. The team will have their regular off day tomorrow through Thursday as well as Saturday this week. The coach feels it is important for the players to spend time with their families.

Bills Want Fine On Lewis: The Bills said that the NFL should review the hit on Rob Johnson and Lewis and he should be fined. Some members of the Bills feels it was a cheap shot. Lewis and the referee believes Johnson was popping back up and Lewis' hit was unavoidable.

Injuries Have Time To Heal: With the bye "half" week ahead of the Bills some of the players will have a chance to heal the injuries. The Bills only had two players hurt yesterday, Rob Johnson should return after the bye despite getting a pinched nerve in his neck yesterday. Fred Jones was the only other injury of note, with a back strain, he will have time to heal. The players that were listed as out in the injury report now have a chance to heal hopefully well enough to get them back for the Jacksonville game in 10 days, they include Phil Hansen, Leif Larsen, Jeremy McDaniel, and Tony Driver.

Last Week's News Archives
---
News Archives Index
Archives Library
Latest News Main Page
Back to Bills Daily Homepage