| | | |
| --- | --- | --- |
| | Serving Bills Fans Since 1998 | Home |
---
Bills Blown Out In Finale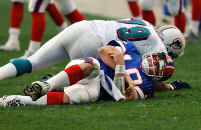 Webmasters Note: This will be the last news archives until next season. Starting next week we will be bringing back our week in review with our analysis of all the off season news of that week!

Bills Routed By Miami: The Dolphins used three fourth quarter touchdowns to pull away from Buffalo on their way to a 34-7 win and a home playoff game in the first round of the playoffs. The Bills played the majority of the game without Alex Van Pelt who hurt his throwing shoulder early in the game. Travis Brown threw for 201 yards and a touchdown but also threw two interceptions, the second one was returned the length of the field on the final play of the game for Miami's final score. Complete Review.

Injury Update: The injury to Alex Van Pelt is considered a sprained right shoulder. He won't throw for six to eight weeks as a precaution. The Bills also saw Kendrick Office leave after a hit and Leif Larsen went out with an arm injury. Travis Henry was inactive and Pat Williams started after missing three games with a broken leg. Injury Page.

Gameday Weather: Most games today will be effected by weather and this game in Miami isn't an exception. It will be warm, with a gametime temperature of 75°. There will be a 30% chance of showers with winds out of the southwest at 17mph.


Saturday January 5, 2002


Dolphins Should Be Motivated: Don't look for the Dolphins to lay in egg against the Bills tomorrow like the Jets did last week. Miami will take the Bills more seriously than the Jets did because of the near upset the Bills pulled in November. Also, this being a huge rivalry comes into play and Miami needing a win to guarantee a home playoff game gives them plenty of motivation to play their top game.


Friday January 4, 2002


Hill Added To Report: The Bills have added Raion Hill to the injury report and he is listed as probable with a neck strain. He is expected to play on Sunday. There are no other changes to either the Bills or the Dolphins injury report. Updated Injury Report.

Bills Sign Robinson: The Bills did some minor roster moves going into the season finale. They placed Jerry Ostroski and Shawn Price on injured reserve and activated LB Jimmy Robinson off of the practice squad. This leaves the Bills with one open spot on the roster at this time. Coach Williams obviously wants to look at Robinson who had a strong training camp before landing on the practice squad in late September. Price and Ostroski were listed as out for the finale anyway so their placement on IR doesn't really matter. Front Office.

Van Pelt New Contract Near: The Bills and Alex Van Pelt have both declared their intention to prolong their relationship beyond this year, now it appears they are doing something about it. Both sides have talked about a contract extension that will likely be for five years in the $5 Million range. ESPN is reporting that it is a done deal in principle and should be announced in the next few weeks. It seems like the deal will be heavily front loaded with more money in the early years of the deal which is unusual in this day of back loading contracts for salary cap reasons. His signing bonus is expected to be around $1.5 Million and may include incentives reached this year.

Henry Likely Out: Travis Henry did not practice on Thursday and it appears he won't play on Sunday against Miami. Pat Williams is a different story, he feels he'll be able to play. On the Miami side, they may be without safety Shawn Wooden who probably won't play with an ankle injury. Zach Thomas will play but he may be slowed with a shoulder injury. Injury Page.


Thursday January 3, 2002


Moulds To Play Basketball? Eric Moulds seems to be joining fellow NFLer Tony Gonzalez in toying with the idea of playing professional basketball. Moulds was a standout player in high school and was recruited by the University of Kentucky and Duke before choosing football. He loves playing football but Basketball is his first love. Moulds actually thought about doing it before signing his new contract with the Bills after he was contacted by the owner of the Dallas Mavericks. Moulds hasn't ruled out going to play in the NFL developmental league this year and leaving football depending on how the off season goes. If he did leave, he would have to give back most of his $12 Million bonus. Don't expect it to happen.

Donahoe On QBs: In his weekly luncheon with the media Tom Donahoe was adamant that he wants Alex Van Pelt back in Buffalo next year. He was less adamant about the future of Rob Johnson. He said the injury history is a concern and if Johnson was to stay it would have to be a re-negotiated deal as expected but it seems he would also ask Johnson to take less money then his current deal. Reading between the lines on the surface it appears Van Pelt will be here and Johnson will be gone, but Donahoe has been known to spin things for the press one way and then do something different so stay tuned it will be an interesting off season once again at One Bills Drive.

Pro Bowl Selections: Larry Centers and Ruben Brown were elected to the AFC squad in the pro bowl on February 9th. Brown was elected for his sixth straight trip to Hawaii. Centers became the sixth running back to be selected in both conferences during his career. He was a distant second in the fan voting but made it up in the player and coaches voting. Starters won't be announced until wild card weekend but since Centers is the lone fullback he is assured of starting.


Wednesday January 2, 2002


Injury Update: Travis Henry and Pat Williams will get some work by themselves on the practice field today but may re-join practice tomorrow with the hope of playing on Sunday. Jerry Ostroski and Rob Johnson will not play this week. Johnson may practice some this week but is not ready to play. Travares Tillman and Ron Edwards will be held out of practice today but should hit the field tomorrow and will hopefully be ready to go this weekend. Shawn Price and Kenyatta Wright remain out. Injury Report.

Williams Sidesteps QB Issue: Coach Williams held his usual Wednesday media day press conference at the stadium today. He took time out to thank the media for their coverage this year. He said he won't make his decision on who will start at running back until later in the week but will use all three running backs if Henry can play. The coach praised the play of Alex Van Pelt when pressed about the future of the quarterback position but declined to talk about it any further. He said he has made good use of his opportunity and made some great throws last week especially the 4th and 7 completion to Jay Riemersma, calling it possibly his best throw of the year. The coach went on to praise the play of some young players including Phillip Crosby, Corey Hulsey, and Preston Prioleau. He feels they are just a few of many players that have taken the opportunity to play and succeeded. The coach also feels that Ruben Brown should be given consideration for making the pro bowl.

Van Pelt On The Future: In his media day press conference Alex Van Pelt talked about his future. He said he is trying to block out his uncertain future. He is an unrestricted free agent after this year but says if possible he wants to stay in Buffalo, whether it is as a starter or a backup, he feels it doesn't matter. He feels it was nice to prove to himself this year that he can make it as a starting quarterback in this league. He feels the team needs to do whatever possible to slow down Miami's pass rushers this week. The club is still stinging a bit from the last meeting with Miami where the team let it get away in the end. He hopes to do what his goal has been all year, to put the team in position to win.

Dolphins Preview: The Bills will try to pull off one more upset to finish the season on a two game winning streak. That will be tough as Miami needs a victory to possibly get them a home playoff game. The Bills will try to beat the Dolphins by attacking them with their rejuvenated ground game. Complete Preview.

Pro Bowl Selections Today: The NFL will announce the players seleced for the Pro Bowl today. They will only announce the players selected not the starters. They will be announced on wild card weekend. There is a good chance that the Bills will be shutout this year. There best candidate is FB Larry Centers. The Pro Bowl will be played on Saturday February 9th in Hawaii.


Tuesday January 1, 2002


Williams, Henry May Play: Travis Henry and Pat Williams are among the injured players that are improving. The club will see tomorrow how Henry feels to see if he will get work in practice and possibly the game on Sunday. He has taken significant steps in his rehabilitation according to Coach Williams. Even if Henry does return expect Shawn Bryson to get a good amount of carries again. Williams feels he has a legitimate shot at practicing this week and playing on Sunday. Injury Page.

Bills Win Game: The Bills played the role of spoilers perfectly in denying the Jets a playoff berth with the victory on Sunday against the Jets. The Jets had a chance to win but once again shot themselves in the foot. Bills Thunder Report.


Monday December 31, 2001


Williams Monday Presser: Gregg Williams said it was good to see the team rally and play with a sense of belief in picking up their third win of the season. During his Monday press conference he said how positive it was the way the defense played after the bad snap. He also praised the offensive line for showing the attitude needed to run the football. The coach feels the confidence at the end of the ballgame will be something to build on going into next season.

Injury Update: All the injured players from yesterday's game are improved today and may have a shot at playing in the finale on Sunday. The Bills will know better on Wednesday the status of Chris Watson, Ron Edwards, and Travares Tillman. Injury Page.

Prioleau Gets Start: Coach Williams seems to sneak in depth chart changes from time to time. This week's surprise starter was Preston Prioleau who started for Raion Hill at strong safety. Hill has had an inconsistent year and had a bad game last week against Atlanta. Prioleau was very active and had seven solo tackles playing very well and receiving a gameball from us. Depth Chart.

Bills Locked In: Because of the Bills win yesterday coupled with a Cowboys win and lossed by Detroit and Carolina, the Bills are now locked in to the fourth spot in April's college draft.




Last Week's News Archives
---
News Archives Index
Archives Library
Latest News Main Page
Back to Bills Daily Homepage