| | | |
| --- | --- | --- |
| | Serving Bills Fans Since 1998 | Home |
---
Bills Lose Game And Quarterback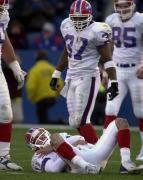 Johnson To Be Evaulated: We should know more tomorrow on the injury status of Rob Johnson. He will be evaluated on when the team returns to Buffalo. He injured his right shoulder late in the fourth quarter in the today's loss. Injury Page.

Bills Lose Again: Rob Johnson injured his right shoulder late in Buffalo's 21-11 loss in New England. Alex Van Pelt's touchdown pass to Peerless Price brought the Bills close but Antowain Smith finished off his 100 yard game with a 41 yard touchdown run to give the Pats the win. We will have our complete analysis, gameday grades, and updated injury report on Monday. Game Review.


Saturday November 10, 2001


OL Getting Healthy: Jonas Jennings and Jerry Ostroski both practiced with the first team yesterday and should start on Sunday barring any last minute setbacks. Coach Williams wants to test out Jennings foot during pregame warmups but he should go. Ostroski will get his first start at right tackle since 1998 and Jennings will move to his more natural left tackle position. The Patriots may have their starting tackles in the lineup as they both worked out lightly on Friday. Injury Page.


Friday November 9, 2001


Henry Sentenced: Bills RB Travis Henry was sentenced today to 100 hours of community service for his guilty plea on a sexual misconduct charge. He could have been sentenced to up to 90 days in jail for his sexual encounter with a 15 year old girl. The girl admitted that the sex was consensual and she told Henry she was 18. Henry apologized to the girl, his family, the team, and the fans in a statement released today by the Bills. Team president Tom Donahoe also released a statement saying this sentence falls under the NFL personal conduct policy and the league will hand down any disciplinary action for this event. Henry could face a possible fine and/or suspension from the league.

Hansen Injured: The Bills have added Phil Hansen to the injury report and he is listed as questionable. He pulled a calf muscle in practice on Wednesday and will likely be a gametime decision. Keion Carpenter returned to practice yesterday and his hopeful of playing but he will also likely be a gametime decision. Jerry Ostroski and Jonas Jennings are closer to playing on Sunday as htey took more reps in practice. The Bills may actually get a break as the Patriots offensive line is more banged up than the Bills line is. Both starting tackles may miss the game for New England. Updated Injury Report.


Thursday November 8, 2001


2002 Free Agents: Taking a quick look ahead to the off season the Bills have 16 players that are eligible for free agency. Only six players are unrestricted free agent with Sam Cowart being the biggest name on the list. Check out the complete list on our newly updated front office page.

Bills Looking At Kickers? The Bills have been looking at kickers this week after Jake Arians is just 3 for his last 8 in field goal attempts including two blocks. The Bills worked out veteran Doug Brien and reportedly again took a look at Jon Hilbert who worked out with the team in September. Tom Donahoe said that he has confidence in Arians and that the Bills were just updating their scouting files.

Donahoe Confident In Johnson: Team President Tom Donahoe re-iterated his support of quarterback Rob Johnson during a press conference yesterday. He said it isn't a one year thing and Johnson was kept as the long term quarterback. He went on to say that nothing he has done so far as changed his mind. He feels his quarterback is playing well especially with the circumstances around him. Donahoe thinks the banged up offensive line is the source of the offensive woes this year.


Wednesday November 7, 2001


Bills Sign Player: The Bills wasted little time in replacing Tony Driver on the active roster. This time they didn't go to the practice squad for a player. They signed former 49er Preston Prioleau. He plays both cornerback and safety and was a fourth round pick in 1999. He started 11 games for San Francisco in 1999 and 2000. He is also considered a good special teams player.

Injury Report: The Bills have four players listed as questionable on the injury report and Tony Driver is the lone person listed as out as he has been placed on IR. John Fina's is absent from the report for the second straight week but his hurting leg may keep him from playing again. The Patriots have 18 names on the report including two that are out and three that are doubtful. Among the doubtful is Drew Bledsoe who will be the emergency third quarterback for them. Injury Report.

Williams Comments: Gregg Williams addressed the media today and said how Antowain Smith had his best game as a Patriot last week. The coach talked about how Reggie Germany deserved a chance to play because of his speed and his special teams play. He has jumped over Avion Black on the depth chart. Williams talked about wanting to run the football more effectively. The problem has been that the team has fallen behind early in too many games. He defended the passing game for playing much better in recent weeks before the Indy game. He said the club has to get back to basics in a timely fashion in all three areas of the game emphasizing protecting the football. He defended his kicker on the latest block kick saying that there is a protection breakdown by young players on field goal units. It will continue to be a big emphasis during practice. The coach won't discount the playoffs yet, saying they have to take it week to week and saying that 8-8 teams will make the playoffs this year.

OL Shuffle: Coach Williams feels that the club will be more healthy on the offensive line this week. Jerry Ostroski will return this week and start at right tackle and may play some guard. Jonas Jennings will play left tackle if he is healthy enough to go. He played there in Georgia. The injuries they have will take less of a pounding on those sides. They are both listed as questionable. Jon Carman will play left tackle probably if Jennings can't. John Fina may still be in the mix if he is healthy enough to go.

Other Injury News: The Bills have placed Tony Driver on injured reserve after an MRI revealed an ACL injury that will require season ending surgery. Keion Carpenter is better today and will work on a limited basis in practice. Leif Larsen will take on more of a role in practice today. Injury Page.

Johnson's Comments: Rob Johnson addressed the press today during Media day. He said he was confident last week with the offensive line but it is nice to get some of the players back healthy and he hopes they won't miss a beat. He felt they ran the ball best last week against Indianapolis and he is all for running it if it is effective. He did say how two of the better weapons on the field are the starting wide receivers and they need to get them the ball. Johnson admitted that it is easier for the young guys to run block than pass protect but he runs the gameplan that is implemented by the coaching staff. He is looking to regain where they were before the last game that was very disappointing. Health wise, Johnson says he's sore but he is fine. The team appears to be in good spirits but Johnson stated the obvious when he said there is no fun in losing.

Bills vs. Pats: This week's game is a battle of two teams going in opposite directions. The Patriots are enjoying a resurgence behind backup QB Tom Brady and former Bill RB Antowain Smith. The Bills are struggling deep in the cellar of the AFC East. This will be the first of two meeting between the two teams, they have gone to overtime the last three times they have played each other. Complete Preview.

Brandon Honored: Bills Vice President Of Business Marketing Russ Brandon was named a Forty Under 40 award winner by Street & Smith Sports Business Journal. Such executives as Yankees GM Brian Cashman are on the list.


Tuesday November 6, 2001


Hull & Tasker Get Awards: After being honored on the field Sunday, Kent Hull and Steve Tasker finally received their distinguished service awards at the Monday Quarterback Club luncheon yesterday. The awards were presented to them by Ralph Wilson who spoke glowingly of the two players. Hull and Tasker both talked about how great the City of Buffalo is and how wonderful an owner Ralph Wilson is.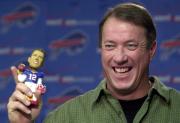 Kelly Celebration: The Bills have decided to kickoff the Wall of Fame ceremonies for Jim Kelly two weeks early. The Bills held a press conference yesterday where Kelly was given a bobble head doll in his likeness. Kelly talked about the good old days in the press conference and how honored he is to be going up on the wall of fame. The Bills also announced that there will be a special halftime show on November 18th produced by the same people that produce the Super Bowl halftime show. Former Bills expected at the cermony include Thurman Thomas, Kent Hull, Darryl Talley, and Andre Reed.

Bledsoe A No Go: The Bills will not me facing one of their nemesis when they meet the Patriots on Sunday. Drew Bledsoe remains out of the lineup for New England. The starting quarterback will be Tom Brady who has led a resurgence of the Patriots in recent weeks.

Gameplan Sniping? Many people have asked since Sunday's loss to the Colts why the Bills didn't run more. It appears the players are asking the same question. Many players have given the media quotes that Gregg Williams can't be happy about. Travis Henry, Ruben Brown, Eric Moulds and Rob Johnson have all commented on the fact that running more would have helped the inexperienced offensive line against Indianapolis. The Bills hope to get most if not all of their injured linemen back for the Patriots game on Sunday.


Monday November 5, 2001


Williams Comments: In his usual Monday afternoon press conference Coach Williams said the club didn't play as well as they can or should have played. He also felt the Colts played better than they have in a few weeks. The Bills made new mistakes this week that have to be corrected and the club isn't good enough to overcome them. The coach was pleased with the way special teams bounced back from the debacle in San Diego. He emphasized the punt return team, the punting of Brian Moorman, and the fumble recovery of the muffed punt. On the blocked field goal, Williams said there was a mistake in protection by one of the young guys for the second straight week and that needs to be corrected. He felt Tyrone Robertson played very well as did the rest of the defensive linemen. The Bills did play some 3-4 defense with Robertson at nose tackle as the coach felt the defense adjusted well from the last game against the Colts to yesterday.

Banged Up Bills Better Today: Keion Carpenter has either a rib contusion or a crack. It isn't as bad as originally thought and they are going to give him another x-ray today. Tony Driver had an MRI on his sprained knee, they should know more about the condition of the both of these players tomorrow. Travis Henry and Bryce Fisher are both feeling much better today after Henry injured his hip yesterday and Fisher suffered a back strain.

Offensive Line To Get Help: Coach Williams said that the injured offensive linemen all may be back against the Patriots. John Fina just needed a rest and should be ready to go Sunday. Jerry Ostroski has been cleared to go fully and is practicing today and should be ready to play on Sunday. Jonas Jennings will practice on Wednesday and work towards possibly returning to the lineup on Sunday. With all the players returning, the coaching staff will have to decide the best place to put each player for maximum protection. Injury Page.

OL Woes: With the way the inexperienced offensive line has played the Bills may want to put a help wanted ad out to help protect Rob Johnson. The Bills may get some help from within if the injured players heal enough to play this week against the Patriots. Unfortunately, they weren't there to help them yesterday. Thunder Report.

Depth Chart Shuffling: Gregg Williams continues to tweak the depth chart. There was no surprise starters this week but it seems some key backups have flipped on the chart. Reggie Germany has seemed to move ahead of Avion Black as the number four wide receiver. That made him number three this week with Jeremy McDaniel out again. Shawn Bryson has jumped over Sammy Morris at running back as he came when Travis Henry suffered a hip pointer in the opening series. Depth Chart.

Last Week's News Archives
---
News Archives Index
Archives Library
Latest News Main Page
Back to Bills Daily Homepage