Political Clout May Save Bills Future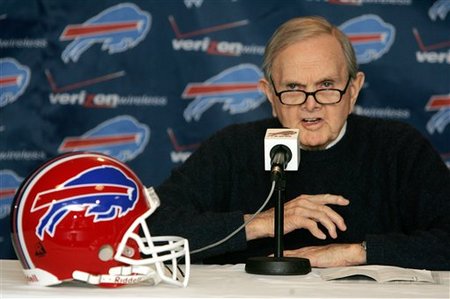 Bills Daily Mock Draft! For the seventh year in a row Bills Daily has done our seven round Bills mock draft on our Draft Page. We expect, like most people, the Bills to try and fix both lines in this draft. We expect them to chose Brodrick Bunkley in the first round and add a an offensive tackle and guard during day one of the draft. They will then look for depth on day two. Let us know what you think of our picks and take our new poll on our homepage on what positions the Bills need to address besides the most obvious ones. Bills Mock Draft
Saturday April 22, 2006


Levy, Modrak Talk Draft: GM Marv Levy and Asst. GM Tom Modrak held the Bills annual draft luncheon yesterday with the media. Levy said any player they pick will be by consensus. He expects to come out of the draft with at least one big body for the offensive or defensive line. One of the players the Bills may take at number 8 is Brodrick Bunkley. Modrak called him a high motor guy who is a three-technique guy, who can play the one that the Bills will play. He does say that, although he's a different player, Haloti Ngata is a fit for the Bills. He also said it would be hard to pass up TE Vernon Davis if he's available at that spot. As far as adressing the offensive line in the first round, Modrak says there is a big drop off after D'Brickashaw Ferguson comes off the board. The 2nd best tackle is Winston Justice and Modrak doesn't think he's a top 10 pick, maybe somewhere in the high teens. If the Bills decide to address the OL in the first round look for them to trade down, get more picks and still try to get Justice.


Friday April 21, 2006


Price Excited: Peerless Price was excited when he visited with the Bills, he came if from his vacation to meet with Dick Jauron and Steve Fairchild to get their philosophy on the offense and he got a great feeling from them. His time in Atlanta just wasn't a good fit for him since they were a running team. He feels he was released because he was too pricey to keep when he wasn't getting the ball more than four or five times a game. He was frustrated with the Falcons but they were winning so that overrode any frustration. He has heard a lot of good things about Jauron and has spoken to other players in the league that would love to come play for him now. Price feels he has more of a complete game now in his second go around in Buffalo, he's no longer just a deep threat.


Thursday April 20, 2006


Wilson Encouraged: Ralph Wilson released a statement this afternoon and said he's encouraged by what came out of the meeting this morning between Sen. Schumer, Tim Russert, and Commissioner Tagliabue. Wilson thanked all three people for the meeting and called it an important step for all the teams in maintaining the league as the "leader in professional sports". Wilson said he can't stress enough how important it is that the Bills will now be represented on the Qualifier committee that will handle the guidelines for revenue sharing. He also stated that he found out other important points from the meeting that helps small market teams. One is the sharing of the future digital media revenue stream. The other positive points are that the committee will have equal representation between small and large market clubs and that the qualifiers will be based on each individual market's economic situation, not national averages. He called the meeting a success based on this information but said it is only a first step and the Senator will continue to monitor the situation.

Wilson To Sit On Committee: Senator Chuck Schumer said his meeting with Commissioner Paul Tagliabue was very positive this morning. The commissioner assured him that the longterm future of the Bills in Buffalo is bright and that Ralph Wilson will sit on the eight men committee that will look at the revenue sharing plan in the new CBA. Other small market owners are also expected to be on the committee. Tagliabue reassured Schumer and Tim Russert in this morning's meeting that the new agreement won't hurt the Bills and other small market teams and they won't be forced to relocate. Tagliabue went on to say that the Bills future focuses more on who is on the field and not the CBA, there is every reason to believe the team will be able to remain competitive. He said they are striving to focus on all small market teams and the ground rules of revenue sharing will not be a problem for the Bills. Schumer said he was very happy with the meeting and is "very hopeful about the long future of the Bills in Buffalo."

Bills, Clements Maintain Contact: Bills Executive VP of Football Administration Jim Overdorf says there have been periodic contact between the Bills and representatives for franchised corner Nate Clements but not as much as there could have been since Clements was slapped with the tag. Under the new CBA the Bills have until July 15th to sign Clements to a long term deal and get the use of the tag back. Clements did not participate in the April minicamp and has yet to signe the one year tender.

Tuesday April 18, 2006


Bills Release Vann: Suffering from a glut of receivers before the draft, KFFL reports the Bills have released WR LaDaris Vann. He was considered camp fodder anyway.

Ngata Visits: NFL Network's Adam Schefter reports that the Bills will have a pre-draft visit today with Haloti Ngata. It had been previously reported that he already met with the team. Ngata was the early favorite for the Bills to draft at #8 but he may not fit into the Bills scheme. That has them supposedly leaning towards Brodrick Bunkley with that pick.

Thomas Release Official: As we reported on Friday, the Bills have released CB Kevin Thomas. AP is now reporting that the release is official. Thomas never recovered from a knee injury that required two surgeries including a microfracture one.


Monday April 17, 2006


Schumer To Meet With Commissioner: U.S. Senator Chuck Schumer has scheduled a meeting with Commissioner Tagliabue on Thursday to discuss the Bills and other small market teams' future with the new CBA. Schumer spoke at a news conference last Sunday and said he would do what he can to keep the team in Buffalo. He talked to Tagliabue last Monday who indicated he was committed to keeping the Bills in Buffalo. Schumer is also trying to rally other Senators of small market team territories to put pressure on the league. Meet The Press host and Buffalonian Tim Russert is also expected to attend the meeting.



---
News Archives index
Latest News Section
Archives Library
Back to Bills Daily Homepage