Mularkey Shockingly Quits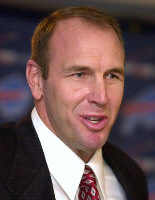 Levy Too Old? Ralph Wilson told the Buffalo news that he feels the head coach should be a younger man that can handle the rigors of the job and the 90 hour work week during the season. He said the job has a lot of pressure. He talked with Levy after the debacled press conference on Friday and they came to an understanding that Levy would not coach which led to a statement from the two on the team's website yesterday.

April Interviews: Ralph Wilson told the Rochester D&C that the Bills have conducted their first interview for the head coaching job. Special teams coordinator Bobby April has already interviewed for the job. Wilson called him very good. April would likely stay on as special teams coordinator if another coach was hired.

Mularkey Forfeits Salary: Ralph Wilson confirmed to the Buffalo News that Mularkey did not receive a payout when he resigned and he forfeited the entire final three years of his contract worth around $3 Million.

Payton Interview Possible: ESPN's Chris Mortensen reported yesterday that the Bills have asked for, and received permission to interview Dallas offensive coordinator Sean Payton for the open head coaching job. That adds him to a growing list of candidates for the job. No interview has been set yet, Payton has interviewed for the head jobs in New Orleans and Green Bay.

Bills, Haslett Make Contact: On the same day that Marv Levy clarified that he wouldn't be coaching the Bills, they made their first step in securing a coach. The agent for Jim Haslett confirmed to AP that his client and the Bills have made contact about the open position. It is unknown who made first contact but the agent said Haslett would be honored to interview for such a prestigious job.


Saturday January 14, 2006


Levy Will Not Coach: After rampant speculation since yesterday's news conference Marv Levy and Ralph Wilson set the story straight with a statement today. Wilson stated that the agreement with Levy when he signed on as GM was that he would never coach the team. He said they are excited to have Marv their as GM and move forward on the coaching search. Levy said he was clearing up the misunderstanding from yesterday by saying unequivocally the he is in Buffalo to serve as the GM/Football Operations and he regrets not being more specific with the media yesterday that he would not serve as head coach.

Levy A Candidate? Some members of the media are saying that Marv Levy is a candidate for the head coaching job. I don't see that happening. As we reported yesterday, Ralph Wilson said "absolutely not" when asked if Levy would return to the sidelines. While Levy never ruled out a return to coaching during his portion of the press conference, he didn't say he would coach either. He was peppered with numerous questions and was actually unusually flustered a bit on that topic would led many to believe he was thinking of coaching. He did say when he took the GM's job he wasn't planning on coaching but the situation has changed. That did leave the door slightly open and the media came crashing in with speculation he will go behind the bench. If he does, then Wilson has a lot to explain by emphatically stating Levy would not coach.

Gray Loses Out: It appears Jerry Gray has lost out on another head coaching opportunity. All reports say the Texans will hire Gary Kubiak as their new head coach after the Broncos are limited from the playoffs. Gray interviewed for that head coaching job a week ago. Gray may interview for the Lions job and possibly the Bills head coaching job.


Friday January 13, 2006


Haslett Has Great Interest: Jim Haslett told ESPN that he has yet to be contacted by the Bills about their newly opened head coaching job. He said he would have great interest in the job and had lots of good things to say about the organization and the city, calling it a great place to live. Haslett was a star linebacker for the Bills in the late 70s and early 80s. He also coached at UB and his wife is from the area.

Real Reasons For Resignation: In his statement and in Ralph Wilson's comments it would appear family reasons were why Mike Mularkey resigned. As we reported on Wednesday however, that may not be the case. Sources have told ESPN that Mularkey's primary reason for leaving was professional. He didn't feel the organization was setup for winning. He also seemed to be having trouble finding quality assistant coach candidates because he was perceived to be on thin ice.

Mularkey Releases Statement: Although Mike Mularkey did not attend the press conference announcing his resignation, he did release a statement through the Bills. He thanked Ralph Wilson and Tom Donahoe for the initial opportunity to coach in Buffalo. He said he has stepped down for his own personal reasons and in the best interest of his family. He did not reach the decision lightly and said the best interests of his family outweigh the benefits of staying in his current position.

New Coach Needs To Be A Good Teacher: Marv Levy took to the podium after Wilson and joked that he knew it would be exciting when he took the job. He said they threw an all out blitz at them and they have to adjust. He was looking forward to working with Mike and thought he was a better coach then the season they had but they have to move on. Levy doesn't feel it is imperative that a coach has previous experience. The key for a new coach is someone that is a good teacher, a straight shooter, and works well with the entire organization. He said tough times like this come by and they have to regroup and go out and win the next one. Levy has said he's talked to many of the assistant coaches and he knows they want to retain several of them and he thinks they will. They will make decisions in a short amount of time. They will tell all the candidates about the assistants they want to retain and make that clear in the interview process. He does feel there are many good candidates out there. He was peppered with questions about if he wanted to coach. He said they've made the decision when he took the job that he would not coach but never said he wouldn't ever coach again.

Mularkey Officially Out: The Bills held a press conference with Ralph Wilson and Marv Levy to officially announce the resignation of Mike Mularkey as head football coach. Wilson formally informed the media of what they already knew. Mularkey told Wilson on Wednesday after an organization meeting that he was going to resign. Wilson said he was completely surprised by his statement and Mularkey was very firm about it. The former coach told him that the local detractors were troubling him. Mularkey did not say anything has changed in the last week. Wilson told him that he doesn't control the local media and fans and has never tried to. Wilson called Mularkey a good football coach who wanted to move on but he doesn't have anything in mind at this time. Wilson went on to talk about the detractors, saying he had many when he first brought the team to Buffalo. He used the press conference to talk about the many different opinions in today's technology. He knows you can't control it but you just go about and do the best you can. He hopes to win football games for the fans going forward. Wilson denied reports that they tried to change his mind because they knew he was very firm about leaving.

Levy Will Not Coach: Ralph Wilson said absolutely not when asked if Marv Levy would be the coach. He said they are going to start an extensive search for a new coach and it will be exhaustive and they hope to come up with the right man. The owner said he's excited about moving forward and that it was an abrupt setback but they will move forward. The new coach will pick his assistants with help of Levy but Wilson will not pick the coaches. Some of the assistants still on the payroll may remain and they may look at some of them for the head coaching job. He said it would be good to find a coach with previous head coaching experience but it isn't a priority. He doesn't think a coach should micro manage everything. Money will not be a factor in hiring the next coach. He said he didn't know what the coaches on the current staff or the free agents were getting because he delegated that.

Salary Forfeited? Since he is resigning and not being fired Mike Mularkey will have to forfeit some if not all his salary for the remainder of the contract. He was due to make around $1 Million a year for the next three years. The Buffalo News is reporting he won't get any of it. This may give Ralph Wilson the best of both worlds. Speculation said he kept Mularkey on because he didn't want to buy him out of three years, now he doesn't have to.


Thursday January 12, 2006


Disagreements Cause Resignation: ESPN reports that Mularkey has indeed resigned as head coach. They say the reason is because of disagreements on the direction of the organization. The report states Mularkey didn't like the setup for hiring assistants and recruiting free agents were conducive to winning. It appears earlier reports that he was resigning for family reasons aren't true, it was professional reasons why he is leaving. Reportedly he had two days of meetings with Ralph Wilson and Marv Levy and terms of the settlement of the remaining three years of his contract were not disclosed. Mularkey apparently will look for a new job next week.

Press Conference Tomorrow; Mularkey Likely Out: The Bills have confirmed that the team will hold a press conference tomorrow at 11am. It appears they will announce the resignation of Mike Mularkey as the head coach of the Bills although they will not say that publicly. As we reported earlier, ESPN said Mularkey met with Wilson and Levy who were trying to talk him out of resigning. Tom Modrak told WGRZ he would be very surprised if Mularkey quit but that appears to be the case unless he gets talked out of it.

Mularkey May Be Resigning: ESPN's Chris Mortensen is reporting that Mike Mularkey is meeting with Ralph Wilson and Marv Levy and may be resigning as the head coach of the Bills. Reportedly Wilson and Donahoe are trying to talk him out of it. Sources say family reasons are why Mularkey is talking about leaving after two years on the job. We will keep you posted as details become available.

Bills Looking At Fairchild: The Bills may be looking to the past for their next offensive coordinator. Steve Fairchild was the running backs coach under Gregg Williams in 2001 and 2002. A report out of St. Louis says the Bills want to talk to him about their opening coordinator spot. He has held the same position with the Rams the past three seasons but only took over the play calling duties when Coach Martz left the team with an illness. The Rams have given the Bills permission to talk to Fairchild who may be out of a job once the Rams hire their new head coach.

Kelly's Future: AP talked to Jim Kelly and he said he would not be pursuing a career in politics. It's been widely speculated that he had his eyes on public office but he said he's disenchanted with the way politics are at this time. He also said he would not join his former coach Marv Levy and work for the Bills. He will meet with Levy to talk since they are friends but he won't be joining the Bills as a coach or consultant. He has said repeatedly since retiring that coaching is not for him. He does feel his former coach will do an excellent job as GM and that he will learn all he needs to learn in a couple of days.


Wednesday January 11, 2006


Thomas A Finalist: Thurman Thomas made the cut. He is one of 15 finalists for nomination into the Pro Football Hall of Fame. The class of 2006 will be announced on February 4th. Ralph Wilson and Andre Reed were semi-finalists but did not make the final list. Thomas is one of four first year eligible players to make the final cut along with Reggie White, Troy Aikman, and Warren Moon. He is the only running back on the final list.

Ochs To Europe? Recently signed free agent QB Craig Ochs may be sent to NFL Europe by the Bills. His agent said that's the plan and they hope to sent him to Amsterdam where a former University of Montana QB is. Depth Chart

Special Teams Shine: For the sixth straight year we breakdown each position with our final grades. We also grade out each player as well. The only unit that performed stellar was the Special Teams with everyone getting A+ grades. We wrap up our 2005 gameday homepage with the final grades and our Bills Daily award winners that includes Rian Lindell, Eric Moulds, and London Fletcher among others. Final Grades


Tuesday January 10, 2006


Moorman All-Pro: Brian Moorman was named to the Associated Press All-Pro team adding to the honor of making the Pro Bowl team. Terrence McGee was named second team All-Pro as a kick returner behind Pro Bowl returner Jerome Mathis.

Bills Sign Eight: The Bills got a head start on filling out their 80 man offseason roster by signing eight players according to KFFL. Four of the eight already had ties with the team, they are: QB Tory Woodbury, LB Wendell Hunter, DL LaWaylon Brown, and DE Eric Powell. All four spent time with the Bills in camp or on the practice squad this past year. Hunter, Powell, and Brown finished the season on the practice squad. The other four newest Bills are: QB Craig Ochs, K Nick Setta, LB Greg Carothers, and DE Tai Tupai. Ochs spent training camp last year with the Chargers before being released. Setta was with the Browns last summer. Carothers was released by the Cardinals this summer. Tupai played in the Arena 2 league. Woodbury was the fourth QB in training camp with the Bills this past summer.

Cottrell Available: An interesting possibility for the expected to open soon defensive coordinator spot is Ted Cottrell. With the firing of Mike Tice in Minnesota he has become available after officially being let go on Sunday. He has a strong history with Marv Levy and may be willing to come back to Buffalo. Do you think the Bills should pursue Cottrell? Answer our poll on our homepage and let us know what you think.

Bills Looking At Maxie: Jerry Gray is still officially the defensive coordinator of the Bills but that hasn't stopped them from looking for a new one. The Buffalo News is reporting that the team plans to talk to Falcons assistant head coach Brett Maxie about the position. They have asked and received permission from the Falcons to talk to him. The Bills are expected to set Gray free but are waiting to see if he gets one of the open head coaching jobs.


Monday January 9, 2006


Teague Honored: Trey Teague was named the Bills offensive lineman of the year by Meyer Products, the official snowplow of the Bills. Fans voted Teague the award. Teague thanks the company and the fans for their vote.

Clements A Scapegoat? Some people are thinking that Tom Clements may have been a scapegoat for the offensive woes. He had the play calling taken away from him in week 5 but the offense didn't perform much better with Coach Mularkey calling the plays. One report states that Clements got the play calling duties back for the final two games. If this is true, the offense played much better in these games and maybe Clements wasn't the problem afterall.



---
News Archives index
Latest News Section
Archives Library
Back to Bills Daily Homepage