Jauron Begins To Assemble His Staff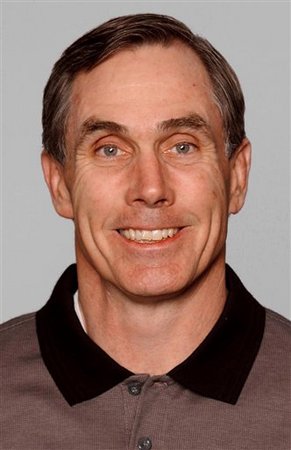 Bills Look To Keep Three: WGR is reporting that the Bills have decided to keep three offensive coaches. OL coach Jim McNally, RB coach Eric Studesville, and WR coach Tyke Tolbert are expected to survive under the new regime. The Bills have not announced yet which coaches are going or which are staying. An official announcement is expected any day now. Two coaches still under contract who are gone are defensive coordinator Jerry Gray and QB coach Sam Wyche. They have both been told they are gone but are officially still members of the staff. Special teams coordinator Bobby April is expected back.
Saturday January 28, 2006


Fewell Interviews: Dick Jauron has gone back to his old roots in Chicago to interview a candidate for the defensive coordinator spot. Bears secondary coach Perry Fewell has been interviewed for the job. He has been in Chicago only on year but coached in St. Louis and Jacksonville where he was on Jauron's staff when he was the defensive coordinator in 1998. No word yet on if Jim Bates has turned down the Bills offer or not for this post.

Farland Going To Europe: Little used offensive tackle Dylan McFarland is headed to NFL Europe, he will play for Hamburg. The two QBs the Bills assigned to Europe also got their teams. Craig Ochs will play for Frankfurt while Tory Woodbury will play for Cologne. S Rob Lee will also play for Frankfurt. DT LaWaylon Brown will play for Amsterdam while DT Faafetal Tupa'i will play for Hamburg. RB Fred Jackson was drafted by Rhein while kicker Nicholas Setta will be assigned a team at a later date.

Lynn Interviews: WGR is reporting that Ravens secondary coach Johnnie Lynn was in town yesterday interviewing for the defensive coordinator's job. He has held his job with Baltimore the last two seasons. He spent seven seasons on the Giants coaching staff, the last two as defensive coordinator.


Friday January 27, 2006


Fairchild Excited: Steve Fairchild told the Buffalo News from his home in St. Louis that he's very excited to be returning to Buffalo. He is very happy to going back to familiar surroundings and a first rate organization. He's especially excited to be working with Dick Jauron whi has great knowledge of the game and everything about him and his character is very impressive.

Bates Mulling Offer: A rep for Jim Bates said his client is mulling over the offer the Bills gave him to become the team's defensive coordinator. There are a few reports that say he may not take the job but nothing has been officially decided at this time.

Wyche Gone? WKBW-TV is reporting that Sam Wyche will not return to the Bills this year. No reason was given and the team has not filled any offensive coaches except for the coordinator job. The TV station cited sources from within the team that said he won't be back. No official confirmation has been made at this time.

Sherman Turned Down Chance: NFL Network's Adam Schefter reports that the Bills gave Mike Sherman a chance to interview for the offensive coordinator position after he lost out for the head coaching job. He declined to interview and the Bills have since hired Steve Fairchild. Sherman isn't in a rush to take any job because he is still getting paid by the Packers.


Thursday January 26, 2006


Schneck Added To Pro Bowl Squad: The Bills special teams unit now has two pro bowl players going to Hawaii. Long snapper Mike Schneck has been added to the Pro Bowl squad. He was selected as the need player for the AFC by the Denver Broncos coaching staff. The losing team in the championship games has their staff coaching the all star game and they get to take one need player each year. Schneck called it an honor for the entire special teams unit and said he doesn't go if it wasn't for Brian Moorman being a Pro Bowl punter.

Kugler Turns Down Job: A report from an Idaho newspaper says that former Lions tight end and offensive line coach Sean Kugler has turned down a chance to rejoin Dick Juaron in Buffalo. The report says he was offered the tight ends coaching position that is still currently being held by Mike Miller. He turned down the job to rejoin the staff at Boise State University.

Bates Offer? League sources have told the Buffalo News that the Bills have offered their defensive coordinator's job to Jim Bates. He most recently held that post in Green Bay and was the interim head coach in Miami last year. If he comes to Buffalo it will be a bit of irony. Many thought an advantage to hiring Mike Sherman would be that he would bring Bates to Buffalo with him. The report says the Bills are waiting to hear if he will accept the offer, he is a hot commodity around the league at this time.

Assistants Wait: The Bills have nine assistants under contract that are leftover from the Mularkey regime. Dick Jauron said he will talk to each coach and give them an opportunity to earn a job on his new staff. He has already filled the offensive coordinator and defensive line coach jobs with his two new hires, both of those positions were already vacant. Of the nine remaining coaches, Jerry Gray looks to be definitely gone, as he has interviewed for other positions, it just isn't official yet for some reason. The coaches most likely to stay are special teams coordinator Bobby April, defensive assistant Chuck Lester, and OL coach Jim McNally. There is a good chance QB coach Sam Wyche will be able to stay. New coordinator Steve Fairchild will have a say on whether or not receivers coach Tyke Tolbert, RB coach Eric Studesville, and TE coach Mike Miller return.


Wednesday January 25, 2006


Fairchild Hired: The Bills have their offensive coordinator. Steve Fairchild re-joins the team where he served as running backs coach in 2001 and 2002. He has been the offensive coordinator for the Rams the past two years and served as offensive coordinator/quarterbacks for one. He didn't handle the play calling duties in St. Louis until Mike Martz left the team during this past season because of an illness. Let us know what you think of the latest hire, take our poll on the homepage.

Business Reorganization: Back when he fired Tom Donahoe, Ralph Wilson said he would separate the business operations and the football operations. He has made moves on the business end today. As expected, he has promoted Russ Brandon to Executive Vice President Of Business Operations. He will oversee all business administration and operations of the organization. He will basically be the equivalent of Marv Levy on the business side. The team also promoted Jim Overdorf to Vice President of Football Administration. Overdorf has long been the money guy with the Bills and he is expected to oversee the salary cap situation and take the lead in contract negotiations while working closely with Marv Levy.

Bills Set Ticket Prices: The Bills have set their 2006 ticket prices, they have lowered the price of a season ticket in the upper deck corner sections by $3. Other season ticket sections will increase by $1-$4 per game. Individual game tickets will rise also from $1 - $5. Season ticket holders will see on average a 20% discount from the individual game ticket price. The Bills remain the least expensive ticket in the league.


Tuesday January 24, 2006


Bills Add DL Coach: Dick Jauron has begun assembling his staff. The team announced late this afternoon that they have hired Bill Kollar as their defensive line coach. He has been on the Rams staff the past six seasons as their DL coach. He spent two seasons in Atlanta before that in the same role.

Henderson Heading To Buffalo? The Bergen Record is reporting that there is a chance that the Bills will hire former Jets defensive coordinator Donnie Henderson as their new defensive coordinator. A source told the newspaper that he could end up in Buffalo as early as today. If it falls through he may end up on Herm Edwards staff in Kansas City.

Villarrial Thrilled: Chris Villarrial is fired up that he will be reunited with his former coach in Chicago now that Dick Jauron has taken over the Bills job. He said some of his teammates that he's talked to are also fired up. He said Jauron is straightforward and you always know where you stand with him. He called him a great guy who treats men like men. Despite being a low key guy, Villarrial says he knows when he has to raise his voice and when he does players respond. He echoes Levy's comments that there were many other factors in why he didn't win that much in Chicago. He said the fans will see that he's a true football coach and a down to earth guy that is a winner. He feels a lot of players in this league want to play for Jauron, which will help them in free agency. Despite all the off season turmoil Villarrial thinks they will be regaining the family atmosphere that has been missing the past two years. He plans on coming up to Buffalo on Thursday to talk to Jauron in person.

Matthews Feels Bills Made Good Choice: Shane Matthews said the Bills made a good decision because Jauron is a tremendous person and coach. He stopped short in saying it would be enough to convince him not to retire since he's enjoying the weather down in Florida. Jauron will look for the most consistent players especially at quarterback. Some of Jauron's strengths are that he is very intelligent and players play hard for him. The way he carries himself will rub off on the players and he will have his team ready to play each week. Matthews calls him unflappable, he keeps a good demeanor and people will be very impressed with him in Buffalo.


Monday January 23, 2006


Bills Introduce Jauron: The Bills officially introduced Dick Jauron as their new head coach at a news conference this afternoon. Ralph Wilson hit the podium first and started with a joke about the number of press conferences they have had this offseason. The Governor of New York called Wilson to congratulate the team on their new head coach. Wilson said they interviewed a great number of potential coaches and he was very impressed by every single coach that they interviewed. Marv Levy followed Wilson and re-iterated that all six candidates were head coaching material but they arrived at the consensus decision to hire Jauron which both Levy and Wilson truly believed in. Levy said they weren't looking at an offensive or defensive coach, they were looking at a head coach. He liked the way Jauron talked about his structure of coaching, it won't be all about defense, it will be about all three phases and he expects him to hire outstanding coordinators. He feels they got the three qualities they were looking for: a great teacher, works well with others, and is a straight shooter that has the respect of his players.

Jauron Will Do Everything He Can To Win: Dick Jauron thanked Marv Levy and Ralph Wilson for giving him the great privilege of working as a head coach in the league in his brief opening remarks. He said he promises he'll do everything he can do to bring a winning team back to Buffalo. He talked about the great winning tradition in Buffalo and the passionate fans. The first order of business will be filling the staff and everyone under contract at this point will be talked to and have an opportunity to interview for jobs. They will then evaluate the personnel they have followed by developing the schemes they will run. He will use a combination of molding his schemes around the personnel but it can't be too complicated because too many players move in and out. He stressed that everyone in the organization has to work together to hit their goals of winning. On the QB situation, he said his philosophy is that every position is competitive and the better player will get the starting job at each position. He said J.P. Losman will be part of the overall personnel study. He loves to coach and has been in the business for 22 years. He hopes criticism doesn't come but he knows it is inevitable if they don't perform. If they win the fans will be passionate in a positive way.

Levy Looked Beyond Records: Answering a question about why they picked Dick Jauron over Mike Sherman, Marv Levy said it wasn't just the two involved, all the candidates were involved. On the won-loss record difference, he said it isn't all about that. Sherman had better talent than Jauron had and the fact that the Bears played away from home for a year while Soldier Field was being re-done. He also talked about how he came to Buffalo with a losing record and Bill Belichik had a losing record in Cleveland. He said records are a factor but they looked beyond that. Levy also said the assumption that he hired Jauron because of their association is not right. He was open minded in all six interviews.

Tough Hiring Process: Ralph Wilson told the Rochester D&C that all the candidates they interviewed in the coaching search were outstanding. He joked that if he got anymore thorough he wouldn't be here anymore and that he had to go back to Detroit to rest. He called picking the new coach was very difficult task because they had so many top prospects.

Jauron's Deal May Be Three Years: Chris Mortensen is reporting for ESPN that the deal Dick Jauron will sign to be the head coach of the Bills is a three year deal. This has been the norm for most of Buffalo's head coaching contracts. Mike Mularkey had a five year deal and Owner Ralph Wilson clearly learned his lesson.

Wilson On Board With Jauron? We've been reporting that their may have been a rift in the Bills over the coaching selection as Wilson supposedly favored Sherman while Levy favored Jauron. NFL.com's Adam Schefter reports that isn't the case. He said Jauron was the runner up for the job two years ago and he flew to Buffalo on Ralph Wilson's private plane and got re-acquainted. The two also went out for Dinner while in Buffalo and Wilson new he had his man.



---
News Archives index
Latest News Section
Archives Library
Back to Bills Daily Homepage