Smith, Wilson Make Hall of Fame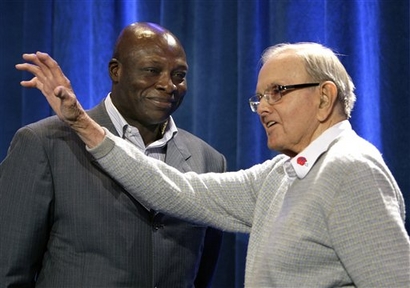 Super Sunday: The culmination of the NFL season is today as the Arizona Cardinals take on the Pittsburgh Steelers. The Cardinals are a touchdown underdog and it will be a battle of a very good offense against a very good defense. I'd like to see the Cardinals win but the good defense usually wins out and the Steelers will give the AFC the championship.
Saturday January 31, 2009


Wilson On Relocation: Ralph Wilson was asked about his desire to keep the team in Buffalo. He said he didn't come into the game to make money, he came in for the competition and the love of the game. Speaking about Buffalo, he said he would never want the Bills to leave because it would be devastating for the city. He has voted against every relocation since being in the league and thinks no team should move unless they can't survive in a city. He reiterated that the Bills are surviving in Buffalo.

Presenter Possibilities: Bruce Smith said it will either be Marv Levy or former defensive coordinator Ted Cottrell that will present him for induction into the hall of fame. Ralph Wilson hasn't given it thought but will soon, he says there are so many people that could do it. Levy presented both Jim Kelly and Thurman Thomas when they were inducted into the hall of fame. Smith said his 14 year old son turned him down when he asked him if he'd like to do it.

Praise For Wilson: The son of legendary Chiefs owner Clark Hunt took to the podium to speak about the late Derrick Thomas and his induction into the Hall of Fame. He took a moment at the beginning of his speech to tell Ralph Wilson that his father, a fellow original AFL owner, is looking down at his old friend and smiling. Hunt went on to say that he couldn't think of a better way to kickoff the 50th anniversary of the start of the AFL then to have Wilson elected to the Pro Football Hall of Fame.

Wilson Calls It A Tremendous Honor: Ralph Wilson walked to the podium after hugging Bruce Smith to speak about his selection into the Pro Football Hall of Fame. The 90 year old owner looked good but said it will take time to get over the pleasant shock of getting in. He called it a tremendous honor and said he has made so many friends in football over the last half century and this great honor has left him speechless. He then found a way to talk about how he has seen all the shrinees that preceded him. He thinks being in the same hall of fame with them is a great honor that he never expected. He loved the game and that is why he got involved in the old AFL. He cracked that they haven't had much of a product since Smith left. He did say that the city of Buffalo has great fans that support the team. He hasn't thought much yet about how great it is to be included with Smith but it's a "heckva thought".

Smith Blessed By Selection: Bruce Smith spoke to the media shortly after being inducted into the class of 2009 He wiped away tears as he was the first to take to the podium at the press conference. The very emotional Smith spoke about the sacrifices his parents to help him have a better life and he knows his Dad would have been extremely proud of this day. He thanked the voters and he said he represents so many people that helped him along the way including his parents, wife, and children and other people who helped shape the man he became. He said he's so blessed to be where he is. He said it's an individual honor but he'd be remissed if he didn't speak of the individuals who made it possible starting with his great coach and mentor Marv Levy. His old coach said jokingly there would be no curfew tonight since there is cause to celebrate tonight. Ralph Wilson being in the same class as him makes it even more special. He is sorry Andre Reed will not join the class but he is a hall of famer and he hopes the voters see it to put him in soon. The newest member of the hall also mentioned Darryl Talley, Thurman Thomas, and Jim Kelly.

Smith, Wilson Both Make Hall of Fame: Two of the three Bills listed as finalists are now Hall of Famers. Bruce Smith and Ralph Wilson join Rod Woodson, Randall McDaniel, Derrick Thomas, and Bob Hayes in the class of 2009. Andre Reed did not make it and was eliminated in the first cut to 10. This was his first year as a finalist. Smith was expected to make it in his first year of eligility and it was a bit of a surprise that Ralph Wilson made it. It's interesting he would go in the year he has faced tough criticism from the fans of the team. Roger Goodell did talk about Wilson's merits during his state of the league address yesterday. It was possibly the longest meeting of the selection committee ever as they spoke for six hours before getting down to the final vote. Smith and Wilson join former teammates James Lofton, Jim Kelly, Thurman Thomas, and former coach Marv Levy in the Hall of Fame. They became the eighth and ninth Bills to go to the Hall. Joe DeLamielleure, Billy Shaw, and O.J. Simpson are the others. The ceremony will take place Saturday night August 8th. The Bills will then play in the Hall of Fame game in Cantono on Aug. 9th against Tennessee.

Bills To Play In Hall of Fame Game: On the day the Bills are hoping to get up to three people in the Hall of Fame, the league is expected to announce that they will play in the Hall of Fame game on August 9th against the Tennessee Titans. That can setup quite a weekend in Canton Ohio for Bills fans. Bruce Smith is a lock to be there as an inductee in his first time eligible. At 2pm the Class of 2009 will be announced and there is some hope that Andre Reed and/or Ralph Wilson will join Smith in Canton although it is unlikely.

Edwards At Super Bowl: Trent Edwards is in Tampa for the Super Bowl activities. He told the Buffalo News that his shoulder feels great and he's very happy Dick Jauron is staying. He said he's shoulder was sore and swollen from normal wear and tear and is healing fine. The swelling has since subsided. Edwards said the blame from last year's collapse goes squarely on the players and not the head coach.


Friday January 30, 2009


Commish Happy About Toronto Games: In his annual state of the NFL address today, Roger Goodell said he was happy with the success of the Toronto games and it is doing it's job of regionalizing the franchise more. He said ticket sales in Orchard Park were up 40% from the Toronto area. He called it a work in progress and expects it to be even better next year. It appears the organizers will lower the ticket prices for next season. Goodell admitted prices were way too high and trying to get people to buy all five years was too much too ask added Ralph Wilson who also thought the prices were too high.


Thursday January 29, 2009


Lynch Added To Pro Bowl Squad: The Bills now will have a player in the Pro Bowl a week from Sunday. Marshawn Lynch has been added to the team and will make his first Pro Bowl appearance. Jason Peters was the only Bill elected to the Pro Bowl but he bowed out because of injury. Lynch was a first alternate for the AFC squad at running back and replaces Chris Johnson who backed out with a high ankle sprain suffered in the playoff loss to Baltimore. The last Bill running back to play in a Pro Bowl was Travis Henry in 2002.


Wednesday January 28, 2009


Bills Find DL Coach: The Bills have found their replacement for Bill Kollar. The new defensive line coach is Bob Sanders. He has spent the past three years as the defensive coordinator for the Green Bay Packers. He has thirty years coaching experience, 15 as a line coach. Sanders has never worked with Dick Jauron but is looking forward to the opportunity. Under hit tutelage in Green Bay they racked up some impressive stats in some categories including takeaways and pass defense. They also led the conference in sacks in 2006. He has a good relationship with Perry Fewell and the scheme in Buffalo is similiar to Green Bay. He coached linebackers for the Dolphins for four years and has most of his coaching experience in college. Sanders, and most of the Packers defensive coaches, were fired earlier this month as a result of several fourth quarter collapses this past season.


Tuesday January 27, 2009


Bills Sign Two: The Bills have signed two players. They reached agreements on a contract for C Marvin Phillip and WR P.K. Sam. Sam was with the Toronto Argonauts of the CFL last year.

Nix Returns: The Bills brought back an old friend when they added veteran scout Buddy Nix yesterday. He previously was with the team from 1993 to 2000. He will serve as a national scout with a focus on the Southeast. He was with the Chargers in the player personnel department the past eight years.


Monday January 26, 2009


Super Bowl Week Arrives: Super Bowl week has arrived as both teams are now in Tampa for the Big game. Bills fans get chills down their collective spines when they think about the last time the Super Bowl was in Tampa as it was back in Super Bowl XXV when you know what happened. This year the heavily favorite Steelers take on the underdog Cardinals. It is interesting to see what Bills fans think. Do you root for the AFC team? Or do you like the Cinderella team that manhandled the Bills back in week 5? Take our poll on our homepage and let us know who you want to win the big game not necessarily who you think will win it.



---
News Archives index
Latest News Section
Archives Library
Back to Bills Daily Homepage