New Uniforms Revealed

Position Changes: While perusing the Bills official roster I noticed several position changes on defense that have happened because of the new 4-3 defense. Danny Batten, Robert Eddins, and Shawne Merriman are now listed as defensive ends. Dwan Edwards is now listed as a tackle. Bryan Scott is officially listed as an outside linebacker. We still have him at strong safety as well. Check out our updated depth chart.

The quickest way to get breaking news from Bills Daily is to

follow us on twitter!
Friday April 6, 2012
Ticket Sales Continue To Grow: Russ Brandon told the Associated Press today that renewal of season tickets is at the fastest pace in 15 years right now and he hopes they may get up to 50,000 season tickets this year. The team has sold 4,320 new season tickets since the signing of Mario Williams. Last year the team sold just 37,355 season tickets.
Thursday April 5, 2012
Bills Lose Bell: The Bills have lost their second unrestricted free agent as newly re-named Demetress Bell has signed a five year deal with the Philadelphia Eagles. They were in desperate need of a left tackle after losing Jason Peters to a blown Achilles tendon. Philadelphia said they were interested in Bell before they lost Peters but they never moved to bring him in for a visit until Peters' injury. Depth Chart.
Wednesday April 4, 2012
Preseason Schedule Released: The Bills preseason schedule was announced today. Exact dates and times will be determined. They face Washington at Ralph Wilson Stadium week 1 followed by a trip to Minnesota week 2. They come home to take on Pittsburgh week 3 and close out the preseason at Detroit.
Parrish Signs With Chargers: The Bills have lost their first unrestricted free agent of the offseason as Roscoe Parrish has agreed to terms with San Diego on a one year deal. The Bills decided a long time ago they would move forward without Parrish has they grew tiresome of his constant injuries.
The quickest way to get breaking news from Bills Daily is to

follow us on twitter!
Tuesday April 3, 2012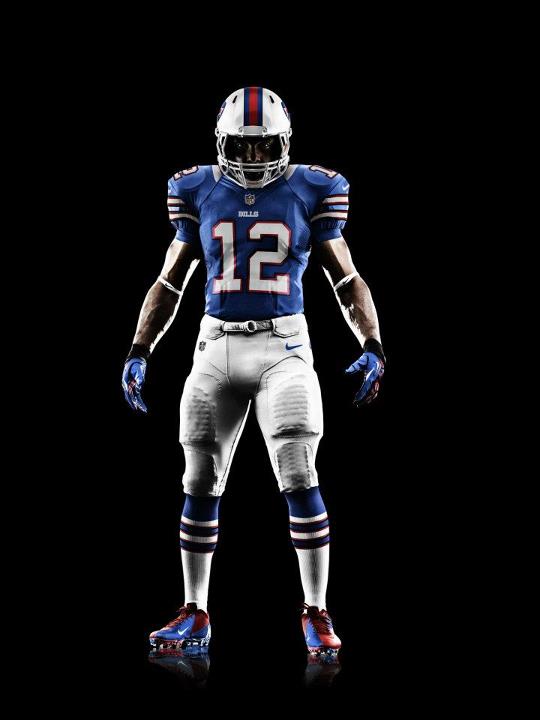 New Uniforms Unveiled:Nike has revealed the new uniforms for all NFL teams. The uniforms have pretty much the same look but the feel is different. They also have white collars around the neck area. You will be able to pre order the new Jerseys from the team's website on April 15th and you can buy them starting April 26th. George Wilson was at the unveiling in Brooklyn to model the new Bills jersey. He will be at a New York City Bills Backers event at McFadden's on 42nd St. and 2nd Ave. in Manhattan. We will have a picture shortly.

The quickest way to get breaking news from Bills Daily is to

follow us on twitter!
Sunday April 1, 2012
Bell Market Heating Up: Demetrius Bell is the top tackle left on the free agent market and the action is heating up. This weekend he took free agent visits to Pittsburgh and Philadelphia. The Eagles are desperate for help at the position after losing Jason Peters to a blown Achilles Tendon. Bell previously visited Arizona, Washington, and Green Bay. Buddy Nix said the team has an offer out but he is obviously testing the market.
The quickest way to get breaking news from Bills Daily is to

follow us on twitter!
Monday March 26, 2012
Bills Awarded Compensatory Pick: The Bills were rewarded an extra draft pick in next month's draft giving them 10 picks now. They were given a 7th round compensatory pick, the 151st overall pick and the last comp pick given for free agent losses. They likely got it thanks to the loss of Paul Posluszny. They now will have three draft picks in the first two days of the draft and seven on the final day including two picks in the 4th, 5th, and 7th rounds.
---
News Archives index
Latest News Section
Archives Library
Back to Bills Daily Homepage