Progress Made In Johnson Talks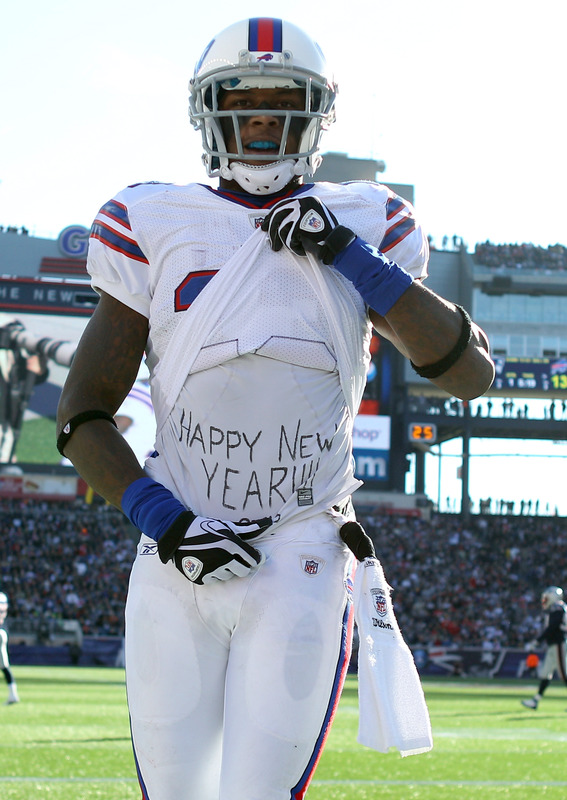 Johnson Hopes To Have Deal Soon: It seems like the Bills and Stevie Johnson are getting close to completing a deal. The two sides made enough progress during Friday's meeting that they reportedly met again on Saturday. Johnson spoke to Fox Sports Ohio while attending a Kentucky basketball game on Saturday. He said he wants to stay in Buffalo since that is the team that drafted him and he would like to help the team get to the playoffs. He said he hopes to have a deal completely within the next week or so.
Saturday February 25, 2012


Jackson Contract Update: GM Buddy Nix told TSN radio in Toronto that he will be offering Fred Jackson a new deal before training camp as promised. This is not new news but the timetable is more in focus. What he doesn't know is if the offer would be good enough for Jackson to sign and be happy. It's important to keep him happy as he is the heart and soul of the offense.

The quickest way to get breaking news from Bills Daily is to

follow us on twitter!
Friday February 24, 2012
Progress Made In Today's Talks: Stevie Johnson representative C.J. LaBoy met with Jim Overdorf this afternoon and told the Buffalo News the meeting was productive and he's very optimistic and looks forward to continuing to talk. Free agency is quickly approaching on March 13th and the Bills have less time than that to decide if they will use the franchise tag on him as that deadline is March 5th.
Tag Still Possible: Joe Buscaglia of WGR got a one on one with GM Buddy Nix today. He said don't expect a deal to be struck today with Stevie Johnson as today's talks will center around making progress on the talks. Nix also said sources are wrong that said they won't use the franchise tag on him if they need to. They said it is a possibility but a long term deal is desired. Nix also told Buscaglia that they are working to sign other free agents including Scott Chandler, Bryan Scott, Demeterius Bell, and Kirk Morrison. Meeetings with their agents are expected this weekend as well. Nix also said the Bills have rolled over their remaining cap money from last year which may open up the wallet some more for signing free agents.
Negotiations Today: Representatives for the Bills and Stevie Johnson will meet today in Indianapolis to continue contract negotiations. The two sides swapped proposals earlier this month and reports say they are about $2 Million a year apart at this time. Today's meeting will not result in a new deal but will go a long way in determining if the team has a chance at keeping Johnson off the free agent market.
The quickest way to get breaking news from Bills Daily is to

follow us on twitter!
Thursday February 23, 2012
Combine Underway: The NFL scouting combine is underway in Indianapolis and Chan Gailey was making the rounds today. He held an in depth interview with Joe Buscaglia of WGR radio where he said a few interesting things. He said the team is in negotiations to re-sign free agent LB Kirk Morrison and OT Demeterius Bell. Morrison barely played last year sitting behind Nick Barnett on the depth chart. In the new 4-3 defense however he would likely be tabbed to start on the strong side in the SAM role. Gailey would like Bell back but since he hasn't proven he can stay healthy the team would likely be in the market for a tackle high in the draft to challenge Bell, if he's re-signed, and Chris Hairston.
The quickest way to get breaking news from Bills Daily is to

follow us on twitter!
Wednesday February 22, 2012
McGee Deal Restructured: The Bills announced today that Terrence McGee has restructured his contract with the team. The Bills would not release details of the deal but sources say no years were added to the deal. He reportedly had a cap number of $6.3 Million and was due a $500,000 roster bonus on March 17th. His base salary this year was going to be $3.6 Million this year and $4.6 million next year. The move was obviously made to free up cap room and likely keeps the oft-injured McGee from being released. His agent said the deal gives the Bills protection against McGee's injury history but also gives his client a chance to make all the money of the original deal if he remains healthy.
Tuesday February 21, 2012
Season Ticket Prices Stay The Same: The Bills announced today that season tickets for this year will remain the same and tickets in the Family and Coors Light Rockpile sections will be significantly reduced. Tops Family Corner ticket prices will be $30 per game down from $40 last year. The Coors Light section will be $25 per game, that was $40 last year as well. Russ Brandon announced the prices, "On behalf of our owner, Mr. Ralph Wilson, the Bills organization is pleased to announce that season ticket prices will remain flat for the 2012 season," said Buffalo Bills Chief Executive Officer Russ Brandon. Our season ticket fan base is the backbone of our franchise and we greatly appreciate their continued support. Everyone in the organization is committed to building upon our strong foundation and taking a significant step forward this year."
Preseason Game Not In Toronto: The Bills also announced today that the preseason game originally schedule for Toronto this summer will revert back to Buffalo due to a scheduling conflict in the Rogers Centre. Russ Brandon did say that the team is working on a new deal for the Toronto series with Rogers Communications. He re-iterated, "Our core goal is to continue to regionalize our franchise and continue our series in Toronto which has served us so well. We will provide more information once terms are finalized."
Monday February 20, 2012
Routt Goes To KC: Stanford Routt has made his decision and has decided to sign with the Kansas City Chiefs. He had visited with the Bills last week but decided to stay in the division and signed a reported three year deal worth almost $20 Million.
Routt Decision Expected Soon: Pro Football Talk is reporting that a decision is expected soon by free agent CB Stanford Routt. He visited Buffalo, Kansas City, and Cincinnati last week and a few other teams are also reportedly interested. He had a good visit at One Bills Drive last Monday. The report speculates that the market for Routt may not be as robust as they thought it would be.
The quickest way to get breaking news from Bills Daily is to

follow us on twitter!
---
News Archives index
Latest News Section
Archives Library
Back to Bills Daily Homepage