Bills Hire McDermott As New Head Coach
Sunday January 15, 2017
Aaron Returning? John Warrow of the Associated Press is reporting that the father of Aaron Williams say he is leaning towards returning to the team next year instead of retiring. His family has been urging him to hang up his cleats after suffering severe neck injuries the past two seasons.
Childress OC? Ian Rapoport is reporting that Brad Childress could be the next offensive coordinator for the Bills. He is currently the co-OC in Kansas City and is considered a top target for the job in Buffalo along with Greg Olsen according to Rapoport. If they go with Childress than the first time head coach Sean McDermott will have two coordinators with head coaching experience. Childress coached with new defensive coordinator Leslie Frazier in Minnesota and with McDermott in Philadelphia from 1999 to 2005. He was the QB coach to 2002 with the Eagles and the offensive coordinator from 2003 to 2005. Olson was the offensive coordinator with the Jaguars until he was fired in the middle of the season. He was also the offensive coordinator for Detroit, St. Louis, Tampa Bay, and Oakland.
Saturday January 14, 2017
Bills Add Another Coach: Sean McDermott added another coach to his defensive staff today. He has hired former Rams defensive line coach Mike Waufle as their new defensive line coach. He was the foul mouthed discplinary that became quasi-famous on Hard Knocks for his no nonsense attitude. He was credited with getting Aaron Donald in line and the hope is he can do the same for Marcell Dareus. He was with the Rams the last five seasons. He also spent six years each with the Raiders and the Giants. The team has officially let Dennis Thurman and Aaron Kromer out of their contracts as their positions have been filled. Coaching Staff.
Friday January 13, 2017
Three More Coaching Hires Official: The Bills officially announced the hiring of Leslie Frazier as defensive coordinator and Juan Castillo as the offensive line coach and running game coordinator. Both of these hirings were reported yesterday. The team also hired Bob Babich as the team's linebackers coach. He is a 14 year veteran who coached the Chargers linebackers last year. During his press conference Sean McDermott announced the team will retain special teams coordinator Danny Crossman
Pegula Introduces McDermott: Terry Pegula introduced Sean McDermott as the Bills new head coach at a press conference this afternoon followed by a Q&A with McDermott and Doug Whaley. The media was warned that they would only take questions pertaining to the search and moving forward. Pegula did not take questions. Pegula said Whaley and Jim Monos did a great job leading the search as the search focused on a head coach who could concentrate on long term planning and short term decisive decision making that will help them win football games. He also needed to be a man that could act as the face of the organization and handle the culture of the team. Sean was the leading candidate from day one of the search with his strong passion of the game and the fact he has trained for this since being with Andy Reid's staff. He is a smart, thorough, decisive winner according to Pegula.
McDermott Opening Statement: Sean McDermott begun by thanking the lord, his parents, his family, the Panthers, the players he's coached, and Andy Reid. He seemed to get choked up early in his statements. He thanked the Pegulas in having the confidence in giving him this opportunity along with the search team. They look forward to this opportunity to be a part of this city and this fan base. This is their type of town and they look forward to making it their home. He called it an honor to coach the players and he looks forward to doing it together. He understands the expectations and he accepts the challenge. He wants to build a culture of winning and it is an honor and privlege to be the coach and they will do it as a team.
Questions: John Warrow of the AP got the first question and welcomed him to Buffalo. He asked how he will bring the franchise back to a winning program. McDermott said he has been around winning programs and in his diligent nature he has learned every step of the way brick by brick. He has been to three Super Bowls so he knows what that tastes like. He feels confident in his abilities to bring that to Buffalo. Sal Cappaccio of WGR followed Warrow and asked why he wanted the job. He said he did his research like he always does as he is a meticilous thorough guy. He feels it was the best job on the market because of the ownership. He has seen what great ownership looks like and they have two great ones that are committed to winning. Secondly he talked about the great fanbase. He has been here as a visitor and wants to be part of it. He looks forward to creating that fire in the stadium. Vic Carucci went next and asked how he will get things turned around quickly with a new scheme. He will evaluate the roster and put the players in position to be successful. He looked at the personnel and says he looks forward to working with the players on this team. He answered Jerry Sullivan's question on promises and said they wil be competitive but he's not in to making promises. They will compete on a daily basis and he will build the culture along with the people in the building to build the standard of winning. He believes in the process and they have a lot of work to do. Adam Begnini asks about control of the 53 and Sean immediately said Whaley has control of the 53 and he's very comfortable with the situation. He wouldn't have taken the job if he wasn't comfortable with that and he made that clear and the Pegulas made it clear. Whaley piped in saying it's a team effort and it starts at the top. They are working together at every level. Sal Mariona then asked about the quarterback situation and asked how he will address it. Sean had a nice conversation with Tyrod Taylor right before the press conference. He doesn't want to get ahead of himself he will be methodic in evaluating every position and every player. There will be a time for that. Joe Buscaglia then asked about the defensive scheme. McDermott said he comes from a 4-3 background but has worked in a 3-4. He won't get into what they will do at this point but will put the players in position to succeed. McDermott doesn't know yet if he will call the defensive players but he will be involved in all three faces. Matt Fairburn asked about the offensive coordinator search and McDermott said it's an extremely important one. He is at work putting the staff together. He will build it with people of great energy and he's talking to a number of great candidates. He said they have retained Danny Crossman as the special teams coordinator. On another question on Taylor, he said he appreciated him reaching out and called him a fine young mine and he's watched him. He knows his skillset and what he brings to the table. It is premature to expand any futher. He will diligently look at the roster and go through it with Whaley. Leo Roth pressed him further on if he can keep him if he wants to. He said he's confident in Doug and the Pegulas and he knows what he's looking for and he knows what a winner looks like. Josh Reed asked him about the embracing the drought. McDermott said he knows the rich history of football in Buffalo. He gets them looking at the 17 years of the drought but he also looks at the great players that have played there. He understands about the drought and he gets the passionate fanbase and that was part of the draw of coming here. He grew up like that. He won't shy away from this challenge. They will start by winning inside the community and then go outward. Whaley said McDermott is a guy who will maximize player ability. Nothing has been finalized with any other coaches besides Crossman at this time. He is looking for great people since it's a people driven business. He wants guys who care about people, care about these players. His background is in accountablity and he will require that. He said they will do everything possible to gain a competitive advantage and that will include analytics. To win on the field, you need to win off the field first. He always believed in safety first and doing things the right way. Being a good football coach is mastering fundamentals and techniques. He's a big believer in character as well.
Pegula On WGR: Terry Pegula told Tim Graham of the Buffalo News that once Sean McDermott is introduced he will be the face of the franchise. So an hour before the announcement Pegula sat down with John Murphy and Donald Jones on WGR. On the hiring of McDermott he said they didn't interview as many candidates as last time but researched more than they interviewed. They didn't need to talk to more candidates since Shawn he was very impressive and just nailed it. They were looking for a decisive coach who showed unparallel leadership that players could be drawn too and Shawn stuck out. They feel he can also look at the long term planning of the franchise. It was as seven hour interview and you can tell he was ready to be a head coach. He had every answer, plans, a thick book with his notes. They love that he was groomed by Andy Reid to be successful. Everything they heard about him from the outside was very good. He thinks there is something special about Sean and he has candidates in mind at least three deep for each position. Sean asked about the oragnaizational structure and Pegula told him the coach and GM work together and they both answer to the owners. McDermott was most comfortable with that because that's what he was used to. Pegula feels it is the most common structure in the NFL. Pegula says they all laugh at the perception that the front office is full of disfunction. They all get along together and they all work well together. The way he looks at it, the more everyone knows what the guy next to him is doing the better off they all are. Pegula called it grossly unfair what Doug Whaley is going through. He said what he told the Buffalo News, if he fails at press conference and they wins who cares. He likes him and he's a smart guy who works hard. He promises the fans they are working diligently to end that streak. He calls it unfair to the people in the building that have been there that they are saddled with the 17 year playoff drought. They weren't involved in football operations so the drought isn't their fault. He feels they were a few plays away from making the playoffs the past two seasons. Pegula tells the fans to give the new coach a chance and they are going to keep trying to win.
Presser at 2pm: Today's press conference to introduce Sean McDermott will be at 2pm. And as usual for big press conferences we will be posting snippets right here. Terry Pegula will introduce him but isn't expected to take questions. He did a lengthy interview with Tim Graham of the Buffalo News where he sort of addresses the issues without really saying too much of substance on the subjects fans want to know about it. It's still a good read as he says there is no disfunction and the organizational chart is sound.
Thursday January 12, 2017
Bills Have A Defensive Coordinator: Sean McDermott has picked Leslie Frazier to be his defensive coordinator. The two coached together in Philadelphia. Frazier was the head coach of the Vikings for three years and most recently the Buccaneers defensive coordinator the past two seasons. Early reports had McDermott bringing with him Panthers LB coach Al Holcomb to be his defensive coordinator but Frazier's name came up just today and he got the job. In other news you can scratch Anthony Lynn off the list for offensive coordinator as he has become the new head coach of the LA Chargers.
McDermott's First Hire: Several reports are out there that the Sean McDermott has made his first hire and it is the person who replaced him as defensive coordinator when he left the Eagles. Juan Castillo will coach the offensive line and also will be the running game coordinator. He is an offensive coach who took over the Eagles defense even though he had no experience there. He coached with McDermott in Philadelphia for 11 years under Andy Reid. He was the OL coach there from 1998 to 2010. He most recently was with the Ravens as their OL coach.
Incognito To Pro Bowl: A day after LeSean McCoy backed out of the Pro Bowl the Bills get another one to replace him. Richie Incognito has been named to the squad as a replacement for Ravens guard Marshall Yanda. He also went to the game last year and is the first Bills offensive linemen to go in back to back seasons since Jason Peters in 2007 and 2008.
Press Conference Tomorrow: The Bills announced they will have a press conference tomorrow to introduce Sean McDermott as their new head coach. The time is still to be determined. In the meantime, the team released the following statements from Terry Pegula, Doug Whaley, and McDermott: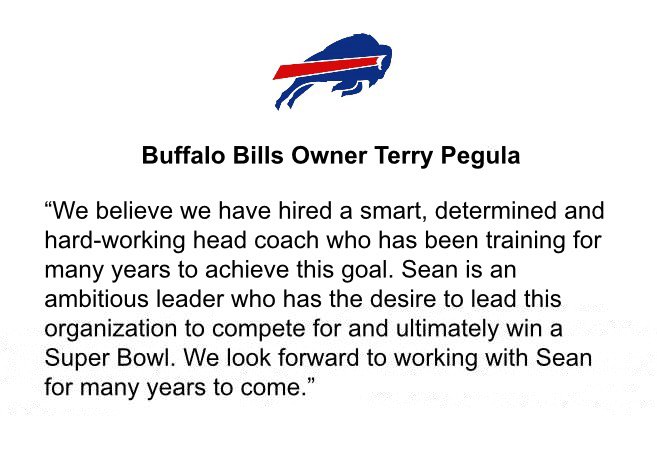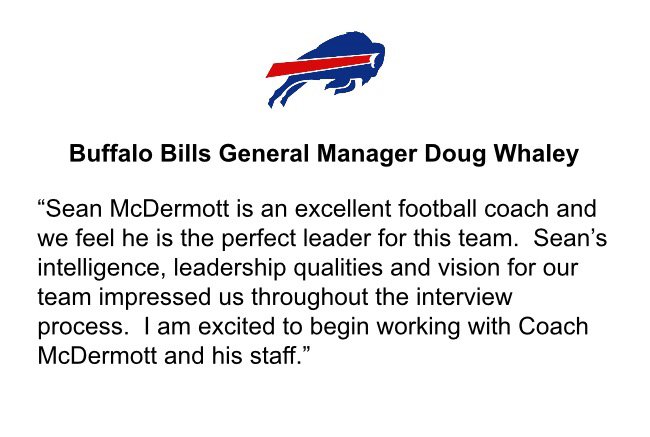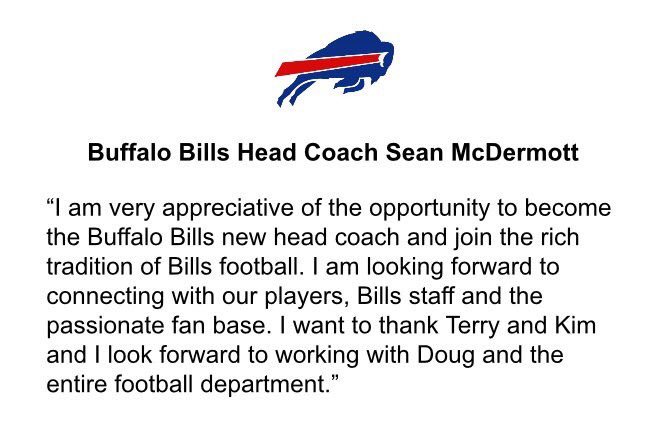 Kim Pegula tweeted this picture after the announcement was made:


Wednesday January 11, 2017


McCoy Out Of Pro Bowl: LeSean McCoy has withdrawn from the Pro Bowl and has been replaced by Jay Ajayi. That leaves only Lorenzo Alexander as the only member of the Bills that will play in the game in Orlando the week before the Super Bowl. The team does have several alternates who may end up playing.

McDermott Is The Bills New Head Coach:

The Bills have made the hiring of Sean McDermott official. He becomes the 20th head coach for the team and the 10th during the drought. Now the attention turns to the coordinator candidates. Former Chargers Head Coach Mike McCoy has been connected to the offensive coordinator job but he's also connected to the Broncos job now that Vance Joseph is the head coach there. Some reports say he is going there. There are also reports if the Bills don't get McCoy than veteran offensive guru Norv Turner could be the guy. Several sources say McDermott is bringing Panthers LB coach Al Holcomb with him to be his defensive coordinator. Of course it is highly likely that McDermott will call his own defensive plays.

Deal Being Finalized? Vic Carucci is reporting this morning that Sean McDermott is meeting with the Bills at the Pegulas home in Boca Raton and all signs point to them finalizing a five year deal today. Stay tuned for more...

Looks Like McDermott: Reports are coming out that the Bills appear to be getting close to naming Panthers Defensive Coordinator Sean McDermott their next head coach. John Warrow of the AP confirmed a second interview will take place today. Jason LaCanfora feels he will be named the next head coach today. Ian Rapoport reports he is the favorite because they haven't kept in contact with the other coaches they interviewed. Sal Capaccio and the Buffalo News are both hearing that former Chargers head coach Mike McCoy could join him as the offensive coordinator as the two have strong ties. The Buffalo News also reports the search is nearing the end and McDermott is the likely choice. He reportedly was impressed by the Pegulas who also reportedly took a liking to McDermott. It has yet to be decided, according to the News, who will control the 53 man roster. Even though Doug Whaley is leading the search, the Pegulas are picking the next coach. McDermott has coached in the NFL for 18 years. He has been the defensive coordinator in Carolina the last six years which included four straight seasons of being ranked in the top 10 including during their Super Bowl season in 2015. They struggled on defense in their disappointing 2016 season finishing 21st although they were still solid against the run and 2nd in the league in sacks. On a side note the Bills travel to Carolina this year. In other coaching news, the Eagles are reportedly interested in Bills WR coach Sanjay Lal but have yet to ask permission to speak to him. All the assistant coaches are still under contract and the new coach will decide if any of them stays. 2017 Opponents.


Tuesday January 10, 2017


Coaching Search Break: John Warrow of the Associated Press said the team is taking a break today from their coaching search. Yesterday they headed back east after interviewing Seahakws Defensive coordinator Kris Richard in Seattle on Sunday night. WGR's Sal Capaccio reports that interview went well but he still feels Anthony Lynn and Sean McDermott are the favorites. Some reports say the Pegulas really liked McDermott but it Whaley wasn't as sold on him. Capaccio also reports that the talk of the new coach having more power doesn't mean he'll control the 53 man roster but he will control his coaching staff. It is unclear now if the Bills are done with first interviews after interviewing four candidates. They reportedly want to talk to Vance Joseph but Denver is the front runner for his services.


Monday January 9, 2017


Players of the Week: We have listed all our player of the week winners on one page with their stats like we do at the end of ever year. Check it out! Player Of Week.



---
News Archives index
Latest News Section
Archives Library
Back to Bills Daily Homepage