| | |
| --- | --- |
| Bills Daily Week in Review - July 30th - Aug. 18th, 1999 | Previous Week |
Training Camp News
August 18, 1999
Bills Break Camp: The Bills packed their bags and left Fredonia after a morning practice. Tomorrow they will practice without pads in the morning before flying to Washington in the afternoon to get ready for Friday night's game. Marcellus Wiley was held out of practice with a hip flexor and Gabe Northern missed it with a groin injury. Neither injury is serious.
Fire Damages Washington's House: A three alarm fire yesterday damaged the house of Ted Washington. He was home at the time with the flu when it happened. Thankfully, He and his family made it out ok. Their was extensive damage to the house and he missed practice today to relocate his family.
August 17, 1999
Club Tired from Trip to Coast: Coach Phillips said the west coast trip took a lot out of the team so they will only practice once tomorrow before heading back to the Ralph tomorrow afternoon. Many players missed practice today with various degrees of soreness but nobody is "injured". Ted Washington missed practice because of flu-like symptoms. Antoine Winfield appears to be recovered from his dings. Most of the players who missed last week's game should be ready for the Redskins on Friday night. Peerless Price was excuses from practice today so he could go to the White House with the rest of his former Tennessee teammates.
Wilson Gets Award: Bills owner Ralph Wilson has been named the recipient of the Pete Rozelle Award. It's an annual award given to individuals for their contributions to the NFL. Marv Levy is a past winner.

August 16, 1999
Bills Back at Fredonia: The Bills had one practice this afternoon in Fredonia after morning meetings. The only injury to come out of the Seahawks game was a concussion suffered by Marlo Perry. The club practiced without pads today and Perry missed practice. Antoine Winfield and Eric Smedley returned to practice.
August 15, 1999
Bills 24, Seahawks 10: The club won its opening exhibition game for the first time since 1994. Doug Flutie played more than expected as he played late into the second quarter. Rob Johnson only played one series and ran for 53 yards including a 40 yard scamper to set up a field goal for the only first half scoring by the Bills. The Bills capitalized on Seahawks mistakes to win the game in the second half, highlighted my Manny Martin's 96 yard interception return for a touchdown. Peerless Price looks like the real deal with 5 receptions.
RB Battle? Their may be a battle to backup Antowain Smith. Rookie free agent Anthony Gray had a 24 yard touchdown run and finished with 74 yards on 13 carries. Jonathan Linton fumbled four times in the first half!
Van Pelt Plays Well: There is no doubt that Alex Van Pelt will be back with the team as the designated clip board holder this year. Despite throwing an interception he completed 8 of 12 passes including a 11 yard touchdown pass to Jeremy McDaniel.
August 13, 1999
Bills Head to Seattle: The biggest battle of the first exhibition game will take place at the biggest position. Rob Johnson and Doug Flutie will split the first half, no word on which one will start. Antowain Smith is doubtful for the game and Eric Smedley is out. Jay Riemersma, Sam Gash, and Antoine Winfield will be game time decisions.
August 12, 1999
Phillips Explodes in Afternoon Practice: In an uncharacteristic move Wade Phillips started screaming at his offensive unit. It wasn't the starters on the field but Phillips was furious with the lackluster practice by his backups as they approach game action in just two days.
Bills Gear Up For Real Game Action: Coach Phillips will be meeting with his coaches tonight to figure out who will play and how much in Saturday's exhibition game in Seattle. The team will have one practice tomorrow before flying to the west coast.
Winfield Fine: The Bills are breathing a sigh of relief as Antoine Winfield practiced today and will see some action on Saturday.
Ziegler; The New Mr. Versatility? dethroned starting center Dusty Ziegler is working at Guard and may also see action at tackle in pass protection situations. He is also still working at center as a backup to Jerry Ostroski. It was belived he was a one dimensional player but Phillips says he's a good guard and he can play tackle but only on passing downs.
August 11, 1999
Bryson Lost For Year: The news on the injury to RB Shawn Bryson was as bad as could be. Bryson tore his ACL and is lost for the season. He will be operated on soon and will have 6-8 Months of rehabilitation. This is a blow for the Bills but the reality is Bryson would not have been a big impact player this year, although he was projected to be a big time special teams player.
Winfield Banged Up: It hasn't been a good two days for rookies, first round pick Antoine Winfield went down in this afternoon's practice but it wasn't serious. He limped off with a charlie horse and was smiling as he came off the field. He told GM John Butler that he can't keep him off the field.
Spirited Day of Practice: The players are definitely ready for real life action as practice was very physical this afternoon and two main scuffles broke out. Dusty Ziegler squared off with John Holecek and Jonathan Linton went at it with Marcellus Wiley. The Linton/Wiley brawl brought most of the players on the field to break it up.
August 10, 1999
First Major Injury Occurs: Rookie running back Shawn Bryson had what could be a major knee injury in camp today. He was carted off after players heard a pop in his knee. Bryson had been working out recently as a halfback in the one back offense. Empire Sports is now saying the injury does not appear to be serious, we will have the latest on his condition tomorrow.
Eric Smedley has been diaganosed with a burser sac injury, no word on how long he will be out. Other players missing practice included Sam Cowart and Antowain Smith who were nursing their nagging groin injuries. Rob Johnson also rested his arm today and Ted Washington was given the day off.
August 9, 1999
Two-a-Days Return: The Bills are practicing twice over the next few days to "prepare" for their first game action of the season Saturday night in Seattle. Wade Phillips said Rob Johnson is practicing extremely well, but he expects that Doug Flutie's play from last season will carry over to this season. Reading in between the lines, expect Flutie to start on opening day. Phillips also acknowledged that it will take both QBs to win this season.
Injury Update: All the players were back on the practice field this morning with the exception of WR Todd Floyd, who is still out with a hamstring injury. Antowain Smith practiced without pads and he wasn't at full speed, he's about 80% healthy and he missed the afternoon practice . Sam Cowart and Kamil Loud also practiced without pads this morning. Cowart is still nursing a groin injury and Loud and his ribs wrapped.
August 8, 1999
More Scrimmage Notes: While the players take a day off to prepare for two-a-day practices next Mon.-Wed. here are a few more notes from the scrimmage yesterday. Both "starting" QBs took only a few snaps each as this was day to see who would win the 3rd QB job with Alex Van Pelt taking more snaps then Mike Cawley. Before he left, Johnson hit two nice passes to Eric Moulds and Jay Riemersma. Flutie ran a nice two minute drive. Eyewitnesses at the camp said Peerless Price was the player of the day.
August 7, 1999
Intra-squad scrimmage: The Bills had what coach Phillips called "a game simulation". The second group actually outplayed the first group on both sides of the ball. The game was played by mostly rookies. Phillips called the simulation successful in finding out what still needs to be worked on during the rest of camp as well as seeing what worked well. Tomorrow is an off day for the players.
Two Games Sold Out Already! Individual game tickets went on sale this morning and the Pittsburgh and Miami Games both sold out in the first few hours. Most of those tickets were sold before today to groups.
Shaw Inducted: Former Bills offensive guard Billy Shaw became the first player to play his entire career in the AFL to be elected in to the Pro Football Hall of Fame. He was presented for induction by former Bills trainer Eddie Abramoski. In his speech, Shaw thanked the city of Buffalo, the fans, and owner Ralph Wilson who was in attendance.
August 5, 1999
Quiet Day at Camp: The Bills basically had 1 1/2 practices as 20 players missed the afternoon workout. 6 because of minor injuries and 14 veterans were given the afternoon off. This was a departure from one has been a more intense camp then in years past. Referees were in camp today and are briefing the players on all the rules updates since last season.
Injury Updates: Of the six players banged up only one player is considered injured. WR Todd Floyd is out at least a week with a pulled hamstring. Antowain Smith and Eric Moulds continue to improve from their ailments. Smith is expected to be back at full speed by Monday, and he did practice lightly today. Moulds was also back on the practice field this morning.
August 4, 1999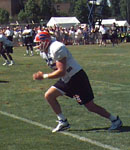 New TE in Camp: Late today the Bills announce they have signed their new TE. John Jennings has signed a contract. He recently was in the camp of the Cincinnati Bengals.
Camp Notes: Antowain Smith did some drills today under the close eye of the coaches, he continues to improve but should be held out of full contact drills for a few more days. Eric Smedley's injury appears to be a bruise of the foot and he should only miss 2 or 3 days. Marcus Spriggs remains sidelined with a hip pointer and Sam Cowart is bothered by a sore groin.
August 3, 1999
Ostroski Moves to center: In a possible move we talked about yesterday, Coach Phillips acted quickly and announced after the morning practice that Jerry Ostroski is now the starting center replacing Dusty Ziegler. That leaves former 3rd round pick and 2nd year player Robert Hicks as the new starter at Right Tackle and Marcus Spriggs as his backup.

Injury Notes: There was one injury on the practice field today, Strong Safety Eric Smedley hurt his ankle in the afternoon session but it doesn't appear to be serious. The groin injury of Antowain Smith is improving but look for him to remain sidelined until at least later this week. Eric Moulds was mostly held out of practice again today as he continues to be slowed by a tight hamstring, but he's improving and Marcellus Wiley was excused from the afternoon session for personal reasons. Spriggs was held out with a hip flexor.

Player Moves: The Bills expect to bring in and sign another TE tomorrow. Free Agent Guard Corey Hulsey has been given a second chance by the Bills after missing mini-camp for personal reasons.

August 2, 1999
Camp Notes: Their were two practices today as their will be all week leading up to a rookie intra-squad scrimmage on Saturday. Antowain Smith was held out of both practices today with a groin injury that has bothered him most of the off season. Moulds was held out again with a tight hamstring injury and Sean Moran missed both sessions with a sore back. Phillips also indicated that the club may sign a another TE since their are only four left in camp after Jerry Ross was released.
Depth Chart Notes: In his typical non-committal way Wade Phillips has listed Rob Johnson and Doug Flutie both as the number one QB. They have been getting about equal amount of work with the first unit also. It looks like their will be a real battle for the starting job. Thurman Thomas and Antowain Smith are also both listed as #1 on the depth chart at RB. This is more of a courtesy thing for Thomas and to light a fire under Smith.
Camp Battles: Not to many battles for jobs although the depth on the offensive line may cause a shift in starters. Center Dusty Ziegler is the obvious weak link. Guard Jamie Nails and tackle Robert Hicks continue to development, so Joe Panos and Jerry Ostroski are both getting some practice time at center. Along with QB situation this is the only area where starting jobs may be on the line.
August 1, 1999
Ross Released: The first casualty of camp is TE Jerry Ross. His heart is not in it anymore so the Bills have released him. Other news from Sunday's lone practice was two wide receivers sitting out with minor injuries, Eric Moulds and Reginald Allen

July 31, 1999

Two-a-days Begin! The Bills held to practices today at 9:30am and 3:00pm, no news is good news as their was no injuries on day one. Bruce Smith in an unusual move actually practiced on day one of camp (shown here locking up with Marvcus Spriggs). The practice was a bit sluggish as you would expect from day one. Peerless Price did practice but had some expected discomfort in the knee area. The team will have one practice on Sunday at 3pm.
Reed Details: Reed's contract, is 3 years at $6.275 Million. The deal isn't signed yet, but Reed is showing up after Ralph Wilson stepped in and insisted a new deal get done. He showed again why he's one of the classiest owners in sports.
July 30, 1999
Training Camp Begins Today With Three Moves! The club started training camp today with every player in camp and one hard luck player cut:
Reed Agrees: What was shaping up to be a long nasty holdout ended in peace when disgruntled WR Andre Reed agreed to a one year contract extension that will keep him with the Bills through the 2001 season. Reed had threatened a contract holdout and retirement. He will report to camp on Sunday as a show of good faith while the details are worked out on his extension.
Winfield Signs: GM John Butler kept his perfect record in tact when first round pick Antoine Winfield came to terms on a contract. Every year that Butler has been the GM no rookies have ever held out.
Kerner Cut: In an unfortunate note on an otherwise successful day in Fredonia, the Bills were forced to cut Marlon Kerner. The oft-injured cornerback failed a physical and was released.
---
1999 News Archives Index
Back to Bills Daily Homepage