| | |
| --- | --- |
| Bills Daily Week in Review - December 6th - December 12th, 1999 | Previous Week |
Bills Flat in 19-17 Loss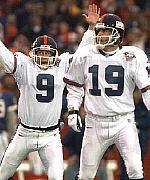 Cary Blanchard hit his fourth field goal of the game from 48 yards out with less than a minute to play to give the Giants a 19-17 win over Buffalo. Steve Chrisite was only 1 for 3 on field goal attempts and that was the difference in the loss. A calculated risk of going for it on 4th and 1 leading by one with less than three minutes to go killed the Bills. Jonathan Linton's run lost a yard and set up the Giants in good field position to drive into field goal range. A huge interception return by Marcellus Wiley early in the fourth quarter wasn't enough to overcome a flat effort by Doug Flutie and the Bills defense. Check back later for a complete analysis of the loss. MORE
Saturday, December 11, 1999
Early Inactives: For the first time in 11 weeks it doesn't include Thurman Thomas. It does include regular members Joe Panos, Victor Allotey and Keith Newman. Robert Hicks is the fourth early inactive.
Gameday Forecast: Becoming cloudy in the afternoon with a high temperature of around 40°. Not much of a wind however, with the winds gusting to only about 10mph.
Friday, December 10, 1999
Thomas Upgraded: It will be exciting to see Thurman Thomas back on the field Sunday, as he has been upgraded to probable and will resume his role as the third down back as well as seeing most of the action in the single back set. With Antowain Smith only at 85 percent expect Thomas to see a lot of playing time.
Giants Defense Hurting: The Giants have one of the best defenses in the league but will play this game with many of their starters hurting. Four cornerbacks are out and Phillipi Sparks is hobbling. Their two best defensive weapons are Jesse Armstead and Michael Strahan, they both did not practice this week but will play. Two other starters on defense are questionable, MLB Corey Widmer and Safety Shaun Williams.
Look at the Numbers: There are so many trends you can look at each week it can make your head spin figuring out who has the edge. The Bills have won 10 straight against the NFC East in regular season action and are 12-1 in their last thirteen against the division. They are also an NFL best 9-1 after a bye week. On the Giants side, they have never lost a December game under Head Coach Jim Fassell.
Giants Defense Hurting: The Giants have one of the best defenses in the league but

Thursday, December 9, 1999
Injury Report Released: The Official NFL Injury Report is out, and it only has four members of the Bills on it. Meanwhile, the Giants side of the report is loaded with big name players.
Wednesday, December 8, 1999
Injury Update: Robert Hicks will definitely not play this weekend and it is looking like Jay Riemersma will miss his second straight game. Riemersma is listed as questionable on the injury report but he still hasn't practiced and may need one more week before he can return to action. Thurman Thomas is officially listed as questionable but expect him to be upgraded to probable. He will play Sunday.
Tuesday, December 7, 1999
Back To Work: The Bills took three days off before beginning to prepare for the N.Y. Giants yesterday with a full practice. Jay Riemersma and Robert Hicks were still on the sidelines but Antowain Smith and Jamie Nails returned to practice as their respective turf toe injuries are improving. Check out our injury notes section for more.
Playoff drive in high gear: The Bills can still win the division but will probably have to run the table to do it and get some outside help befor the Colts game in January. Going against the Bills is that the record of their remaining opponents is the best of the rest of the AFC East contenders. The Giants, Cardinals, Patriots, and Colts are a combined 29-19. The Dolphins opponents are 20-18, the Pats opponents are 26-23, while the Colts remaining games have a combined 24-25 record.
---
1999 News Archives Index
Back to Bills Daily Homepage