| | |
| --- | --- |
| Bills Daily Week in Review - Nov. 22nd - Nov. 28th, 1999 | Previous Week |
Big Plays Help Bills Beat Pats 17-7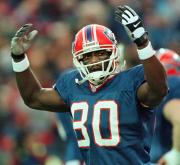 Big plays by the Buffalo offense and a strong all around effort from the defense gave the Bills a huge division win at Ralph Wilson Stadium today. The offense struggled most of the day but a 54 yard touchdown pass to Eric Moulds and a bruising 31 yard touchdown reception for Sam Gash gave the Bills the win. The defense chipped in with a season high 6 sacks thanks to good pressure and even better coverage by the defensive backs. Check back later for more analysis of the win. MORE
Saturday, November 27, 1999
Huge Game on Horizon: The biggest game of the year to date will be played tomorrow at Ralph Wilson Stadium between the Bills and the Patriots. Both teams are in a must win situation with the loser going into a big hole as far as playoff hopes are concerned. The Bills will be banged up once again. They will be playing without Jay Riemersma and Dusty Ziegler. Antowain Smith is also still hobbled by turf toe but should play. This game will go along way in finding out if the Bills are contenders or pretenders.
Bickering Patriots? The Pats have lost two straight and four of their last six and there may be problems in their camp. There was a rumored argument earlier in the week at a charity event between WR Vincent Brisby and DB Lawyer Milloy. Star WR Terry Glenn was late to practice on Thursday after being stopped by Police and given a speeding ticket.
Gameday Forecast: Typical late November day in Orchard Park. Sunny and Windy with temperatures in the 30's. The team that runs better will be in the best shape in this one.
Friday, November 26, 1999
Early Inactives: Jay Riemersma, Joe Panos, Thurman Thomas and Dusty Ziegler will all miss Sunday's game. Riemersma hasn't practiced all week and is really bothered by the groin injury. Ziegler has left the team because of the death of his Mother. Jamie Nails will replace Ziegler at Left Guard. The two rookie tight ends will play for Riemersma.
Smith Practices: Antowain Smith has been practicing and is injured toe is feeling better. He hopes to play on Sunday.
Wednesday, November 24, 1999
Practice News: Most of the Bills walking wounded practiced, or at least attempted to practice today. Sheldon Jackson, Antowain Smith, and Shawn Price all gave it a go today. The MRI on Jay Riemersma told the same story as the earlier groin injury. He didn't practice.
Bills Not Interested in Phillips: The Bills Phillips said he is not interested in Lawrence Phillips. He was very clear that there is no interest in him from the club.
Tuesday, November 23, 1999
Phillips Released: The 49ers have released RB Lawrence Phillips. Let the talk begin! Will the Bills bring in the troubled back?
Riemersma Hopes to Play: If the game with New England was today Jay Riemersma would not be able to play with the pain. He is constantly icing it and he hopes with rest he will be able to play on Sunday. Antowain Smith says he will "suck it up" and play with pain again in this crucial division matchup.
Monday, November 22, 1999
Game Tidbits:
The Bills are now 1-4 when Doug Flutie is forced to throw the ball more than 40 times.
The Bills remained winless when Antowain Smith doesn't get 10 carries. They are undefeated when he gets more than 10.
Little consolation but the defense ended Curtis Martin's four game one hundred yard streak. He was held to 64 yards and a 2.8 average per carry.
The touchdown off the fumble is the first one against the Bills since the season ender in 1997 against Green Bay.
Do the Bills need a running game to win? Well, it their seven wins they are averaging 155.8 yards on the grounds. In their four losses the average is just 78.5 yards.
Injury News: The only Bill to get hurt in this game was Jay Riemersma. He left the game in the third quarter after aggravating the groin injury that has haunted him most of the season. That leaves the Bills with only one healthy tight end with Riemersma and Sheldon Jackson hurt. Antowain Smith was severly hampered with his turf toe. Jonathan Linton showed no ill effects from his knee injury.
---
1999 News Archives Index
Back to Bills Daily Homepage