| | |
| --- | --- |
| Bills Daily Week in Review - Sept. 13th - Sept. 21st, 1999 | Previous Week |
Bills Workmanlike in 17-3 Win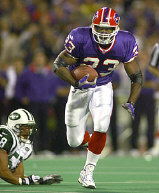 The Bills faired much better in their home opener than they did week 1. Doug Flutie improvised and ran all around the field leaving Jets defensive coordiantor Bill Bellichek scratching his head. Antowain Smith ran with authority behind in offensive line that made a statement on national television. The running game showed up and that is the main reason why the Bills beat the depleted Jets. MORE.
September 14, 1999
Panos Out Sunday: The Bills will be without guard Joe Panos again on Sunday night. He received another epidural today.
OL Shuffle: Wade Phillips plans to shakeup the offensive line a bit by shuffling players a bit more like he did with the defensive line last week. Dusty Ziegler will continue to start for Panos but expect to see more of Jamie Nails this week, especially as a run blocker. The coach also indicated that Marvcus Spriggs will get some downs at RT replacing Robert Hicks in certain situations.
Bills To Go With Three Backs: The club won't be activating or signing a RB this week. They will play with just the three backs coach Phillips said today. He also indicated that Antowain Smith will start and he needs to get more carries.
New Stadium Capacity: The Bills have updated the new capacity figure for the Ralph. The official capacity is now 73,840. This is down a few hundred from previous reports and almost 7,000 from the old configuration.
September 14, 1999
Home Opener Must Win: It is very rare that you have a must win the second week in the season, but it will one for both teams Sunday night at the Ralph.
September 13, 1999
Thomas Out Six Weeks: The news on Thurman Thomas is worse than thought. Thomas has internal bruising and has a contusion to the liver and kidney. He is expected to miss six weeks. Jonathan Linton will take his spot as the single back. Antowain Smith is still going to be the two back halfback. The Bills may make a roster move and activate, most likely it would be the activation of Lennox Gordon off the practice squad.
Happy with Pass Rush? I don't know what game he was watching but in his press conference Wade Phillips said he was very happy with the pass rush from the front three. I don't know what game he was watching but there was no pressure on Peyton Manning all game.
---
1999 News Archives Index
Back to Bills Daily Homepage