| | | |
| --- | --- | --- |
| | Serving Bills Fans Since 1998 | Index |
---
Bills Still Have Work To Do After Beating Bengals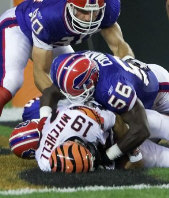 The Bills upped their preseason record to 2-1 with a 20-10 victory over Cincinnati. There were many negatives in the victory however but no new injuries were suffered. We take a closer look at all the news and give you our take on the issues:

Rob Johnson struggled for most of his two plus quarters of action as he was under constant pressure behind the inexperienced offensive line. There were numerous penalties, as the discipline seems to be lacking that Coach Williams promised. Johnson felt he did all right and the big plays on offense would have come if the starters were in for the whole game. Defensively, the big plays finally happened as the club forced three turnovers including two Antoine Winfield interceptions and an Erik Flowers sack for a safety. Curtis Alexander had 78 yards rushing and Steve Christie missed three field goals. Our Take: Christie's misses were attributed to high grass according to Williams, we think it is a problem getting the timing down with his new holder and snapper. Alexander had a nice day but he will be cut since all Williams would talk about after the game was that he ran out of bounds when they were running the clock out. For more coverage of the game go to our gameday homepage.



The team got an early start on cutdown day by releasing 10 players on Wednesday and adding one quarterback. Gone are LBs Corey Moore and Donny Green, RB David Dinkins, QB Pete Gonzalez, S Carl Nesmith, DT Devonte Peterson, WRs Jonathan Pittman and Corey Thomas, T Clark Roosendaal, and P/K Jay Taylor. Arriving is QB Travis Brown. Our Take: Moore and Gonzalez were somewhat surprising moves. The QB they signed, Brown knows the West Coast offense and played for Mike Sheppard in Seattle so he has a leg up on sticking as the number three quarterback. Williams cut the players early so that he will have time to evaluate the other bubble players; this was a good idea. It also gave the released players a chance to catch on with other teams, Moore was picked up by Cincinnati and Green landed with the Redskins.



On the injury front the Bills escaped Cincinnati with no significant injuries. Bill Conaty missed the Bengals game with his shoulder injury, he was held out as a precaution. Travis Henry and Shawn Bryson both played despite missing practice time with injuries. Bryson sprained his ankle in practice on Thursday and Henry's tweaked groin cost him some practice time. Rob Johnson returned to practice after resting his finger. John Fina, Nate Clements, and Pat Williams also missed practice time with minor ailments. Our Take: Getting out of the most important preseason game injury free was huge. The starters will play only one or two series in the final tuneup and they should all be healthy and ready to go for the opener except for Jerry Ostroski. For injury news all week long go to our Injury Page.



The Bills broke camp on Wednesday and will finish preparations for the season in Buffalo with one a day practices. At the end of the last practice of camp the rookies got hazed a bit by the coach. They had to do the dizzy bat race, this is where they run 25 yards spin around a bat 20 times and run back for the football. Williams called the facilities at St. Johns Fisher the best he's ever been associated with. Our Take: It definitely seemed to be a very successful camp.


---
Talk about it on The Stadium Wall
Week in Review index
Latest News Section
Archives Library
Back to Bills Daily Homepage