| | | |
| --- | --- | --- |
| | Serving Bills Fans Since 1998 | Index |
---
Cuts and Restructurings Begin To Get Bills Under Cap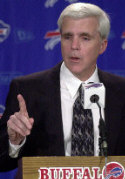 It was a busy week for Bills president Tom Donahoe as he begun the unenviable task of cleaning up the Bills cap problems. The cutting of three high priced veterans led by Ted Washington highlighted the week. The club also restructured several other deals to get closer to the NFL cap figure. We tackle these main issues and more in our latest week in review complete with our take on the issues:

Thursday was the first day that teams were allowed to release players and the Bills begun their big cap purge by releasing Chris Mohr and Joe Panos to go along with the Washington cut. Donahoe spoke on the cuts and said, "our salary cap situation has made this a difficult time for our fans and the organization. But these are moves that have to be made and we have to work our way through the problems that currently exist to get our cap into shape and to conform with the league rules." Our Take: In today's NFL it is an unfortunate necessity to get rid of veterans that have served you so well for so long like Mohr and Washington. Mohr had a sub par year and probably deserved to go anyway. There is talk he will be welcomed back at a reduced rate if he doesn't latch on with another team. Washington is still playing at an all-pro level and his loss will be the only one that hurts. There is a replacement in his buddy, Pat Williams so it shouldn't hurt tremendously but he will be missed. Panos was a candidate to be cut with or without a salary cap.



Cuts won't get the Bills under the cap by themselves so contract restructurings began in earnest this week. After the Bills cut Washington his agent reportedly restructured Williams deal. Other players to restructure are John Holecek, and Jerry Ostroski. Our Take: The Holecek restructuring is great news since he was a rumored cut and the club needs his style of play around. Hopefully they will be able to restructure more contracts to keep more cuts minimal. Phil Hansen will decide this week if he wants to take a paycut or leave. Hopefully he will, since they need him.



The other big news is the dreaded QB decision that will come this week. Doug Flutie met with the offensive coaches and Donahoe on Monday and Rob Johnson met them on Tuesday in what was sort of a job interview. Both players said the right things, they both want to be the guy if the other is no longer around. Donahoe and Gregg Williams admitted the two can't stand it each other and one would have to go even if there wasn't a cap problem. WGR came out with a report on Wednesday that sources close to Johnson told them that he is the one that will be cut. Donahoe and Williams vehemently denied that report. The entire offensive coaching staff met in Indianapolis during the combine on Saturday to talk and reach a probable decision that should be announced on Wednesday. Our Take: While you have to take the WGR report with a grain of salt it does appear that they are leaning towards Flutie. We stand by our opinion that there is too much upside from the younger Johnson to not pick him over Flutie.



The entire coaching staff is in Indianapolis during the combine this weekend to look at what may be some future Bills and to make final decisions on the QB situation and the next round of cuts. Our Take: They are probably looking closely at possible quarterbacks that could be drafted to backup if Flutie is the one chosen. If Johnson is chosen they will probably bring in a veteran backup free agent.



In what was a foregone conclusion the Dolphins cut Thurman Thomas on Thursday. He will sign a one day deal with Buffalo to retire as a Bill. Our Take: This will right a wrong from last off season.



The biggest free agent the Bills will have now that Eric Moulds is in the fold, is Marcellus Wiley. His agent said he will go back to the Bills with any offers Wiley receives but the price will probably be too steep for the cap strapped Bills. Donahoe acknowledged this week that he has a plan to keep Wiley but it would have to come with a hometown discount. Our Take: Wiley's agent is sympathetic to the Bills plight and Wiley certainly has not ruled out returning to Buffalo. This gives fans some small ray of hope that he will return. The bottom line though, is the Bills can't afford him. He will be one of the big winners in free agency this year as he is the number one pass rusher on the market and may get a salary upwards of $50 Million over 7 years from a team like Philadelphia.



In other news the Bills announced they will not petition the league to change uniforms for the 2002 season. Owner Ralph Wilson in a chat session a week ago speculated that a uniform change might happen. If a change does occur now it would be minor and not have to do with the colors. Our Take: The Bills uniforms are very nice just the way they are. As we said last week, if a change happens it is for marketing reasons only, we are glad it doesn't seem to be happening.



It appears the Bills will schedule three mini camps this off season to get the system implemented in time for training camp. Our Take: If there ever was a season to have three mini camps this season is the one to do it. A totally new coaching staff will have many new players and an entire new system in all facets of the game will be implemented. Just to get on the same page will take three mini camps.


---
Talk about it on The Stadium Wall
Week in Review index
Latest News Section
Archives Library
Back to Bills Daily Homepage