| | | |
| --- | --- | --- |
| | Serving Bills Fans Since 1998 | Index |
---
Bills Get Their Man To Head Team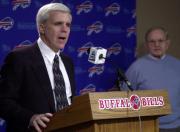 This week was a wild week for the Bills. Highlighted by the hiring of Tom Donahoe has the new General Manager and President on Wednesday. That was just two days after the firing of head coach Wade Phillips. Here's the latest week in review complete with our take on the issues:

The Bills finally reached an agreement with Tom Donahoe on Tuesday to become the next General Manager of the team. What was a surprise was that he was given the title of President as Ralph Wilson stepped down after 41 years with that title. Donahoe was introduced to the media on Friday in what turned out to be a state of the Bills report. No terms were disclosed but it is believed to be a 4 or 5 year deal worth around $1 Million a year. For details on the press conference go to our latest article detailing Donahoe's intentions. Our Take: This was a no brainer as everyone from the fans, and media to the experts are calling it a great coup by the Bills in getting this guy. In his press conference he showed a sense of humor and a man that is in total charge. He promised not to make wholesale changes.



His first job will be finding a head coach as Ralph Wilson fired Wade Phillips on Monday, that move may have paved the way for the Donahoe hire. Phillips would not fire special teams coach Ronnie Jones at the owner's request leading to his dismissal. Phillips countered by saying that if he did fire Jones the owner would have asked for more firings. Jones obviously was also let go with Phillips but the other coaches are still on the payroll for the time being. He was graceful after his firing also, thanking Mr. Wilson for the opportunity to lead the Bills. Phillips also interviewed for the open Houston Texans head coaching job on Saturday. Our Take: Phillips wasn't a Donahoe guy and probably would have been fired by the new GM anyway. The move may have facilitated the hiring of Donahoe. Phillips had a solid three season record but he was very questionable on certain issues that we detailed in an article earlier last week. This move was probably necessary regardless of why he was fired to give Donahoe a clean slate to bring in his own guy. That being said we do wish Phillips luck and he may be the front runner for the expansion job in Houston since he has strong ties to the area and is the only candidate with proven head coaching experience.



Donahoe's top job is hiring a coach and many candidates have been floated around. The only candidate Donahoe would confirm is defensive coordinator Ted Cottrell. He said he would definitely interview him. The qualities Donahoe wants in a coach describe Cottrell to a tee and he may be emerging as one of his leading candidates. Donahoe said coaches that worked with him in the past is not a requirement or an advantage. Other coaches on the short list include Baltimore defensive coordinator Marvin Lewis who is speculated as the leading candidate. Also on the list is former head coaches Dom Capers and Chan Gailey. Other league assistants that have their names being bantered around includes Giants assistants John Fox and Sean Payton, Saints assistant Mike McCarthy and University of Pittsburgh head coach Walt Harris Our Take: We are on record as feeling that Cottrell is the best man for the job. He is an aggressive, disciplined assistant who knows the Bills very well and the players want him. These are all qualities Donahoe mentioned he wants in a coach. It was encouraging to hear Donahoe mention his name and talk about how minorities haven't been given an equal opportunity for head coaching jobs. Lewis is also African American and may be a good choice. He has ties with Donahoe but the Bills will have to wait two weeks to interview him as well as Fox and Payton.



Ted Cottrell went from getting no head coaching interviews to getting three by the end of the week. He interviewed for the open job with the expansion Houston Texans on Thursday. It was a thorough interview that went well. Cottrell said he's excited to be getting an interview for the Bills job. Cottrell is also being courted by the Jets for their open position and may interview this coming week in New York. The Jets have yet to ask the Bills permission to speak to Cottrell. Our Take: It's nice that he is getting the recognition he truly deserves. Let's hope the Bills hire him before the Jets grab him. The leading candidate for the Jets job is also on the Bills list of candidate. It is expected Dom Capers has the inside track on the job.



The Bills also lost director of pro personnel A.J. Smith to the Chargers. Smith follows Butler wherever he goes. Originally the Bills didn't give permission to San Diego to talk to Smith who's contact expired on Feb. 15th. The NFL said the Bills couldn't hold him to that contract so they let the Chargers talk to him. Smith signed a deal on Saturday worth $2.5 Million over 5 years. One name mentioned as a candidate to replace Smith is New Orleans Assistant GM Charles Bailey. Our Take: Smith was a great personnel guy who brought in Ted Washington, Bryce Paup, Chris Spielman and Doug Flutie. He will be missed but it was smart to let him out of his contract since he was going to leave anyway. You didn't want him involved in off season planning that he could take to San Diego.



Besides Ronnie Jones, all other coaches are still under contract with the Bills but they are giving some of them permission to speak with other teams. Joe Pendry has interviewed for the offensive coordinator position with Washington. He also is considered a finalist for the Bears job since he was a finalist for their head coaching position two years ago. He has also been linked to the open Bucs position. QB coach Turk Schonert has been given permission by the Bills to interview with Pittsburgh for the same position with the Steelers. Our Take: With these coaches future with the Bills in serious jeopardy it is the right thing to do letting them interview for the same positions with other teams.



Ralph Wilson addressed the state of the Bills in an interview on Monday. He stated that the salary cap got way out of hand under the old regime and that the ship will be righted and the club will be OK. Our Take: It's nice to see that at 82 years old he still has the fire to win. He proved that by signing Donahoe. The downside is he seems sick of the large signing bonuses that he has dealt out. He quoted the fact that the Bills were fourth in bonuses in the 90s. This may mean a tightening of the belt to save the cap in future seasons. If that is the case expect the Bills to lose more free agents and cut more players this off season. Donahoe has already stated his dissatisfaction with quotes from Eric Moulds' agent. This could be the pre-cursor to letting the star receiver go. Not surprisingly Marcellus Wiley has said he has had no contract talks with the Bills as of yet. There is still plenty of time for that with the free agency period set to start on March 2nd.



For the third straight year Ralph Wilson and Marv Levy have been named as finalists for induction into the hall of fame. Levy is one of two coaches on the finalist list and Wilson is the only owner on the list. The inductees will be announced on Jan. 27th. Our Take: Wilson and Levy are both qualified to make the hall of fame. Levy has an outstanding record as a coach but the fact he didn't win a Super Bowl will hurt him this year as Bill Parcells is a shoo-in to get in and they likely won't take two coaches. Wilson has a chance for induction this time, as his history in Football is legendary.



Ex-Bill Chris Spielman interviewed this week for the open head coaching position with Ohio State. Our Take: We think Spielman will make an outstanding coach but he has little experience at this time. His interview was probably just a courtesy as he has little or no chance of landing the job. Hopefully, he will be hired as an assistant coach with the Buckeyes.


---
Talk about it on The Stadium Wall
Week in Review index
Latest News Section
Archives Library
Back to Bills Daily Homepage