| | | |
| --- | --- | --- |
| | Serving Bills Fans Since 1998 | Index |
---
Levy Makes Hall Of Fame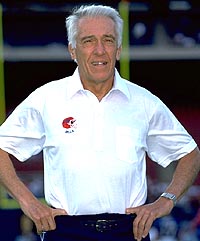 Marv Levy was picked to enter the Pro Football Hall of Fame on Saturday. That highlights a week where the Bills interviewed another coaching candidate and waited for the Super Bowl to end so they can get down to the business of hiring a head coach. Here's the latest week in review complete with our take on the issues:

On Saturday Marv Levy became one of seven new members of the Pro Football Hall of Fame. Owner Ralph Wilson and Bill Parcells were also finalist who did not make the hall. Levy had a .560 winning percentage as a NFL head coach and made the Hall on the basis of four straight Super Bowl appearances. That is a feat that may never be matched. Levy also was the head coach of two Grey Cup champions in the CFL. Levy deadpanned, "it is nice to have something to celebrate on Super Bowl weekend." Our Take: Congratulations to Marv! He definitely deserved enshrinement in the Hall Of Fame. He beat out coaching rival Bill Parcells. Parcells did accomplish more as a head coach winning two Super Bowls, but he probably didn't make it because rumors persist that he may return as a head coach.



The head coaching saga dragged on this week as Tom Donahoe awaited for the Super Bowl to end to interview both defensive coordinators. On Friday, Donahoe interviewed Titans defensive coordinator Gregg Williams. It was a very intensive interview. Williams came away so impressed with the Bills organization that he took himself out of the running for the Browns job opening. There have been many rumors this week. One rumor said there is a backroom deal done that has Marvin Lewis becoming the next head coach of the Bills. Donahoe was very upset with that rumor and called it bogus. He was also upset that the Texans were able to hire Dom Capers when they won't be playing until 2002. Another rumor said that the Browns will bowl Lewis over with enough money to lure him to Cleveland. The other candidate is John Fox who will also get interviewed by both Buffalo and Cleveland this week. The fourth candidate and longshot is still Ted Cottrell. Our Take: Lewis is the first choice of both Buffalo and Cleveland. He will have to decide if he wants the money from Cleveland or the better opportunity that awaits him in Buffalo. If his agent tries to start a bidding war that will turn off Donahoe and he will go to his next choice, which is probably Fox, but don't count Williams out yet. Donahoe came away impressed with Williams launching him into the thick of the race if Lewis takes the money and runs. Either way, the Bills should have a coach by the middle of the week.



Ted Cottrell couldn't wait any longer for the Bills to decide on a coach, he needed to take a job. On Tuesday, Cottrell took the job as the assistant head coach and defensive coordinator for the New York Jets. It happened after it appeared last weekend that he would go to Washington. He took the Jets job because of the assistant head coaching title that will help him earn a head coaching job down the line. The contract has an out clause in case he does get offered the Bills head coaching job that he is still one of four finalists for. Our Take: Congratulations to Ted, he will be missed. He did what he had to do to ensure having a job for next season and it is a step up from his current Bills job. Donahoe may have looked down on Cottrell making a choice and not waiting but he did what he had to do for his own security. Cottrell is an extreme longshot for the Bills job at this point, he is ranked fourth of the four candidates.



In other assistant coaching news, defensive back coach Bill Bradley most likely will be leaving to join Cottrell in New York. Joe Pendry took a demotion on Thursday by signing on with the Redskins as their offensive line coach. He may be joined by Wade Phillips who is a finalist for the defensive coordinator's position. Our Take: Pendry took the demotion because he did an awful job as offensive coordinator this year and based on his results he won't find a job in that capacity for some time. He was up for the Bears, Redskins, and Bucs coordinator spots but he was beaten out for all three. Bradley would be a big loss and we guess he is waiting to take the Jets job to see if Cottrell may come back to Buffalo as head coach.



Wade Phillips is trying to get the Redskins job, and their are some reports if he doesn't get that job the Bills may try to withhold his 2001 salary. The report circulating says that Wilson feels Phillips' resigned when he refused to fire Special teams coach Ronnie Jones. If that is the case the Bills aren't obligated to pay him next year. Phillips says he hasn't been contacted by the Bills and expects to get paid if he doesn't latch on with the Redskins. Our Take: Hopefully that report isn't true, that would not be fair if Wilson tries something like that. He fired Phillips, he needs to pay him the rest of the contract.



In a harrowing story, CB Raion Hill was carjacked at gunpoint on Monday. He was forced to drive the gunmen to New Orleans where he was told to exit. Someone in a second car tried to run him over at that point injuring his leg, but not seriously. Our Take: Bad things like that can happen to anybody at anytime.



A few days after hiring Jim Kelly's company Kelly enterprises, Michael Vick fired them along with Joel enterprises. They were suppose to handle his contracts and marketing. Our Take: Vick as now gone through two agents, he better get his act together soon.



The salary cap is expected to go up $5 Million this year according to preliminary figures released by the NFL players association. The final amount will be decided in late February. Our Take: This isn't the best news for the Bills, it was expected to go up at least $6 Million.



A rumor this weekend in the Buffalo News stated that the Bucaneers are interested in Doug Flutie. Our Take: Both QBs can't survive together so they might as well trade one of them and save some cap dollars and get draft picks for him.


---
Talk about it on The Stadium Wall
Week in Review index
Latest News Section
Archives Library
Back to Bills Daily Homepage