| | | |
| --- | --- | --- |
| | Serving Bills Fans Since 1998 | Index |
---
Centers Signing Helps New Offense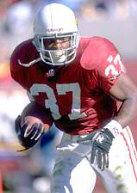 The Bills highlighted the week by signing free agent fullback Larry Centers to a deal on Tuesday. His signing is expected to make a huge impact on the West Coast Offense. We take a closer look at all the news for the week including our take on the issues:

Centers signed was is believed to be a two year deal at the bargain rate of close to the league minimum of $477,000. There may be a slight signing bonus to push that figure to near $500,000. Centers is the most prolific receiving back in NFL history, he has caught more than 50 passes in each of the last nine seasons. Some people might think he's slowing down but he was the number two receiving back last seasons with 81. Both Gregg Williams and Tom Donahoe said he is the perfect complement to the new offense. Our Take: We agree with the brass assessment. The club desperately needed a receiving fullback for the West Coast offense and they got the best one in the league's history for very little cost. To top it off, Centers will bring veteran leadership to a young club making this move the ultimate no-brainer.



Tom Donahoe also made a move to bring in some front office help. He has stated he would give Tom Modrak any job he wants if he comes to Buffalo. Modrak is a highly regarded front office man who was let go by the Eagles after three seasons because he lost a power struggle. He is up for the top job in Chicago and Washington. Our Take: Donahoe and Modrak have long standing friendship and working relationship dating back to their days in Pittsburgh. This could sway Modrak to come to Buffalo as an assistant GM and director of pro personnel. Unfortunately for the Bills, he will likely get the top job somewhere else and not come to Buffalo.



If Modrak doesn't get the top job in Chicago there is talk that Marv Levy may be considered for it. Levy is a Chicago resident and said the job would be intriguing. Our Take: It would be nice to see Levy get a high quality job but at his age, he isn't considered a real candidate.



The Bills began their annual select-a-seat program on Saturday for potential season ticket holders. It gives buyers a chance to pick their own seat among the ones that are flagged. The program had Tom Donahoe and Gregg Williams there to greet fans on Saturday. It will continue all week up to Saturday. Our Take: This is a nice program that lets fans know exactly where there seats will be and it is great that the brass was there to greet fans on the first day!



It was Gregg Williams turn for his second chat with Bills fans on the club's official website. He was asked numerous questions about the state of the Bills including the recent signing of Centers. He called him the "premiere West Coast fullback." He talked about the rookies saying that he was "a little disappointed in their conditioning level." He had better things to say about the offensive line, saying they have improved their technique and they look outstanding. He also answered a question about Sammy Morris saying that he is a well prepared back who will only get better with more experience. His goal is for the team to enter training camp in top condition with enough repetitions done so they can lighten the workload as camp progresses. Our Take: I like how Williams won't let the rookies off the hook for poor conditioning. He also seems to want top physical conditioning without letting the players burnout later in the season by lightening the load later in camp.



This week was also a good time to look ahead to next year's salary cap situation which looks only slightly better than this year's cap jail. Donahoe said they could've fixed the whole thing this year but would have had to completely gut the team. He knew doing it this way, it would be a two year process. The Bills will have some tough decisions again next year, as Sam Cowart and Keith Newman will be free agents. Depending on how well, Rob Johnson plays will decide his future with the team as he is expected to take a $10 cap hit next season. Our Take: Look for the Bills to treat Cowart like they did Eric Moulds this off season. They will try to lock him up before he hits the open market. If Johnson performs well this year, look for a new longterm deal for him in the off season also.


---
Talk about it on The Stadium Wall
Week in Review index
Latest News Section
Archives Library
Back to Bills Daily Homepage