| | | |
| --- | --- | --- |
| | Serving Bills Fans Since 1998 | Home |
---
Bills Finish Preseason Winless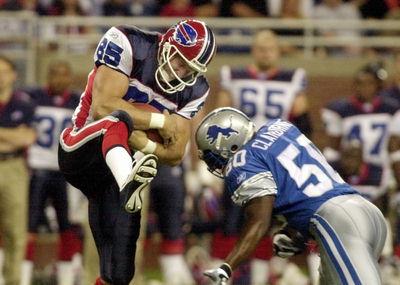 The Bills finished the preseason 0-4 after losing to the Detroit Lions 20-13 on Thursday night. The team then went and got their roster down to 53 players by cutting 13 players.

Webmasters Note: This will be the last week in review of the off season. Like in past season's we put this feature on hiatus until next off season. During the season we will archive our news like we have since 1998. You can get all the past news during the season on the Bills from our archives library. Here is a look at the last week in review with our take on the issues:

The 20-13 loss to Detroit was pretty much a mirror image of most of the preseason. The offense struggled running the football. There were too many penalties. The passing game struggled under pressure and the defense continues its improvement. The special teams had a big play as Charlie Rogers returned a punt 71 yards for a score. They also gave up a big return. Coy Wire made his first start of the preseason and was burned for a 64 yard scoring pass. Peerless Price continued his nice preseason by hauling in a 52 yard pass from Drew Bledsoe. Mike Hollis missed a chip shot field goal but hit a 51 yarder. Our Take: Coy Wire blew his chance at the starting job opening day. Richard Huntley lost a possible roster spot with -1 yards rushing. The offensive line has a long way to go and there is absolutely no pressure from the defensive line. The team may also need a long snapper as Trey Teague struggled on field goal snaps. The team will take time to gel and may struggle early in the season.



The team got the roster to 53 by releasing 13 players on Sunday, 5 players on Tuesday, and placing three on injured lists, while Jerry Ostroski retired. Ostroski retired because his knee wasn't going to allow him to play despite his desire to return. The team placed Leif Larsen, Reggie Allen, and David Dinkins on various injury lists freeing up their roster spots. Some of the note worthy player releases include: Shawn Price, Richard Huntley, Dan O'Leary, Travares Tillman, Bryce Fisher and two rookies from this year's draft as Rodney Wright and Jarett Ferguson were let go. Our Take: Huntley's cut wasn't surprising since he didn't do anything to establish himself over the backs that are already here. It is surprising that undrafted rookie Joe Burns beat him out although salary cap reasons are surely involved. O'Leary's cutting on Tuesday leaves a gaping hole in the snapping game that Trey Teague, Dave Moore, Jay Riemermsa, and Billy Conaty are trying to fill for now. Price just couldn't make it back from his knee surgeries, his career is likely over. Tillman's release, leaves just two members of the class of 2000 left on the roster. Fisher never had the size to make it. The team is short on depth at guard and linebacker and may look at the waiver wire for help there and at long snapping. Players that may still get cut to make room for new players include Burns and Grant Irons.



The team has about 400 tickets remaining for the opener against the Jets and less than 1,000 for games against Chicago, Oakland, and New England. Our Take: It will be nice to see sellouts for at least three games this year.



---
Talk about it on The Stadium Wall
Week in Review index
Latest News Section
Archives Library
Back to Bills Daily Homepage