| | | |
| --- | --- | --- |
| | Serving Bills Fans Since 1998 | Home |
---
Kelly Gets Into Hall Of Fame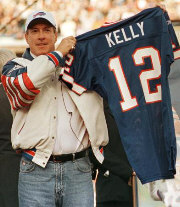 Jim Kelly's inclusion in the Class of 2002 for induction into the Pro Football Hall of Fame was the big news of the week for Bills fans. It is nice to see the great teams of the early 90's getting their due. We take a look at this issue along with our take on all the news from the week in our week in review:

Jim Kelly was voted into the hall of fame on his first time on the ballot. He became the 51st player inducted in his first shot and the first former USFL player to be elected and the fourth Buffalo Bill. Kelly spoke about how couldn't of done it without his teammates and he expects many of them to join him in Canton. He specifically talked about Steve Tasker, Thurman Thomas, Andre Reed, Bruce Smith, and Kent Hull. He also mentioned James Lofton who did not make it past the second cut of finalists for induction. He also specifically talked about the influence on his career from Frank Reich, his former high school coach, Ted Marchibroda and Marv Levy. Levy is expected to present Kelly for induction. Larry Felser, who had the responsibility of lobbying for Kelly, said he thinks the voting may have been unanimous. Our Take: Levy's induction last year, coupled with Kelly's induction this year proves that history looks at the Bills four straight Super Bowl appearances as a great feat in resiliency, not the ultimate failure. Kelly deserves to be there and the door is now wide open for Bruce Smith, Thurman Thomas, Andre Reed, and maybe even Steve Tasker.



The other big story this week was the search for a new Offensive Coordinator. A list of candidates has developed led by Steelers QB Coach Tom Clements who interviewed for the position on Tuesday. The Bills also had phone interviews with Kevin Gilbride and Mike Riley. Riley is out of the picture as he took a job with the Saints. Another candidate is Rams QB Coach John Ramsdell who said he is flattered to be considered and will likely be interviewed this coming week. He is considered the guru of the Rams passing attack. Other possible candidates were Miami QB coach Mike Schula and Eagles QB coach Brad Childress. The Bills were denied permission to talk both men. Another man not being mentioned in Buffalo circles but would be a viable candidate is Norv Turner, he is expected to end up in Miami. Our Take: It seems to be coming down to Ramsdell and Childress with Gilbride considered a long shot at this point. This means the Bills will be in the same boat as they were last year, with a coordinator with no play calling or coordinator experience on his resume. Let's hope the Bills hire the best man for the job and not the one that interviews best.



Alex Van Pelt officially signed his five year deal on Tuesday worth approximately $6 Million. There are major incentives that can triple the deal if Van Pelt is the starting quarterback next year, which is still up in the air. Van Pelt told the press on Friday that he expects to have to fight for the starting job. He said he's very excited to have job security for the first time in a few years this early in the off season. He admitted to feeling the most comfortable in the West Coast Offense but will adjust to any offense the Bills run. He is using this off season to work on his weaknesses especially arm strength and mobility. Our Take: The incentive laden contract is a no brainer for a solid backup. The problem is, he is much more effective in the West Coast Offense and there is a good chance that won't be the offense next year. If that's the case, the Bills can't just hand him the starting job.



The Bills signed another CFL player this week when they agreed to terms with Calgary defensive end James Cotton. He had nine sacks in his rookie year with Calgary and also played in the XFL. The Bills are expected to move him to outside linebacker and use him as a pass rusher if he can make the team. He was a seventh round pick by the Bears in the 2000 draft. Our Take: The Bills continue to tap their neighbors from the North for talent. Hopefully some of these players will be surprises.



In ex-Bills news, former coach Wade Phillips ended up in Atlanta as the defensive coordinator for the Falcons. He was also up for the same position with the Giants but wanted to be closer to Texas. He said, "I'm not a New Yorker, I'm a Buffalo, New Yorker." Former Bills great Cornelius Bennett announced his retirement this past week. He is 36 years old and played in five Super Bowls and five Pro Bowls in his career. Our Take: It's nice to see Phillips land on his feet. Bennett had a great career he has an outside shot at joining Kelly in Canton.



---
Talk about it on The Stadium Wall
Week in Review index
Latest News Section
Archives Library
Back to Bills Daily Homepage