| | | |
| --- | --- | --- |
| | Serving Bills Fans Since 1998 | Home |
---
Flag Football Game A Success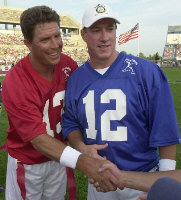 The flag football game between Jim Kelly's Bills' all stars and Dan Marino's NFL all stars was a great success for the Hunter's Hope foundation as Kelly's team pulled out the victory. We have all the news from the week complete with our take on the issues:

Jim Kelly's threw for 307 yards completing 29 of 38 passes in the 42-34 victory by Kelly's all stars. He hit Andre Reed and Kenneth Davis for 2 of his 5 touchdown passes. Mark Kelso intercepted a Dave Krieg pass and returned it for a score. Don Beebe, Steve Tasker, Fred Smerlas, and Tim Vogler were banged up in the game as a crowd of 15,732 looked on. Our Take: It was a nice day to reminisce for a very good cause and the result was great for Bills fans!



The Bills signed one more draft pick this past week as Mike Pucillo agreed to a three year deal worth $943,500. He gets a $38,500 signing bonus and the same base salary other rookies received, $225,000 for this year giving him a cap total of just under $238,000. The other seventh round pick that remains unsigned, Rodney Wright is also reportedly close to agreeing to a deal. His deal will likely not include a signing bonus because of his recent arrest on a hit-and-run charge. Our Take: Look for the remaining four draft picks to sign quickly this week with Mike Williams being the last to sign.



In this week's police blotter report, Charlie Rogers became the latest Bill arrested. He was charged with resisting arrest, aggravated assault on a police officer, and making terroristic threats to police as well as disorderly conduct following in incident outside a New Jersey bar. He waived his right to a court arraignment and had his lawyer request the case be referred to the prosecutor's office. Meanwhile, Wright had an arraignment postponed until September 24th since no formal charges have been filed yet. Our Take: Rogers incident will put him under the microscope a bit more but it won't hurt him as he will be on this team. Wright however may be a free agent by the time his hearing date is set.



The Bills officially signed two players we have reported for a while now. WR Maurice Jackson and DB Jykine Bradley signed contracts as undrafted free agents this past week after passing physicals. Jackson is a return specialist from Syracuse and Bradley played most recently in the arenafootball2 league. Our Take: Some say that Jackson may be a warning to Rogers after his arrest but Jackson's signing was going to happen before Rogers ran into trouble. These two are probably just camp fodder.



Updating ticket news, three games were down to single seat available two days after individual game tickets went on sale. The opener against the Jets, the October 6th, wall of fame game against Oakland, and the revenge game against New England are virtually sold out. The team also put tickets on sale for their two training camp Monday night practices and the August 3rd scrimmage against Cleveland. The night practices sold out in a day and the scrimmage has less than 1,000 tickets left for it. Our Take: There is definitely more interest in the team than going into this year, than last year.



In the rumor mill, the Bills are now showing interest in recently released DT Daryl Gardener. The team is one of six that want his services. The team would love to sign Sam Adams but his asking price is too high under the current cap constraints. Our Take: This just shows that Tom Donahoe is not pleased with the defensive line and will continue to look for ways to improve it throughout camp.



---
Talk about it on The Stadium Wall
Week in Review index
Latest News Section
Archives Library
Back to Bills Daily Homepage