| | | |
| --- | --- | --- |
| | Serving Bills Fans Since 1998 | Home |
---
New Uniforms and Mini-Camp Makes For Busy Week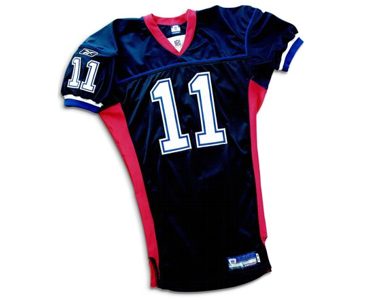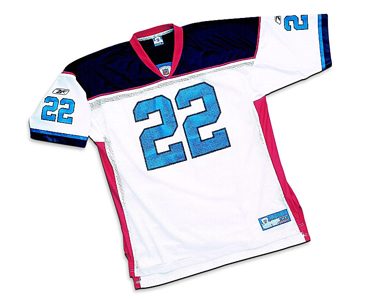 It was a busy week of mini-camp at One Bills Drive this past week but it was highlighted by the unveiling of the new uniforms on Saturday. Everyone has weighed in with their opinions, we of course have ours along with our take on all the news from the past week:

The new uniforms were unveiled in grand style during a ceremony at the Stadium where 16,180 fans were in attendance. Drew Bledsoe and London Fletcher led the entire team onto the field and Jim Kelly was given his own retired no. 12 as well as one for his son Hunter. He then introduced Bledsoe who said he was ready to play football right now. Tom Donahoe said it was a tricky process to balance the futuristic ideas from the more conservative. The result: a nice updating of the uniforms without a drastic change that the owner didn't want. The helmets remain the same with the exception of darker trim down the middle and there was no use of the much talked about secondary logo. Our Take: We like the uniforms, some people are knocking the road white uniforms since they look like the Titans jerseys but we may like them better than the home navy blue that looks like the Broncos, Ravens, and Patriots. The Bills went with the trend of the rest of the league and came away with good looking updated uniforms. Donahoe said the change wasn't marketing related since teams share the revenue but that isn't entirely true. Any merchandise sold by the Bills on-line and merchandise stores goes directly to the Bills, and guess where the first place you can get the new jerseys are? Now the question is, do I get a home or an away jersey?



There was no major news coming out of the first week of mini-camp but Coach Williams came away pleased as the team met all the goals they wanted to accomplish in the four days. The team has emphasized communication and that has helped the team get on the same page. Travis Henry missed most of two days of practice with a bruised leg but he should be fine. Jeremy McDaniel, Jay Riemersma, Reggie Germany and Jamarei Bryant all missed time with injuries. Germany and McDaniel haven't practiced much in any mini-camps. Alex Van Pelt missed two workouts because of a death in his family and Larry Centers missed two because of charity obligations. Trey Teague remained practicing at left tackle while Jonas Jennings continued playing center. Marques Sullivan got a decent amount of work at right guard. Our Take: It was a ho-hum first week but that isn't all bad, no major injuries. It appears like Jennings will end up at Center, Teague at left tackle, and Sullivan will back up Ostroski at right guard.



The Bills officially cut John Fina on Monday and now it appears he has decided to retire instead of trying to hook on with another team. Tom Donahoe said the decision to release Fina was a tough one and Fina said he was honored to play for Ralph Wilson and to be a part of the Bills for 10 years. It appears he will retire and go into business with his brother. Our Take: Fina wasn't exactly a fan favorite but he left the way he played, with class and honor and deserved a better fate over his 10 years here. His decision to retire may not stick, there will be teams interested in an experienced tackle.



The Bills added a player this week by signing Richard Huntley to a one year deal worth between $600,000 and $700,000. He arrived on Wednesday and practiced on Thursday. He said he doesn't care who starts and just wants to help the team win. Our Take: His signing makes the Shawn Bryson trade rumors more viable. One report has the Bills and Eagles haggling over the draft pick the Bills will receive (anywhere between a 3 and a 5). Why the Bills want Huntley over Bryson may be a bit mind boggling. It seems like the Donahoe/Williams era wants there own guys at all costs. Bryson is much more talented than Huntley. Huntley is a power back however and may complement Travis Henry off the bench, but we hate that it will come at Bryson's expense.



Meanwhile the Jay Riemersma saga continues. He still refuses to take a pay cut and he doesn't like the Bills offer of a four year deal with a two tiered signing bonus. The club could but him after this year and not pay most of the bonus. Right now everything is status quo as negotiations have broken off. Our Take: Look for the Bills to keep him under his current salary since they don't need the cap room and the two tight end formation appears to be a good part of the playbook. Riemersma should be more of a team player and realize he isn't worth the salary he is getting this year.



In other news the Bills say they are not interested in free agent Jim Flanigan and they lost out on Donnie Moore who signed with Chicago. The Bills are happy with their youth movement. Ruben Brown is sorry to see Fina go but feels the team has maybe the most talented line since he's been in Buffalo. Marv Levy is out as a commentator for the newly revamped Fox Sports Net pregame show that will now move to Saturday nights and take on a more comedic tone. Our Take: Despite the Bills youth movement, they will re-sign Shawn Price as soon as he can pass a physical. We will be sorry to see Levy go, since he has a good sense of humor, Fox should have kept him.



In NFL Europe news, Curtis Alexander was held to 69 yards on just 15 carries while gaining 17 more on 3 receptions as his team was shutout 3-0. David Dinkins did not touch the ball in his team's win. Our Take: Alexander still had a good average per carry in a defensive ballgame, Dinkins won't make this team since he can't separate himself from the competition in Europe.



---
Talk about it on The Stadium Wall
Week in Review index
Latest News Section
Archives Library
Back to Bills Daily Homepage