Bills Battle Browns In Scrimmage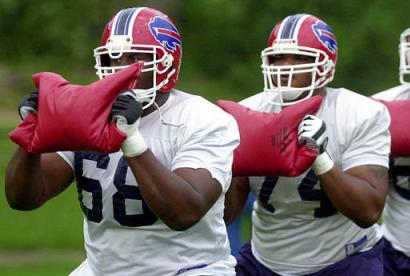 The Bills held their first full week of training camp that included two, two-a-days, one with the Browns, and a scrimmage. There was one serious injury to a backup player and signs that the defense may be for real this year. All that and two former players went into the hall of fame. We give you our take of all the news from the week:

The full team had two practices last Sunday and one practice Monday through Thursday, with the last one being a light walkthrough. They then practiced twice with the Cleveland Browns on Friday and scrimmaged them on Saturday before having a day off on Sunday. The Bills "lost" the scrimmage 18-6 but no touchdowns were scored in a conventional fashion, they all came in red zone and goal line drills. Travis Henry scored for the Bills and the first team defense completely shutdown the Cleveland offense holding them to 16 yards in 15 plays. Our Take: Heroes from the first week include Ryan Denney who is making a play for the starting left end job while Marcus Jones continues to round himself back into playing shape. The first string defense seems to be for real at this early stage and Pierson Prioleau showed versatility by playing strong safety in the scrimmage. Alex Van Pelt seems to be in the early lead to hold on to his number two QB role. Eric Moulds is proving why he is the number one star on this team making the best play of the day almost every day in camp including two acrobatic catches and an easy touchdown in Friday's practice with the Browns. Check out our depth chart for our latest projections on who is fitting in where.



On the injury front, the team has had one serious injury. OL Gary Byrd fractured his knee cap and will likely be done for the season, he was carted off the field during Friday's practice. Mike Williams, Coy Wire, Mike Pucillo, Ben Sobieski, Keith McKenzie, Jerton Evans and Lavaule Sape have all missed time with minor injuries. Williams and Wire were held out of the scrimmage. LB Anthony Denman is missing from camp because of some personal issues, he is expected to show up at some point. Our Take: It's too bad for Byrd, but he wasn't going to make the team anyway. We need to keep our fingers crossed that no serious injuries occur over the next month. If Denman doesn't get to camp soon, any chance he has of making the team again will be gone.



Willis McGahee remains one of only three number one picks that remains unsigned. His injury situation makes his deal that much more complicated. His agent said this week that his client is ready to practice right now. Tom Donahoe said that isn't the case and contract talks are ongoing but don't seem to be going anywhere fast. McGahee's agent is worried the team will put him on the non-football injury list, meaning he won't get any of his base salary until after he comes off the list. The Bills have until November 11th to sign him or lose his rights. Our Take: The rhetoric from his agent is just ridiculous he is obviously trying to get his client his entire signing bonus up front, the Bills don't want to do it. With McGahee still on the shelf, he has no bargaining power. We believe neither side is in a rush to get this done since he won't be playing anyway, look for McGahee to sign around opening day, as Donahoe says, "it will get done."



The team added some depth at safety by signing Ainsley Battles on Tuesday. He played the last two years for Jacksonville after being drafted by Pittsburgh. He is expected to battle for a backup spot at strong safety but he has some experience at free safety also. Our Take: There is little depth at strong safety and we are hopeful Battles can help.



Two former Bills were inducted into the Pro Football Hall of Fame on Sunday. Joe DeLamielleure was a star on the offensive line during the electric company years while James Lofton played four years for the Bills during the Super Bowl years. In his speech, Lofton talked about Levy as a scholar who taught him how to win. He called Jim Kelly one of the all time greats who controlled a game better than anyone. Our Take: We can get used to Bills going into the hall, that is four in the last three years and five in the last five. Next up: Thurman Thomas? Steve Tasker? Andre Reed?



Some other things from the week: Former Bill Larry Centers signed with New England while Mike Williams and Ruben Brown weighed in for Campbell's Chunky soup's charity for food. Receivers coach Fred Graves underwent successful prostate cancer surgery and is recovering nicely, he should be back within a month. Former Bill Jack Kemp will remain retired and not run for Governor of California. Our Take: Centers will be tough to contend with twice this year, he will be fired up for opening day that's for sure. Williams and Brown are two good community oriented players it's nice to see them put their weight to good use. We wish Graves a speedy recovery.



---
Talk about it on The Stadium Wall
Week in Review index
Latest News Section
Archives Library
Back to Bills Daily Homepage