| | | |
| --- | --- | --- |
| | Serving Bills Fans Since 1998 | Home |
---
Coaching News Continues To Dominate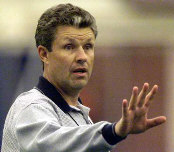 It was a relatively quiet week of the off season with coaching news taking center stage. Kevin Gilbride and Jerry Gray received contract extensions while Gregg Williams waits for his extension and the Bills wait to hear from Dick LeBeau. Rumors swirl regarding a few players and the preseason schedule was released. Here's a look at all the news that there was from the past week complete with our take on the issues:

A report came out late in the week that the Bills have extended the contracts of both coordinators. Gilbride and Gray are now under contract through the 2004 season. This can be a sign that Coach Williams will get a contract extension as his contract his due to expire after this season. Our Take: Gilbride deserved an extension but Gray? He hasn't proven anything yet. These extensions make a Williams extension inevitable. How can the coordinators have a longer contract then the head coach?



The Dick LeBeau watch continued for a third straight week. The Bills say they will wait as long as they have to for LeBeau since they already have a full coaching staff it doesn't matter when or if he comes aboard. LeBeau is now deciding between the Bills job and retirement since the Bears defensive coordinator spot did not open up. Our Take: If LeBeau comes great, but he may just decide it is better to retire then take a job under Jerry Gray.



The rumor mill was swirling around a few players. The most talked about player is soon to be free agent Peerless Price. Tom Donahoe said it is up to Price if he wants to come back. If Price wants top dollar he is better off elsewhere the GM said. If Price wants to be part of a special offense he will stay. Price's agent is not optimistic something will get done with Buffalo since he believes it isn't realistic for Buffalo to pay him and Eric Moulds. Tom Donahoe has not ruled out using a tag on Price. Our Take: Donahoe is using the same negotiating stance he has used since getting here. If you want to play for the Bills you will give them a "hometown discount". Price has said in the past he will take less to stay with the Bills, but how much less? Price is a great young player, but it is easier to replace a wide receiver than to get a stud defensive player. Donahoe does not like to use the tag and it is unlikely he will use one here. Price will not be a Bill next year.



Two other players were talked about this week, the agent for Keith Newman said he has had no contact with the Bills since the season ended and figures the Bills aren't interested in re-signing his client. The Bills say they haven't finished evaluating personnel yet. Tom Donahoe addressed the Jay Riemersma situation. He said he told Jay and his agent last year they would live with his current contract for one more year. That time has past, Donahoe said Riemersma needs to take a pay cut or be released. He can't stay with his current cap figure of $3.5 Million. Our Take: Newman was missed used here and deserves a new start elsewhere. Riemersma will probably take the sizeable pay cut to stay if the Bills still want him. His value on the open market is questionable at this point after a very sub par season.



The preseason schedule was released on Tuesday. The Bills will play their first two preseason games on the road in Baltimore and Tennessee. They will complete their preseason at home against St. Louis and Detroit. Our Take: It will be nice to have the last two preseason games at home and not have to travel before the season begins.



---
Talk about it on The Stadium Wall
Week in Review index
Latest News Section
Archives Library
Back to Bills Daily Homepage