| | | |
| --- | --- | --- |
| | Serving Bills Fans Since 1998 | Home |
---
Quiet First Week Of Offseason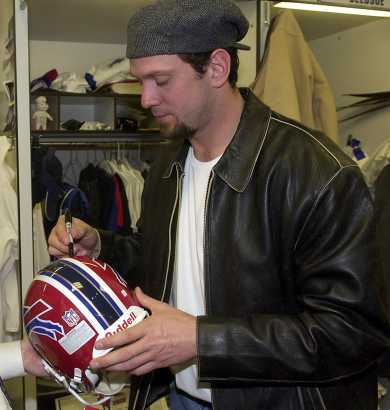 The off season is here, and with it we return to our off season Week in Review. Each week we will wrap up the issues surrounding the Bills complete with our take on them. This week was the first of the off season and it was relatively quiet as the coaching staff evaluates players. Here's all the news from the past week complete with our take on the issues:

The Pro Bowl starters were announced this week, and none of the three Bills on the squad were selected to start. Drew Bledsoe, Ruben Brown and Eric Moulds are on the squad but none of them will start. Bledsoe is bringing the entire offensive line along with Offensive coordinator Kevin Gilbride and QB coach Steve Kragthorpe to Hawaii with him. Our Take: The players starting ahead of these three all deserve to start. Being a reserve isn't a bad thing either. It is nice of Bledsoe to show his appreciation to the players that helped get him there.



Meanwhile Bledsoe did not one the one off season award he had a shot at. Bledsoe finished third in the running for AFC Comeback player of the year behind Tommy Maddox and Robert Edwards. Mike Williams was honored by being placed on the ALL-Rookie team by ESPN. Our Take: Bledsoe's stats were deserving of the award but the stories behind Maddox and Edwards comeback was far more intriguing. Williams definitely deserved the all-rookie team as he proved to be steady at right tackle during his rookie season.



The players cleaned out their lockers on Monday looking ahead to next year with many players possibly not returning. Keith Newman and Jay Riemersma made it clear that it looks like they won't return. One man who will return his Coach Gregg Williams. No moves will be made until the coaches finish their player evaluations and meet with Ralph Wilson at his Florida home. Our Take: The talk of Williams being fired is ridiculous, it is not an option. Riemersma and Newman have played their last game in Buffalo. Riemersma sealed his own fate when he didn't re-do his deal last year and didn't perform this year. Newman has been misused and needs a change of scenery. Check out our final grades.



As the off season hits, rumors begin. There will be many rumors when it comes to highly regarded asst. GM Tom Modrak. He is being linked to GM jobs in Jacksonville and Cincinnati. The Bills are interested in bringing in recently fired Bengals head coach Dick LeBeau to an unknown spot on the defensive coaching staff. Our Take: LeBeau goes way back with Donahoe and the President want him, so expect him to be force fed onto Williams staff at some capacity. He may end up being the defensive line coach now that John Levra has retired. Modrak is more likely to stay then leave. He is an asst. GM by title only, he is paid like a GM and got more money and a promotion last off season to deter him from leaving.



The Bills 2003 opponents were finalized at the end of the regular season and it seems to be a favorable schedule for Buffalo. One side note, gives the Bills a 50-50 chance of playing on Thanksgiving. The Cowboys will host an AFC team and they only play Buffalo and Miami at home this year. Our Take: Miami is more likely to get the Thanksgiving day gig. The Bills luck out by having a last place schedule despite being better than that.



In other news, Thurman Thomas admitted this week to being a recovering alcoholic. He said the drinking problem developed after he retired. The Bills TV ratings were third highest around the league. Brandon Spoon has recovered nicely from his torn bicep in training camp last year. Our Take: We wish Thomas the best in his battle. Spoon may be a candidate for the starting weakside linebacker position next year. The TV ratings show once again how popular the Bills are in Buffalo.



---
Talk about it on The Stadium Wall
Week in Review index
Latest News Section
Archives Library
Back to Bills Daily Homepage