| | | |
| --- | --- | --- |
| | Serving Bills Fans Since 1998 | Home |
---
Bills Shine In Pro Bowl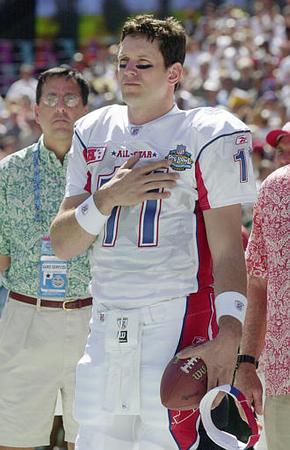 A slow week ended with the final game of the NFL season, the Pro Bowl. Four Bills played in the game and represented the team well. Here's the little bit of news that there was from the past week complete with our take on the issues:

Drew Bledsoe threw for a game high 125 yards as he went 9 for 19 including an interception when he tried to hit Eric Moulds in the end zone. He struggled with the wind all day but led the AFC on two scoring drives in their 45-20 win over the NFC. Travis Henry ran the ball seven times for 12 yards but caught a 13 yard touchdown pass from Rich Gannon. Moulds had two receptions for 23 yards, one from Bledsoe and one from Peyton Manning. Ruben Brown saw significant playing time at right guard. Our Take: The Bills contingent represented the team very well as Al Michaels commented a couple of times on how much the Bills have improved.



The Dick LeBeau watch continued this week as one report said that Gregg Williams and Jerry Gray met with LeBeau last week. If they haven't met with him yet they will soon. He is being looked at as a defensive consultant and assistant to Gray. Our Take: If LeBeau does want to coach in the NFL in some capacity next year this job may be his best and perhaps only opportunity. As we said last week, adding him to the staff will add a wealth of experience and knowledge. It will however, have a chance at undermining the coaching staff since he is purely a Donahoe hire, not Williams.



The big decision of the off season will be whether or not to re-sign Peerless Price. Tom Donahoe has said that every option will be explored. The team would like to keep Price and will even consider using a tag. Those values came out this week. It will cost the Bills $5.01 Million to place the franchise tag on him or $4.53 Million to place the transition tag on him. Our Take: This is a tough call, the team would like to keep Price but can't afford to have that much money tied up in the salary cap at one position. Donahoe isn't a fan of tags and probably will not use one here either.



---
Talk about it on The Stadium Wall
Week in Review index
Latest News Section
Archives Library
Back to Bills Daily Homepage