Two Challenge For Linebacking Spot
Two young, talented players fight for job.
by Steve Saslow
Thursday May 25, 2000
---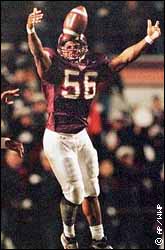 There are two starting positions on the defense that are wide open. In our first of our series we discussed the battle for the starting free safety position. In our third article of this series we concentrate on the battle between two young players for the open outside linebacker position.
This position became open because the club decided against re-signing former starter Gabe Northern. The former second round pick fell out of favor with the club. He had a knack for making big plays on occasion but never developed into a consistent performer as a starter. The battle to replace him comes down to Keith Newman and rookie Corey Moore.
Publicly the Bills have talked very highly of the second year Newman. He played very sparingly last year after being drafted in the fourth round of the 1999 draft three picks ahead of TE Bobby Collins. Despite showing up on the inactive list more times than he played the club seems to like his aggressiveness, intelligence, and coverage skills. They seem to feel he is ready to step in for the departed Northern. They must be high on him not to even give Northern a minimum offer.
Newman will have competition though, as the club feels they got the steal of this year's draft when they chose Corey Moore in the third round. He fell this far because he is considered "too short" (sound familiar?) to make it as a linebacker in the NFL. Moore was the college defensive player of the year last year playing on the defensive line. The Bills feel he can comfortably make the switch to the weakside linebacker spot because he is very motivated and intelligent. The Bills don't feel his size, or lack thereof (5'11" 222lbs.) will harm him at the pro level. He is being penciled in as a pass rusher in obvious passing situations. He may come in on third and long situations and spell Newman.
Newman right now is number one on the depth chart, but don't be shocked if Moore passes him early in the season. If Newman doesn't develop as expected and he struggles, Moore has the talent and intelligence to pick up the defense quick enough to take the starting job. No matter what the Bills say though, size may be an issue with Newman no matter how motivated he is. One other possible long shot in this scenario is former Bills Bryce Paup. He will be cut by Jacksonville on June 1st and has expressed interest in coming back to Buffalo. The Bills insist this is the team they will go to camp with, but Paup would bring valuable experience at a cheap price. If nothing else he could help develop Newman and Moore. Don't expect that to happen though, the club is confident in Moore and Newman and if they don't work out a switch to a 4-3 defense would probably happen before signing Paup.
Other Articles In This Series:

Third Wide Receiver Battle

RB Battle

FS Battle
---
Comments on this article
Articles Index
Back to Bills Daily Homepage