Bills Go Hard On Defense
Big, versatile players at areas of need lead to solid draft.
by Steve Saslow
May 2, 2011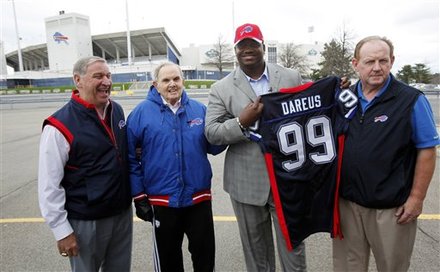 The Bills definitely drafted for need and got bigger while sticking to what many would think were the safer picks. Most draft experts concur that they had a good draft and so do I. The Bills said before the draft that they need to rebuild the porous defense, specifically the run defense, and they did their best to do just that. Their first four picks, and seven of the nine total picks, were defensive players. That list is headlined by top pick Marcell Dareus. He was the earliest defensive lineman picked by the team since Bruce Smith. The team hopes he can be that kind of cornerstone for years to come. I would hold off comparing him to Bruce for now, but he was a safe pick that has very little chance of being a bust.

Everyone knew the Bills needed help in the front seven and they would add two linebackers in the draft. What people didn't realize was that Bills brass seems to think they need to rebuild the secondary. This was considered an area of strength just a year ago but potential free agent defections and the aging of veteran Terrence McGee made this unit ripe for rebuilding. The team picked three defensive backs starting with second round pick Aaron Williams. He is a big corner who can play outside or inside and can also play safety. He will likely lineup at corner for the Bills and will probably make an immediate impact at nickel back with the likely free agent departure of Drayton Florence.

In the third round the Bills went to the one level of defense they didn't address with the first two picks. They took their first of two inside linebackers in the draft. LSU's Kelvin Sheppard was the last pick of day two of the draft for the Bills. He has a chance to start right away since it is an area of weakness. He is fast and a solid tackler and has good size to be inside. He is a very aggressive player and has a fiery attitude. He will likely make an early impact on special teams if he doesn't end up in the starting lineup.

On day three the Bills continued on defense with a slight detour to offense in the middle of the draft. With the third pick of round 4 the Bills stayed in the secondary by taking Da'Norris Searcy of North Carolina. Searcy played corner in college but projects as a strong safety in the pros. What makes his pick so valuable is the fact he can play free or strong safety and nickel corner in a pinch. He has great size for a safety without losing too much speed. He was picked as an eventual replacement for Donte Whitner whose days appear numbered at One Bills Drive.

Later in the fourth round the Bills finally turned to the offense and filled a need at tackle by picking a very tall and big player from Clemson. Chris Hairston will be able to pave the way for his college teammate C.J. Spiller. He is 6'6" tall and weighs over 320 lbs. He is considered an excellent pass protector and good in run blocking as well. He has a chance to challenge for what looks to be a wide open right tackle position.

The Bills stayed on offense for their fifth round pick by picking their second Tar Heel of the draft. RB Johnny White may not be a need pick but many draftniks say he is very underrated and could have went much higher if he didn't suffer a broken clavicle late last season. He has played wide receiver in college as well which gives him strong hands in the receiving game. He does everything well and is a solid special teams player. He was too good to pass up at this spot making him a possible great value pick. All teams need to carry three halfbacks and it's nice to get one with different skills to come off the bench. White may fill that need for them.

The team drafted a second person with the last name of White in the sixth round as they took another inside linebacker, Chris White of Mississippi St. The Bills say he has the best initial burst off the snap of any player they saw in college. He has great instincts and is expected to be a special teams demon. He will likely need more grooming before he could contribute on defense but he should help immediately on special teams. He is a great effort player but doesn't have ideal speed for the position.

They closed the draft with two picks in the seventh round and finished like they started... on defense. They finally went to the small schools that Buddy Nix loves so much as well. First they took CB Justin Rogers from Richmond. He is a smaller corner than Williams but is also a good returner so he brings different things to the table. In the very least you always need extra corners for training camp but he will have an uphill climb making the team. The last pick of the draft for the Bills is an intriguing one. They took Michael Jasper from little Bethel University in Tennessee. He played as an offensive guard last year and weighed over 430 lbs. He has since trimmed down to a svelte 375 lbs. and will project as a nose tackle in the 3-4 defense. That is his natural position. He is a project and seems destined for the practice squad.

The Bills needed to get bigger and they did. They needed players on defense that are versatile enough to play in their hybrid defense and got them. Most of the new defensive players can play in the 3-4 or the 4-3. They needed to get more talent and depth on defense and accomplished that mission as well. The one possible blemish is that while they did concentrate on defense, they virtually ignored an offense that wasn't that much better than the defense. They never took a quarterback and I'm ok with that since the franchise QB wasn't available in their eyes. If no franchise QB is there, and you are happy with Ryan Fitzpatrick, why take one just for the sake of taking one? Time will tell on how successful this draft is but on paper it looks to be a homerun.

---
Bills Daily Draft Main Page
Bills Daily Draft Preview
Bills Seven Round Mock Draft
1st Round Mock Draft
Comments on this article
Articles Index