Bills Look To Draft To Get To Next Level
Many different options with top pick.
by Steve Saslow
April 26, 2012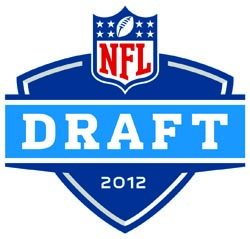 The Bills filled their top need for a pass rusher in free agency by the signings of Mario Williams and Mark Anderson. That is one less hole to fill as Buddy Nix looks to get the team to the next level and will use the draft to help get this team to the playoffs for the first time since the 2000 season.

The Bills still have many needs to fill including help at cornerback, linebacker, wide receiver, and offensive tackle. That means for the first time in years who the Bills will take with the 10th overall pick is anybody's guess. The latest reports and rumors say the team would love to get S Mark Barron or CB Stephon Gilmore. The player we gave them in our 7 round mock draft, LB Luke Kuechly, is supposedly their third choice. Another rumor says they will take QB Ryan Tannehill if he's there. The Bills are likely to take a quarterback in the draft but not on day one or day two. Buddy Nix said he wants a playmaker with the 10th pick, a player that will come in and instantly help this team get to their goal. A quarterback won't do it.

That may be why they could be leaning towards the safety despite having one of the best safety duos in the league with George Wilson and Jairus Byrd. Bryan Scott and Da'Norris Searcy are very capable as well. Many experts say Barron is the best safety to come out in years and the Bills may feel he can start for 10 years. That would mean in the long term the current safeties would have no bearing on this pick. Some say they may need the safety to help cover the great Patriot tight ends but Barron is a better run stuffer than he is in pass coverage. That is why I like Kuechly since he is very good at playing the run and the pass at a position of need.

The team appears to be leaning away from taking a receiver or a tackle in the first round. Those positions are deep in talent in the middle rounds but not deep in top line talent to take one at #10 so I agree with going defense in the first round. They can always use another corner, more than a safety, so Gilmore or Dre Kirkpatrick would make more sense than Barron. Of course if Barron is more like Sean Taylor and less like Donte Whitner we may look back on taking him as a great move.

Friday may be a more important day than Thursday for the long term success of the team regardless of who they take in the first round. The next two rounds are where they will likely plug some of their positional holes. Look for a tackle and receiver to come on Friday with overall depth coming Saturday including the pick of a developmental quarterback.

Nix said they need to take a cornerback every year in the pass happy NFL and there is a chance they will take two. They also need to take two tackles since they only have three on the roster. A speed receiver is needed as well but Nix feels offensive tackles are more important than a receiver but likely not as important as secondary help. They don't feel like they will draft a tight end. Running back and the interior of the offensive line are other spots that no depth is needed. Of course we thought safety wasn't a spot of need and they may take one with their first pick. So if they follow their board every position is on the table as they try to get the "best player available" with every pick.

The Class of 2011 is a very promising one so there is no reason to believe that Nix and his staff can't duplicate that potential this year. Nix said he needs to hit on all 10 picks but that is not possible, they will do well if they hit on 6 or 7. If a few of those are home runs than this team may finally be on their way back to the playoffs. Then the goal will be to sustain that success and a solid draft will be a key component towards long term success in Western New York.

---
1st Round Mock Draft
Bills Seven Round Mock Draft
Bills Daily Draft Main Page
Comments on this article
Articles Index