Bills Got Much Faster In Draft
Success or failure of draft lies with Manuel.
by Steve Saslow
April 29, 2013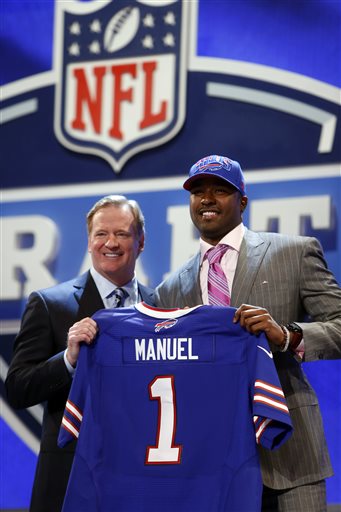 Another draft is in the books and the Bills have shown what type of team they would like to be under Doug Marrone. They want to be a fast team and added a lot of speed to an offense that will play an up tempo game. On defense they looked for versatility to play the hybrid defense that Mike Pettine plans to run.

The Bills took a small gamble by trading out of the 8th overall spot but it paid off when they were able to get their quarterback of the future and add two draft picks in the process. They get kudos for pulling off the best case scenario to start the draft. You can debate for days if EJ Manuel is the right guy but you have to give them credit for identifying the need, researching the heck out of the available quarterbacks, and going out and taking the one they feel fits with this team while getting more picks to address other needs. I would have rather them take Ryan Nassib or Matt Barkley but since they did the extensive preparation I will give them the benefit of the doubt and get behind the pick at least for now.

Some people say since they wanted Manuel they should have traded back again and picked up more picks. Nobody could have foreseen the free fall at the quarterback position and there was no reason to get too greedy. They already traded down eight spots and still had the pick of the litter at quarterback. It was finally time to take their guy and they did. He may not be as polished as some of the other quarterbacks so now it is up to Marrone and Nathaniel Hackett to get the most out of their prize prospect. Picking up Kevin Kolb gives them the luxury of bringing Manuel along slowly although there will be a clamoring to get him on the field sooner rather than later. It is certainly a gamble but it is about time they took a shot and drafted a quarterback. It is the first time the Bills have ever taken a QB with their top pick, now let's pray they got the right one.

They addressed two more needs in the second round by taking USC WR Robert Woods and Oregon LB Kiko Alonso. I love the pick of Woods since he may be the most polished receiver in the draft. He should step right into the starting lineup. Alonso can move right in as well but I'm less sold on him. He has had some off the field issues and is talented but may have been a reach taking him this high up in the draft. He does have a lot of speed which could help in the hybrid defense. He will likely battle Kelvin Sheppard for playing time on run downs and may battle Bryan Scott for playing time in passing situations.

The Bills went back to wide receiver to close out day two of the draft. Marquise Goodwin is much more of a raw prospect than Woods but has absolutely blazing speed. His 4.27 at the combine was the quickest time in a decade. He adds depth to a very deep returns team and has really worked on his route running. If he can develop quickly he has a chance to contribute out of the slot. Marrone thinks that may happen as his development in college was stunted by his time away from football to run track. He finished 10th at the London Olympics in the long jump.

The Bills opened day three of the draft taking safeties in rounds 4 and 5. Duke Williams is a player with a troubled past but supposedly that is all behind him and he developed into a leader at Nevada. He has more talent than his draft grade because of his history of arrests. If he can stay on the straight and narrow he may be a diamond in the rough. He is very versatile and can play both safety positions and some corner in nickel packages. That versatility should get him on the field some as a rookie. 5th round pick Jonathan Meeks will likely have to fight for playing time on special teams. He is a true safety who played mostly free safety at Clemson out of need but can see time on the strong side if the Bills want him to.

The 6th round choice of kicker Dustin Hopkins was very interesting. He was the second kicker off the board but number one on most experts' rankings. He set scoring records at Florida State and has a huge leg. The one downside is he has never kicked in anything near to the weather conditions in Orchard Park late in the season. He is huge competition to Rian Lindell and has a much better chance of making an immediate impact than anyone else they could have taken that late in the draft.

The Bills closed out the draft with more speed as they added at another position of need. They took TE Chris Gragg. He is very fast and may be more of an H-back than a tight end who can line up on the line. He is a good pass catching tight end who played wide receiver his freshman year in Arkansas. He battled some major injuries in college so he is a development project like most seventh rounders are but he has potential.

We gave the draft a C grade because they may have reached a bit too much in spots to fill positions of need. I also think they should have added a guard and a corner instead of two safeties. Of course if Manuel succeeds and becomes that franchise quarterback it won't matter what anyone else does, it will end up being a perfect grade.

---
Bills Daily Draft Main Page
Bills Daily Draft Preview
Bills Seven Round Mock Draft
1st Round Mock Draft
Comments on this article
Articles Index