| | | |
| --- | --- | --- |
| | Serving Bills Fans Since 1998 | Home |
---
Miscues, Special Teams Breakdowns Kill Bills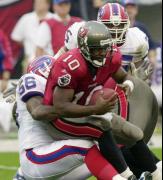 The offense moved the ball but couldn't score enough. The defense broke down in the end because of too many injuries. Special teams were just downright awful. The good and the bad are reflected in our gameday grades. Here are the position by position breakdowns: Quarterback:

Rob Johnson showed again that he knows how to take a hit. He was beat up all game long but continued to complete passes and move the ball. He threw for 262 yards despite being sacked 6 times and hurried and hit on many other passes. Doug Flutie came in late in the game when Johnson was groggy and almost threw an interception. He did drive the team down the field on the final drive but the game was over already. Grade A-: Under pressure still had great stats that would have been better if passes weren't dropped.

Running Backs:

Without the injured Sammy Morris for the second week in a row this unit struggled again. Shawn Bryson had a nice 15 yard run on one scoring drive but had only 17 yards on 7 carries the rest of the way. He made a heads up play on a shovel pass by Johnson in the fourth quarter. Antowain Smith averaged 2.7 yards a carry as he gained 30 yards on 11 carries. Jonathan Linton made a surprise appearance on third and goal and made a beautiful catch for a touchdown. Grade D: Outgained by quarterbacks and receivers.

Receivers:

Eric Moulds led the way again with 8 catches for 102 yards and a score. He did drop a couple of passes as did his other fellow receivers. Peerless Price caught six passes and had a 27 yard run on a reverse. His fumble basically killed the Bills for the third time this year. Jeremy McDaniel had three catches but wasn't a big factor. Jay Riemersma was a factor with five catches for 82 yards including a big 35 yard gain. He made an ill advised lateral during desperation time. Kwame Cavil saw some action but couldn't pick up a first down on his one catch and dropped two others. Sheldon Jackson saw extended action and caught a pass but dropped a possible touchdown. Grade C: Dropped too many passes.

Offensive Line:

John Fina did play and the line gave up six sacks, 13 hurries, and 5 knockdowns. Grade D: Didn't do job against best line they have faced all year.

Defensive Line:

The line came to play. Marcellus Wiley had two more sacks and was very active. Ted Washington was miked before the game and was very fired up, he responded with two sacks. Shawn Price deflected a pass. Dunn ran wild in spurts as there were some running lanes. Pat Williams was also active. Grade B-: Put the initial pressure but holes were there for running game.

Linebackers:

Sam Cowart had six tackles and 2 1/2 sacks in his one half of action. Sam Rogers wasn't having a stellar game before getting hurt. John Holecek was busy when his linemates went out. He had 9 tackles. Corey Moore gave up a long completion to Dunn when he came in setting up a score. He redeemed himself with a sack later. Jay Foreman replaced Cowart and was active with three tackles. Grade C: Not bad considering the depth of the injuries.

Secondary:

The linebackers may have been banged up but the secondary was worse. Donovan Greer was pressed into limited action despite not being healthy. Travares Tillman also was forced to play more when Keion Carpenter went down. Chris Watson played better in coverage this week but was beaten a couple of times by Jacquez Green. Grade B-: Solid effort despite injuries; good thing the Bucs aren't a good passing team.

Special Teams:

Where do we start? The Bucs averaged 35 yards on kickoff returns and 31 yards on punt returns including the back breaking return for a touchdown. The returns unit of the Bills were awful as Watson average negative yards on punt returns. Steve Christie missed a hurried field goal attempt. Chris Mohr was again inconsistent in his punts. It got so bad that when Christie kicked an apparent touchback it was called back due to offsides! Grade F-: It is time for a new returner.

Coaching:

Poor time management on the drive at the end of the half may have cost the team three points. The onside kick call with over two minutes to go is questionable with three timeouts left. Putting a woozy Johnson back in the game is questionable also. On the positive side, Joe Pendry had a good offensive gameplan that was successful in yards but not points. The defense adjusted amazingly well despite all the injuries. Grade C: Even the greatest coaching wouldn't overcome the injuries.





Game Analysis and Review

NFL.com Gamebook - Complete stats including play by play (requires Acrobat Reader)


Injuries May End Season

Bucs Game Preview
---
2000 Gameday Section
2001 Gameday Section
Back to Bills Daily main page
2000 Articles Index