| | | |
| --- | --- | --- |
| | Serving Bills Fans Since 1998 | Home |
---
Colts Offense Dominates In 42-26 Loss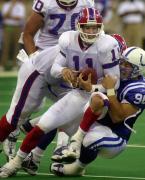 The defense was ripped to shreds by the potent Colts offense so bad that their punter never had to kick as they rolled up 555 total yards. The offense continued its struggles despite putting up some numbers in garbage time. The result was an ugly 42-26 loss. Our position by position grades will reflect the poor performance: Quarterback:

Rob Johnson's struggles continue. He threw for 257 yards but most of that was in garbage time. He toughed it out threw a painful hip injury that didn't seem to bother him as he ran for a team high 63 yards on five scampers. When the game was still in doubt he threw many inaccurate passes before hitting his rhythm against a prevent defense. Grade D: Even if this grade was in A the Bills don't win.

Running Backs:

Travis Henry only carried 12 times as the Bills fell way behind in the second quarter. He averaged 3.3 yards per carry as he finished with 39 yards. On the positive side he made a contribution to the passing game by catching three passes for 36 yards. Larry Centers led the way receiving with seven catches for 56 yards. He also carried the ball three times for 14 yards. Shawn Bryson got his first carry of the year for one yard and Sammy Morris caught one pass. Grade C: When Centers leads the team in receiving yards and catches and is the most effective runner you won't win.

Receivers:

Eric Moulds wasn't involved again as he caught only two passes for 14 yards before suffering an injury that will keep him out a while. Peerless Price is replacing quantity with quality as he again had two big plays but little else. He caught a 40 yard touchdown pass on a hail mary and also ran a reverse for 28 yards. Jeremy McDaniel led all wide receivers with four catches for the second straight week this time he totaled 48 yards. Jay Riemersma led all receivers with five catches but gained only 36 yards. Grade C+: Replacing Moulds will be very difficult despite poor start.

Offensive Line:

The line opened up holes early on for the running game and pass protected fairly well also. When the game was out of reach the Colts sent everything and the majority of the four sacks and many pressures were in the second half when the game was over. Jonas Jennings and Bill Conaty were banged up in this game. Grade B: Wasn't the main problem.

Defensive Line:

The entire line struggled as they got little pressure on Manning leaving the secondary out on an island alone. Phil Hansen was in on four tackles and Leif Larsen had the lone sack but there was no other names worth mentioning. Grade D: The first line of defense failed.

Linebackers:

Kenyatta Wright and Brandon Spoon combined to be involved in 11 tackles in replacing Sam Cowart. They played well as Edgerrin James was kept in check in the first half before running wild in the second half. Keith Newman was active and in on four tackles. Grade C: Again failed against the pass and wilted in the second half.

Secondary:

Nate Clements returned an interception for a score and that was the lone bright spot for the Bills. Antoine Winfield got burned badly by Marvin Harrison for three scores before picking off a pass. They were burned badly on a flea flicker. Grade F: Gaping holes in the defensive backfield was too awful to watch.

Special Teams:

Jake Arians remains the lone bright spot of the offense as he was 2 for 3 in field goal attempts including hitting from 48 and 49 yards. He missed from 37. Brian Moorman punted well again averaging 47.3 yards on his punts including two downed inside the 20. Kick returns were averaged but the coverage game was mediocre. Grade B: The best unit on this day

Coaching:

The penalty problems from the preseason showed its ugly head as the regular officials returned to action. A team record tying 19 penalties is inexcusable. The team apparently isn't buying into Williams way of coaching at this point. Grade F: No discipline is a surprise from what we were told in training camp.





Game Analysis and Review

NFL.com Gamebook - Complete stats including play by play (requires Acrobat Reader)


Colts Game Preview
---
Gameday Homepage
2000 Gameday Homepage
Back to Bills Daily Homepage
Articles Index