| | | |
| --- | --- | --- |
| | Serving Bills Fans Since 1998 | Home |
---
Colts Overpower Bills 42-26
Colts score six straight times to destroy Bills.
by Steve Saslow
Sept. 23, 2001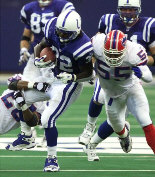 The Bills played today like they were on another bye week as they ran up a team record tying 19 penalties. They allowed the Colts to score touchdowns on six straight possessions and never forced them to punt as they rolled up 555 yards in a 42-26 rout of the Bills in Indianapolis. It was the third most amount of yards given up by the Bills ever in a game.

The Bills opened the game on a high note as Peyton Manning had a third down pass picked off by Nate Clements and returned for an early score. After Ken Dilger fumbled the Colts second possession the Bills were poised to open up a nice, early lead. The Bills offense continued to sputter and went three and out. The Colts offense would score touchdowns on the next six possessions including a 90 yard drive and three 2 play scoring drives in a row. Peyton Manning threw for a whopping 421 yards and Edgerrin James added 111 yards on the ground as the Bills were totally annihilated by the Colts offense after the first two series. If the Colts didn't call off the dogs in the second half it would've been much worse. As it was the Colts had a 35-17 lead at halftime.

Offensively the Bills struggled again as Rob Johnson struggled with his accuracy early on and played most of the game with a painful hip injury. He still managed to lead the team rushing with 63 yards and threw for 257 yards mostly in garbage time. Johnson was forced to run for his life on many occasions as he was sacked four times. The Bills did manage to get a touchdown drive to tie the score at 14 when Travis Henry bounced off a bottleneck in the middle of the field and cut outside for a four yard score early in the second quarter. After that the only offense for the Bills was 48 and 49 yard field goals from Jake Arians and a hail mary score to Peerless Price late in the fourth quarter.

The Colts just controlled the game through the air as Manning picked apart the Bills secondary and hit long passes all game long. Three of the first four passes caught by Marvin Harrison went for scores including back to back 39 yarders. Harrison finished with 146 yards receiving while his partner Jerome Pathon had a career high 168 yards on 9 receptions. Manning threw for four scores in all and rushed for only the second score of his career.

The Bills came apart at the seams for the second straight game as they lost their cool late in the game as they showed no discipline as the penalties and frustration showed. There is no way of beating a team like the Colts when you do that.

It is back to the drawing board for an inexperienced team and coaching staff that appears to be in for a long rebuilding season. The injury bug also continues to hit this team hard as they lost their two best players in the first two games. With Cowart out for all intense and purposes the entire season, Eric Moulds went down with a sternum injury in the loss to the Colts. The Bills also suffered injuries to Brandon Spoon, Jonas Jennings and Bill Conaty.

It was an awful performance with few bright spots but we'll try to find a few as we give you our gameballs and goats.



Gameballs
Jake Arians - He missed his first field goal as a Bill but hit long range kicks of 48 and 49 yards.
Nate Clements - He seemed to be one of the few players in the secondary not to get burned too much. He had the big interception return for a score.
Brandon Spoon - He was in on seven tackles in his NFL debut before again leaving with another injury.


Goats
Rob Johnson - Still seems lost in the offense. His final stats don't look bad but it was garbage time.
Eric Moulds - Before getting injured he was a non factor again including having a pass go through his hands for an interception.
Antoine Winfield - He was burned by Marvin Harrison for three scores before he picked off a pass in the end zone. He was also called for two defensive holding penalties.
Ken Irvin - Bit on the flea flicker that went for a touchdown.
Keion Carpenter - He is suppose to be the last line of defense but on many big plays he was nowhere to be found.
Gregg Williams - 19 penalties!! This club is not buying into his philosophy.


Player Of The Week
Nate Clements - His interception for a score was the lone bright spot in a gloomy day.




Positional Breakdown and Grades

NFL.com Gamebook - Complete stats including play by play (requires Acrobat Reader)


Colts Game Preview
---
2001 Gameday Homepage
2000 Gameday Homepage
Back to Bills Daily homepage
Articles Index