Webmasters Note: This is the last weekly news archives. Starting next week will be restarting our week in review, where we give you all the news from the week plus our take on the issues surrounding the events of the off season.
Bills Close Out Season On High Note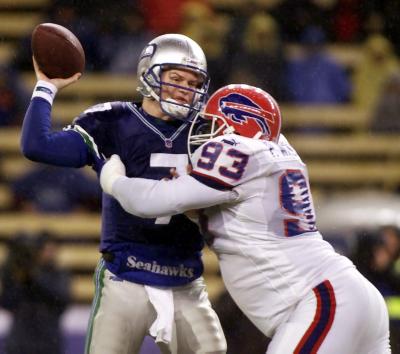 Annual Meeting Set For Friday: Don't look for any coaching changes before Friday. That is the day that Owner Ralph Wilson will have his annual meeting with Coach Phillips. The General Manager is also usually there and there is a chance that one will be hired by then. If not, Dwight Adams the Vice President in charge of pro personnel is expected to attend.

Five names on GMs list: The Rochester D&C reports there are five names on the list of candidates for the Bills GM job. Two names on the list are from within the organization as expected. Dir. of pro player personnel A.J. Smith and VP Dwight Adams will get interviews. Outside the organization the list of three is topped by former Steeler director of football operations Tom Donahoe. Jerry Angelo the director of player personnel for Tampa Bay and Phil Savage, the director of college scouting for Baltimore rounds out the list.

Offensive Number Huge: In the win the Bills rolled up 579 yards total offense that is just three yards off of the club record. Doug Flutie had a perfect quarterback rating and there were two 100 yard receivers. Antowain Smith had his career best rushing game and he didn't even play until late in the first quarter when Shawn Bryson bruised his backside on his diving touchdown that started the scoring spree. All this added up to more points in the first half (28) than they had in an entire game this season! Gameday Grades

Flutie And Smith Shine In Win: It is ironic that the two people that had phenomenal games in helping the Bills stop a 4 game losing streak will probably be on other teams next year. Doug Flutie threw for 366 yards and three touchdowns on his way to a league high passer rating of 158.3 for the game. It may have been Flutie's last game as a Bill since salary cap concerns may see him elsewhere next year. Another player that may be a salary cap victim is Antowain Smith who has struggled as a feature back in recent years but had a career high 147 yards rushing and three scores in the Bills 42-23 victory. The offense finally exploded too little, too late as they rolled up 579 yards in the win that brought the Bills to a final record of 8-8. Complete Review


Saturday December 23, 2000


Johnson Speaks: In a very interesting interview with The Buffalo News Rob Johnson talked frankly about this season and the future. He talked about how as long as he and Doug Flutie are both here it is very hard for him since Doug will always be the fan favorite. He will prepare himself for that possibility but he feels it would be better if one of them were gone. He also thought he played well this year except for the two blowouts against Miami and Indianapolis. Johnson admitted he does have a tear in his throwing elbow but he doesn't believe surgery will be needed.

Gameday Weather: The Bills will play their first outdoor game in Seattle with Showers decreasing through the evening and temperatures in the upper 30s. Winds will be around 10 - 15mph.


Friday December 22, 2000


Bills Travel To Seattle: The last thing a team that isn't going to the playoffs wants to do is travel 5 hours to the final game of the season. The only good thing for the players is the game is Saturday night and not on Christmas Eve. Doug Flutie will be at Quarterback and he re-iterated his preference to stay in Buffalo next season and thinks he can play 5 more years. This may just happen considering the injuries that keep happening to Rob Johnson. Flutie also showed support for the offensive coaching staff, the best way to help save some jobs is for the Bills to win convincingly in front of the watchful eyes of owner Ralph Wilson.


Thursday December 21, 2000


Donahoe Interested: The Rochester D&C is reporting that former Steeler GM Tom Donahoe has said he would be very interested in the Bills GM job. He has yet to be contacted by Ralph Wilson and he may never be contacted by him. Donahoe is considered the best, established GM candidate on the market. Wilson however has a history of promoting from within and may not even entertain the thought of bringing Donahoe here. Buffalo is a good fit for the low-keyed Donahoe, if Wilson meets with him, he may realize he's the man for the job. He would at least match the talents of Butler if not upgrade the position. Donahoe, like Butler, is known for his scouting abilities.


Wednesday December 20, 2000


Phillips Comments On Butler: During his usual Wednesday press conference, Coach Phillips talked about the John Butler dismissal. He called Butler a good friend, who he has a great respect for and a good professional relationship with. He did stress that the club has to concentrate on the game and get themselves ready to play to finish off the season right. He feels that they have a strong organization and will continue to be strong.

Bills Concentrating On Winning: Phillips also talked about the task at hand. He said he isn't letting any distractions bother him and he is preparing the Bills to win one game. He said the team seems to be determined to finish the season right. That will be a difficult task considering the chaos of this short work week and the long travel day ahead tomorrow. Complete Preview

Fina Should Play: On the injury front, John Fina has practiced and should play. The other walking wounded will be out. Rob Johnson is not practicing but may still be the backup QB on Saturday. Injury Page

Butler Not Shocked: John Butler was heading down to Alabama to scout the Blue-Gray game when he got the call from Ralph Wilson telling him of his dismissal. Upon arriving back in Buffalo, Butler did not appear to be shocked by the events of yesterday. He said they did talk contract, and Mr. Wilson wanted an answer alot faster that he was prepared to give one.

Bills Need To Put Distraction On Hold: With the chaos surrounding the Bills now, the players need to put it behind them and concentrate on one final, meaningless game. Can they do this? It will be difficult that is for sure. The Bills are traveling as far as they have all season just before Christmas to play a game that means nothing to them or their opponent. It will be interesting to see if they have anything in them at all on Saturday night. We will have our complete preview on our gameday homepage later today.


Tuesday December 19, 2000


Adams Heads List Of Job Candidates: Knowing the loyalty Ralph Wilson shows his people there is a very good chance he will promote a new GM from within. The leading candidate is Dwight Adams, who is the vice president in charge of player personnel. Another candidate is A.J. Smith, who is the director of pro personnel.

Butler Officially Gone: Owner Ralph Wilson was the lone speaker in today's press conference. He read the press release which announced John Butler's dismissal as general manager and vice president effective immediately. He was fired because he wouldn't give him an answer to his future intentions. The owner said the team needed to move forward on the future of the team and couldn't do so because Butler wouldn't talk about a possible contract extension. The owner seemed miffed by the apparent "brush off" from Butler that he said started in training camp. Wilson said he was shocked when as late as yesterday Butler would not give him a definitive statement about his future. After asking him six times since July, Wilson said he got the feeling Butler did not want to stay. When telling Butler of his dismissal, Wilson stated he was very non chalant about it. Wilson said their was a contract offer on the table that would have paid him the average of the top 8 administrators in his position. Wilson than said he upgraded the offer substantially but was given no answer from Butler. He did say that Butler has been an excellent GM for the Bills. There has been no interim GM named. Wilson addressed the Players before the press conference. Complete Analysis

More Changes May Be Ahead: Wilson would not comment on the future of the coaching staff. The front office upheaveal couldn't be coming at a worse time for the Bills with at least a $10 Million salary cap hole and possible changes in the coaching staff. Nobody in the front office should feel safe at this point. On the players that will be free agents, Wilson said he wants to retain them but you just don't know in this day and age. Wilson ranted that alot of it is up to the agents. He said they are already working on fitting people under "the very severe" salary cap situation.

Butler To Be Fired? The Bills have called a major press conference for 2pm today but wouldn't say what it is about. AP is reporting that the Buffalo News is quoting anonymous NFL sources that John Butler will be fired with just one month left on his contract. If he is fired that is a shock to all that though Coach Phillips would be fired. There seems to some friction between the two and we speculate if this is true, Phillips has won a power battle with Butler.

Phillips Details Problems: When he wasn't talking about the QB situation during his press conference or the injuries, Phillips discussed the problems. Among the problems is the run and dime defense. The coach also stated the obvious that the missed opportunities on the goal line cost the team the game. The coach said the running game has to be better next year. He did praise his young backs, Shawn Bryson and Sammy Morris but if you read in between the lines a feature running back may be in the cards on draft day. He also said he feels that both QBs will be on the roster next year.


Monday December 18, 2000


Johnson And Morris Out: Coach Phillips announced today that Doug Flutie will start the season finale against Seattle. Rob Johnson had a headache from his slight concussion. Phillips cited the fact that Johnson won't practice this week and that it is a short work week as the reasons behind going to Flutie. Most of the other walking wounded won't play either with the possible exception of John Fina. Injury Notes

Other Press Conference Comments: The coach softened his stand a bit on the injury to Johnson. Yesterday he did what he rarely does criticizing his player. He still said he needs to stop getting hit, but he praised his atheltic ability saying that because of it he is trying to do too much. He also said the obvious, and that is the line has to protect better. He praised Flutie's play, especially the few completions he made when he waited to the last second to throw the ball.

Phillips Critical Of Johnson: For what seems to be the first time, Coach Phillips was actually criticial of Rob Johnson. He said how Johnson knows how to get hit and blames the QB for the concussion he suffered because he didn't get rid of the ball on the hot read. He was hit when a defensive end came in untouched but Marcus Spriggs actually blocked the right player (the blitzing defensive back). Johnson has now left 7 of 11 games he has started this year, five because of injury. Doug Flutie has played in 10 of the 12 games he has been active for including 4 starts. That makes you wonder if the Bills can afford to let him go in the offseason.

Johnson And Morris Hurt: The Bills lost two players in the loss in the snow of Buffalo. Rob Johnson went down with another concussion early in the second quarter and Sammy Morris left after tweaking his high ankle sprain.

Patriots Snowed In: The Patriots got some sobering news awaiting them when they got back to the locker room after beating the Bills. They were told the airport was closed because of the weather and they were stuck in Buffalo.

2001 Opponents Set: With the Bills assured of a 4th place finish in the AFC East their opponents for the 2001 season are now set and there is no way they will have the league's toughest schedule again. Besides the eight divisional matchups the Bills will host: Carolina, Seattle, Pittsburgh, and New Orleans. They will travel to: Atlanta, Jacksonville, San Francisco, and San Diego.

Last Week's News Archives
---
2000 News Archives Index
Latest News Main Page
Back to Bills Daily Homepage