| | | |
| --- | --- | --- |
| | Serving Bills Fans Since 1998 | Home |
---
Bills Lose Heartbreaker On Controversial Call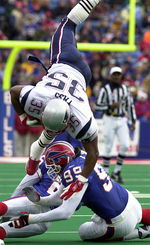 Bills Lose In Overtime: The Bills are used to controversial finishes and overtime games against the Patriots, who knew that both would happen in one game. A controversial call that kept the Ball in the Patriots possession in overtime led to a 38 yard run by Antowain Smith that setup a chip shot kick by Adam Vinatieri. His fourth field goal of the game lifted New England to a 12-9 overtime win over the Bills. It was the fourth overtime meeting in the last five games between the two teams. Complete Review.

Defense Shines In Loss : The loss ruined a fabulous defensive effort in which they sacked Tom Brady five times and played very aggressive in forcing two (should have been three) turnovers while getting in very hard hits. The offense ruined the party by struggling throughout the game only netting three Shayne Graham field goals. Gameday Grades.

Henry Hurt: Travis Henry was on his way to a great game getting 68 yards from scrimmage midway through the second quarter but he was forced to leave the game with a sprained knee. He did not return and was replaced by Shawn Bryson. Henry will be re-examined tomorrow. Injury Page.

Gameday Weather: Weather hasn't been much of a factor in Bills games this year and the home finale is no exception. Today will be Mostly Cloudy with a high temperature of 41°. There will be light winds of 5-10mph out of the East.


Saturday December 15, 2001


Price Added To Report: The Bills added Peerless Price to the injury report after he left practice early yesterday with a hip flexor. He is listed as probable and is expected to play tomorrow. Travares Tillman is a different story, he still has not practiced because of sore ribs. Coach Williams has not ruled him out of the game but it appears unlikely he won't play. If Keion Carpenter is healthy enough to go he will start. Lance Brown would then play in the dime package. Updated Injury Report.


Friday December 14, 2001


Injury Updates: Free safety could be a problem Sunday with Travares Tillman and Keion Carpenter hobbled with injuries. Tillman did not practice again yesterday with his sore ribs. He hopes to practice today, if he does, he will start on Sunday. Carpenter is hurting with a strained hamstring but hopes to play. Jeremy McDaniel did some light work yesterday as he recovers from a strained groin. Kenyatta Wright has not practiced yet this week. Injury Page.

Smerlas Ceremony Moved: The Bills have changed their minds and have decided to move the Fred Smerlas ceremony to halftime instead of before the game. The Marv Levy and Jim Kelly ceremonies earlier this year were also at halftime.


Thursday December 13, 2001


Price To Appeal Fine: Peerless Price would not talk about his $30,000 fine when he addressed reporters yesterday but he is expected to appeal the fine. The fine is the third largest fine in the NFL this year. He was fined that much because it was his third offense of the year.

Blackout: This week's game is another guaranteed blackout. As of yesterday there are about 30,000 tickets available meaning there should be a similar crown to the 44,549 that showed up last week against the Panthers. Fred Smerlas will go up on the wall of fame during a pregame ceremony.

Bills Experience: The Bills are doing a sort of fan appreciation this Sunday by opening up the Bills experience in the fieldhouse to everyone for free instead of the usual $5 admission fee. It runs from 9:30am to kickoff and has interactive games and live music. Fred Smerlas will make an apperance to sign autographs.


Wednesday December 12, 2001


Injury Report: The Bills list six players and the Patriots list three on the official injury report for this week's game. For the Bills three players are out and three are questionable. The Patriots have one listed as out, questionable, and probable. The Bills players that are injured but may be available are Travares Tillman, Jeremy McDaniel and Kenyatta Wright. Injury Report.

Johnson Healing Well: There was an update on the condition of Rob Johnson today. Coach Williams said he is healing very well and the bone has a couple of more weeks of healing before he can get back on the practice field in non contact drills. Williams admitted there is still some significant time to go before they think about getting him back on the field. If it takes two weeks to start working out chances are he won't play again this year. If he does see action we figure it would be in the season finale against Miami.

Van Pelt Speaks: In his weekly media conference Alex Van Pelt said the team has to put last week's win behind them and get to work on the Patriots. He praised the Patriots defense for playing very confidence defense. He said they will have their hands full because Bill Belichek will throw things at them that they haven't see before. He also talked about being good and solid on third downs and said how much he likes Antowain Smith and is glad he is getting a chance to succeed in New England. Van Pelt figures that the Patriots will once again match up Ty Law one on one with Eric Moulds.

Williams Comments: In his weekly media day press conference, Coach Williams said that special teams, especially rookie kicker Shayne Graham did an excellent job. Graham was praised for executing many different types of kickoffs. As far as this week goes, third downs will be key, Williams spoke how Bill Belichek coached teams always perform well in third down situations. The coach once again emphasized the need to win the turnover battle as a key to winning the game.

Robertson Update: It was a surprise to see Tyrone Robertson inactive last week for Ron Edwards especially after Coach Williams had said Robertson would play. It turns out Robertson was late to a team meeting last week and that cost him a spot on the active list. He will most definitely be active this week with the defensive line being depleted by injuries.

Patriots Preview: The Patriots come to town on Sunday with high playoff aspirations. The Bills continue to try to build on last week's victory to give them confidence going into next year. The Pats have too much to play for to falter against the Bills. Complete Preview.


Tuesday December 11, 2001


Centers Stuff In Hall: The Pro Football Hall of Fame has been given the shoes and gloves warn by Larry Centers when he became the all time receiving yardage leader for a running back.

Jennings Fined: Jonas Jennings wallet is a little bit lighter as he was fined $10,000 for an incident in the 49ers game. It involves an over aggressive play against LB Julian Peterson.

Bills Win: All the pregame hype said this game was going to be ugly. What the fans got was a highly entertaining game that the Bills were able to comeback and win. Thunder Report.


Monday December 10, 2001


Price Fined: Peerless Price was fined $30,000 by the league for striking an opponent at the end of the 49ers game last Sunday. The NFL took into account two previous fines of $5,000 apiece he has already received this year for unnecessary roughness penalties. In the 49ers game he struck in opponent and received a personal foul after the game's final play.

Williams Comments: Coach Williams said today that he felt the victory over Carolina was a good, team win. He felt the turnovers in the second half were huge in getting the win especially the Brandon Spoon interception return for a score. He said he was happy with the way Travis Henry ran the ball and how Brian Moorman rebounded from a poor punting effort in the first half.

Injury Update: Pat Williams suffered a crack fibula in yesterday's game. Coach Williams said it isn't in a weight bearing area and hopes it will be just a two week thing. Travares Tillman suffered another rib strain and is day to day. Injury Page.

Robertson Inactive: On the subject of activating Ron Edwards over Tyrone Robertson, coach Williams called it a numbers game. We think he is just trying to get the third round pick some playing time. In another interesting move Ken Irvin as fallen so far down the depth chart that he did not play against the Panthers. Chris Watson, Pierson Prioleau, and Lance Brown saw reps in the defensive backfield and special teams.

Comeback Among Best: The 2001 Bills have one thing to hold their hat on. Yesterday's comeback from 18 points down in the final minute of the first half ranks as the 5th biggest comeback in club history. It ranks just behind a 19 point comeback against Minnesota in 1982 and a 21 point comeback against Miami in 1987. Of course the biggest comeback in club history is also the biggest comeback in NFL history, the wild card game against Houston in 1993.




Last Week's News Archives
---
News Archives Index
Archives Library
Latest News Main Page
Back to Bills Daily Homepage