| | | |
| --- | --- | --- |
| | Serving Bills Fans Since 1998 | Home |
---
Bills Blown Out Again 20-3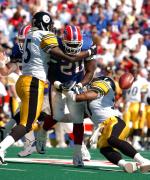 Williams Challenges Moulds And Johnson: Gregg Williams said he was pissed after the loss and said Rob Johnson had to play better. He also said that while he appreciated Eric Moulds answering the bell and playing injured, he wasn't happy that he dropped a few balls forcing the Bills to look elsewhere for offense. The bottom line is the team needs to make plays that they aren't making the coach said.

Farris Surgery: Kris Farris will have surgery this evening on his broken leg and will most likely be placed on injured reserve this week. When he went out it left the Bills with just six healthy inexperienced linemen. Tony Driver separated his shoulder. Injury Page.

Grades Tell The Story: This team continues to show no signs of improvement and that is reflected in this week's grades. Only the linebackers graded out higher than a C and there were more than a handful of D's and F's. Positional Grades.

Steelers Rock Bills: The Steelers came back from their long layoff very rusty and played very sloppily. Fortunately for them they will playing a Bills team that proved today they are one of the worst teams in football. The offense failed to score a touchdown at home for the second straight game. The defense folded late in the game again but it wouldn't have mattered because the offense was just awful as Rob Johnson was sacked four times and hit many other times before leaving the game late in the fourth quarter after aggravating his hip injury. There was no silver lining in today's loss as this team proved it was pathetic without injured starters John Fina and Jonas Jennings. Complete Review.

Injuries Mount: Besides missing two starters and losing Johnson late in the game, the Bills also lost Kris Farris, Phil Hansen, Leif Larsen, Tony Driver and Jeremy McDaniel in this game, all their injuries could cost them to miss some action. Farris had to be taken off the field on the cart after fracturing his leg when it was run into by Travis Henry. Hansen and Leif Larsen left the field with dislocated elbows and McDaniel suffered a high ankle sprain. Tony Driver separated his shoulder. Injury Page.

Gameday Weather: It will be a nice fall day in Orchard Park for the game today. It will be Sunny with light winds and a high of 64°.


Saturday September 29, 2001


Carman Signed: The Bills have activated Jon Carman off of the practice squad and added him to the 53 man roster. With the two starting tackles questionable and doubtful for the game tomorrow and an open roster spot this move makes sense. The move leaves an open spot on the practice squad.

Donahoe Wants Win: Tom Donahoe told reporters he really wants to beat Pittsburgh, not because of the way he was forced out of the Steelers organization after many years of service but because the Bills really need a win. He did admit that there is a little extra meaning this week, that will be evident by the packed luxury box he owns at the stadium. Donahoe and director of pro personnel Tom Modrak were hopefully able to give the coaches and players some insight on the Steelers personnel. That along with maybe a little extra incentive by the players to right the wrongs done in the past against the team president may give them enough of a lift to gain their first victory of the season.

Moulds May Play: Eric Moulds and John Fina returned to practice yesterday raising hopes that they will both play on Sunday. Moulds says he won't be 100 percent but he's pretty confident he will go on Sunday. Even if he isn't 100 percent he will give the Steelers secondary something else to think about by just being on the field. Jonas Jennings didn't practice yesterday but may give it a go today and will be a game time decision on Sunday. Injury Page.


Friday September 28, 2001


Steelers Talk: It appears some members of the Steelers aren't taking the Bills seriously and they are giving them some bulletin board comments. First, SS Lee Flowers said that the West Coast Offense isn't any good since Detroit is using it and he questioned whether or not Rob Johnson can run it. Now WR Plaxico Burress is saying that Ken Irvin didn't cover him well in their earlier meeting in the preseason. This will helpfully get the Bills fired up to bring their 'A' game.

Moulds Sits: Eric Moulds missed practice again yesterday making his availability for Sunday's game even more in question. His status on the injury report has not changed, he is listed as questionable. Coach Williams hopes he can practice a bit today and then play on Sunday. Moulds caught a few passes on the sidelines Wednesday and can now lift his arm above his head.


Thursday September 27, 2001


OL Shuffle: It appears that Kris Farris is on target for his first start in the NFL. With Jonas Jennings probably out and John Fina questionable, Farris should get a start at either tackle position. If both Fina and Jennigns are out either rookie Marques Sullivan will start in his NFL debut or Ruben Brown may possibly move to tackle. Another choice is activating Jon Carman off of the practice squad.


Wednesday September 26, 2001


Practice Sqaud Moves: The Bills have an open roster spot now that Sam Cowart has been placed on IR but they didn't use it. Instead they made a swap on the practice sqaud. They added LB Junior Robinson and released Wide Receiver Chris Taylor. Robinson was with the Bills up until the final cut of training camp and has been brought back because of the rash of injuries in the middle of the defense. Taylor was the last practice sqaud signee making him expendable.

Cowart On IR: Coach Williams announced today that the Bills have placed Sam Cowart on injured reserve. This will end his season and open up a roster spot. The Bills aren't going to fill that roster spot at this time.

Injury Update: Eric Moulds and Bryce Fisher will not practice today and are listed as questionable for this week's game. Williams says he is shooting for Moulds playing. John Fina is also questionable. Jonas Jennings is doubtful but improving and Brandon Spoon is officially out for this week but the coach emphasized, this week only. Injury Report.

Security Beefed Up: As part of the beefed up security that is taking place based on the events of September 11th there will be no containers allowed into the stadium. The only thing that can be carried in is small purses and pocket radios and televisions. To compensate a bit for the restrictions the club is dropping the prices of bottled water, coffee, and hot chocolate by 25 cents. Gates will open at their normal time (11:30). Fans are encouraged to enter the stadium earlier because of the increased security.

Steelers Game A Possible Win: The game against the Steelers will be a better gauge on where this team is at then the first two games. The Steelers are a mediocre team and we will be able to see how bad or good the team is. That's not to say that it will be a victory, it should be a competitive close game if the players confidence can be maintained or enhanced. Complete Preview.

Security Presser: Tom Donahoe is holding a press conference today at 10am to discuss the increased security measures that will take place at the stadium this weekend. Fans should expect it to take longer to enter the gates as they will be checked more carefully as a result of the terrorist attack of September 11th.


Tuesday September 25, 2001


Jones Signs With Vikings: Henry Jones is back in the NFL. He signed with the Minnesota Vikings today to replace Robert Griffith who is injured. Terms of the deal were not disclosed.

OL Shuffle? Injuries to Jonas Jennings and John Fina may cause a big shuffling along the already thin offensive line. Both players are day to day and may play but both may also miss the game. More should be known later in the week. The first player on the spot will be Kris Farris who would be the first player on the depth chart to step in. Rookie Marques Sullivan would probably be called upon to start in his NFL debut if both players can't go. Sullivan has been inactive the first two weeks.

Cowart Decision: It seems the Bills are finally ready to decide the fate of Sam Cowart's season. Coach Williams said a decision should come tomorrow. Chances are the Bills will place him on injured reserve ending his season.

Confidence Not An Issue: Coach Williams was adamant in his press conference yesterday that the team will remain upbeat. He said he will not tolerate a gloom and doom scenario.


Monday September 24, 2001


Williams Reflects: Coach Williams said at his afternoon press conference that the team and coaches need to improve and he indentifyed areas that they will work on. He said they have played two good team and at stretches in each game they played well but other stretches they gave up big plays. He noted the three two play scoring drives as very hurtful but he believes players were trying to do too much on those plays. He feels players were too busy trying to help others out without finishing their own responsiblities. He hopes to get things headed in the right direction with the upcoming two game homestand.

Injury Update: In the Monday afternoon medical report it seems the only player that is definitely out next week is Brandon Spoon. He does feel he may return next week after dislocating his elbow yesterday. Jonas Jennings is doubtful for next week and Eric Moulds feels he has a shot to play and he will be questionable. All other bumps and bruises should be ok. Complete Injury Notes.

Moulds Expects To Play: Eric Moulds said he didn't return to the game after hurting his AC joint in the first half because he couldn't lift his arm above his head. He expects the movement to come back during the week and to play against the Steelers on Sunday.

Confidence Shaken: Many people figured the young Bills would be 0-3 at this point with the toughest part of the schedule at the beginning of the year. The way the Dolphins have been playing they would be 0-3 if there wasn't for the postponements last week. At 0-2 however the players confidence must be shaken as the two losses were both terrible losses with little good coming out of either game. It will now be a tall order for the young, inexperienced coaching staff to get the ship headed in the right direction with the players heads screwed on straight.

Last Week's News Archives
---
News Archives Index
Archives Library
Latest News Main Page
Back to Bills Daily Homepage